Singapore's athletes eager to compete at Hanoi SEA Games after COVID-19 delay: Chef de mission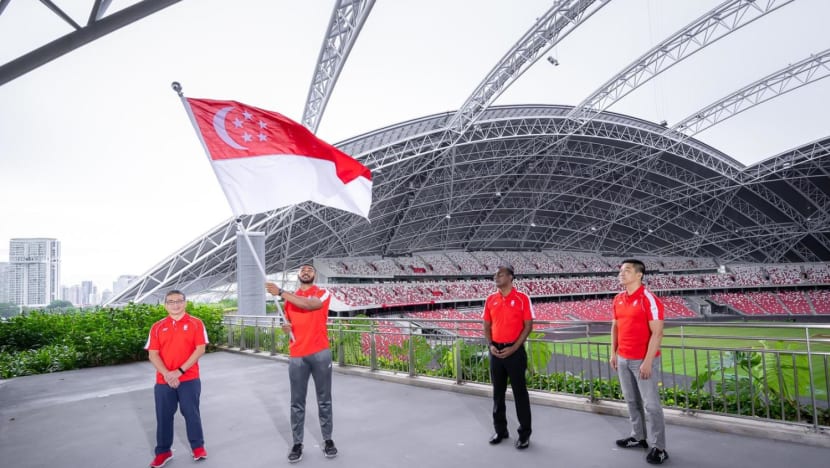 SINGAPORE: Singapore's athletes are ready and eager to compete at next month's Southeast Asia Games (SEA Games) in Hanoi, Vietnam, said chef de mission S Sinnathurai on Wednesday (Apr 27).
"After a year of postponement, our athletes are very eager to compete to put to test the training and hard work they have put in over the past few years," said Mr Sinnathurai, a former national taekwondo athlete.
A total of 427 athletes will represent Team Singapore at the Games, competing in 33 sports. 
They include Rio Olympic champion Joseph Schooling, badminton world champion Loh Kean Yew and three-time Silat world champion Sheik Farhan, who will be the contingent's flag bearer.
More than half of Singapore's athletes - 243 of them - will make their debut at the regional event which was postponed from December 2021 as a result of the COVID-19 pandemic. 
The athletes include 14-year-old diver Max Lee, who is Team Singapore's youngest athlete, and billiards world champion Peter Gilchrist, who at 54 years old, is the contingent's oldest athlete.
Singapore's first event at the Games will begin on May 6 when the beach handball competition begins. 
"Representing Singapore has always been very special to me, to be able to lead the contingent as flag bearer this time will make this SEA Games a particularly memorable one for me," said Sheik Farhan, 24.
"I can't wait to compete at a major Games again, and look forward to enjoying the experience in Hanoi."
This is the second time Vietnam is hosting the event, which will take place from May 12 to May 23. There will be a total of 526 events in 40 sports. 
STAYING SAFE AGAINST COVID-19
Measures are in place to prepare the contingent to ensure their health and safety, similar to those adopted during the Tokyo Olympic Games, said the Singapore National Olympic Council (SNOC). 
Athletes will arrive two days before their competition starts and depart within 24 hours after their competition ends.
A "safety and hygiene protocol" is also in place to ensure that they are in top shape and health at all times, SNOC added.
All members of the contingent who are eligible to receive the COVID-19 jab have also been fully vaccinated, said chief medical officer Kelvin Chew at a press conference.
Athletes will each receive a food and nutrition pack consisting of various food items as well as a care package with COVID-19 test kits, hand sanitisers and masks.
The Games will operate under a "bubble" and members of the contingent will only be allowed to travel between training venues, games venues and their accommodation.
Based on the COVID-19 protocol drawn up by local organisers, every athlete will need to be tested 24 hours before competition and every three days, said Dr Chew.
Should athletes test positive for COVID-19, and are asymptomatic or have mild symptoms, they will be isolated at their residence, said Dr Chew. They will also be monitored by team doctors.
A recovered athlete will need one negative test result and certification by a team doctor to compete.
At the 2019 Philippines SEA Games, Singapore's largest away contingent - comprising 659 athletes in 48 sports - brought home 53 gold, 46 silver and 68 bronze medals. 
Team Singapore's best performance remains the 2015 Games on home soil with a haul of 84 gold, 73 silver and 102 bronze medals. Its best away Games was in the 2017 edition in Kuala Lumpur (58 gold, 59 silver and 71 bronze medals).
Addressing a question on what the medal targets for Team Singapore will be at the Games, Singapore Sports Institute chief Su Chun Wei said that the athletes will do their best and it is "reasonable" to expect them to register personal bests.
Dr Su added: "It's also reasonable to expect that they do their personal bests ... As a process, the medals will come, but I think it is not something that we want to jump ahead of the gun, but let's focus on the journey so far, the ability for our Team Singapore athletes to go in as one and do their very best, rally Singapore. I think then we will see what medals come through."