After a difficult 2021, Joseph Schooling looks ahead to SEA Games while embracing National Service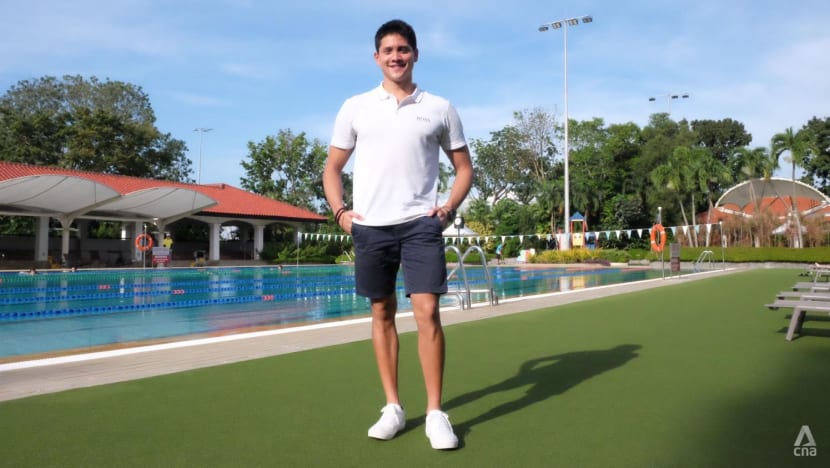 SINGAPORE: There are still puddles on the ground when Joseph Schooling sits down with journalists on a quiet Saturday afternoon (Apr 23). 
The storm that briefly lashed Tanah Merah Country Club has passed. Instead, the skies are blue. There is a faint breeze and the sun is blazing.
In some ways, this is what 2022 feels like for Schooling. A fresh start after a turbulent year. 
"Every time there's a storm, it's going to be sunshine and rainbows on the end," Schooling told CNA.
"You've got to muscle down and get through the storm. So last year was a pretty big freakin' storm. But (for) 2022 … (I've) got a couple of major games coming up this year. Mum's happy ... So just those two things are enough to keep me going."
Schooling endured a challenging 2021 which saw him unable to defend his Olympic title in the 100m butterfly event. He clocked 53.12s in his heat at the Tokyo Olympics and did not progress beyond to semi-finals of the event. He was 44th overall. 
"2021 was probably in and out of the pool like level zero. So anything's better than that year," said Schooling, who is currently serving full-time National Service. 
Later in the year, Schooling's father Colin died at the age of 73. He had been undergoing treatment for cancer in the months before.
Colin, along with his wife May, played a key role in Schooling's rise to swimming stardom, which culminated in their son's gold medal performance at the 2016 Rio Olympics. 
Dealing with the loss of his father is "an ongoing process", said Schooling.
"I think it takes years or maybe you go on your whole life feeling like something's amiss. And that's just an indication of (the fact that) you really cared for him, you really loved him.
"It is painful, it's painful every day. But at the same time, you take care of what's in front of you."
His father's "Colinisms" - things he would say about life - are also something Schooling holds on to.
"I think after he's gone, this is the part where you start to reflect and think: 'Hey, this is actually his way of teaching you about life.'"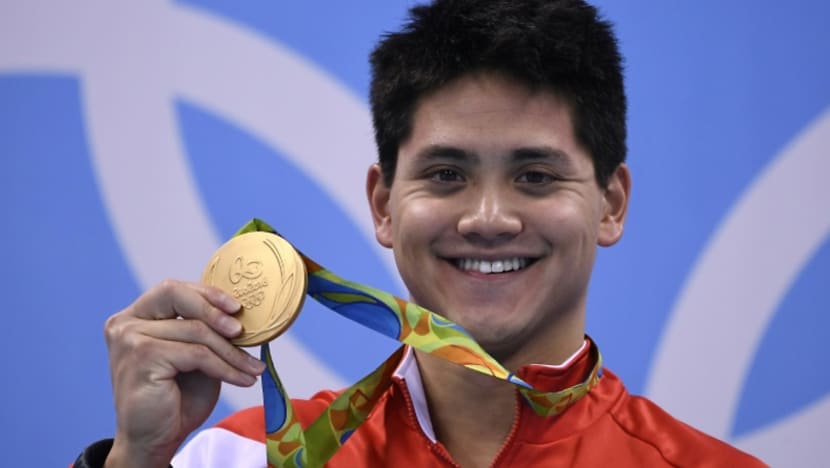 "YOUR BODY GOES WHERE YOUR MIND TELLS IT TO"
Now undergoing vocational training in the Navy, enlisting has been a new experience for the former Olympic champion. The 26-year-old enlisted for National Service in January this year.
"Army life has been okay, interesting, but adjusting well to it with my batch-mates. It's all about atmosphere, like I've learned. So if you really like and gel with your batch-mates, life becomes a lot better," Schooling explained.
"The first two weeks were nuts. But after that, they kind of see like: 'Hey, you're one of the guys, you really don't have any airs about you, like ... you're just here to serve your time like anyone else.' Once they see that, they're just like: 'Okay, this guy is pretty chill.' And then from there on, start having real conversations."
While the age gap between him, as well as his peers and superiors in the army, is quite big, Schooling said he is enjoying his time there.
"If you give yourself into the process, and you don't fight the journey, it can actually be quite fun," he said.
"BMT (Basic Military Training) was good. Right now, vocation training in the Navy has been good as well. Swimming-wise (it) has been good. I'm enjoying the atmosphere with all the coaches, with my teammates as well. And honestly, 2022 - although time constricting - has been good and I can't really complain."
Schooling competed in his first meet since the Tokyo Olympics at the 52nd SNAG Major Games Qualifier in March.
There, he clocked 52.09 seconds in the 100m butterfly finals, his best time in more than two years. This meant that he met the "A" cuts for the Asian Games and Commonwealth Games which will be held later this year.
Schooling also met the qualifying timings in the 50m butterfly event for both Games.
Given that he was not able to train for SNAG as he was undergoing BMT, he said it was "massive" to clock the times he did.
"Given all the circumstances going on on the outside, I thought that was a great performance. Beginning of the week, I wasn't really sure if I was going to make Asian Games, but to be able to like step up and do that, I think that was a great stepping stone to kind of catapult yourself to the next level," he added.
"Whatever it is, I'm just having fun. Swimming for a different reason beats the hell out of swimming because I tried to prove a point."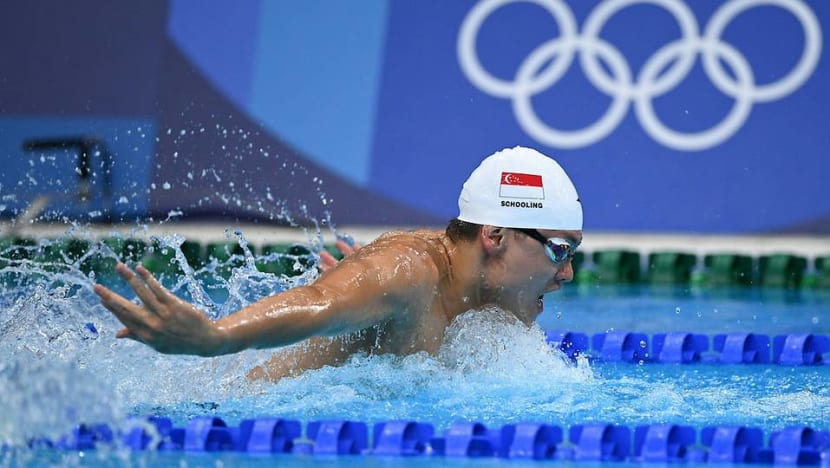 Schooling's current training schedule sees him in the pool twice a day - before he books into camp and after he books out. He also trains on Saturdays.
"It's all about army, swim, rest and recover as best as I can. That's been a very tedious schedule. But like I said, proving something to yourself, your mind can do some pretty special things," he explained.
"Your body goes where the mind tells it to. So if you have clear and concise goals, you can do anything you want."
This schedule is similar to how he used to train in primary and secondary school, Schooling added.
"It does take some adjustments in practice. I've been kind of upset at times because you just know why you're tired, but you always want to give it your best. And swimming is a very unforgiving sport," he said.
"But at the same time, you've got to work through those ups and downs. And I'm a kind of guy that likes control ... But with the army, you can't control anything. So the best thing is just to roll with the punches, do the best that you can, and be more process-oriented rather than results-based."
While he is clocking fewer hours in the pool now, it is all about delegating time, Schooling added
"At the end of the day, if people can work jobs on the outside and still train, why can't I do army and train at the same time? It's all about delegating time, and how badly you want it. Through SEA Games and Asian Games, it's gonna be a stretch, but doable - nothing is impossible. If I do continue to swim on to the Olympics, then we have to step back and reevaluate."
REPRESENTING THE FLAG
One of these goals will be to win it all at the upcoming SEA Games.
"The goal has always been to win of course, put yourself in the best spot and then see what happens. But at the end of it, just go out there and have fun, and see what you can do," Schooling said.
He will be part of a contingent of 23 swimmers headed to the Games next month. In the last edition of the competition in the Philippines, Schooling clinched four gold medals and two silvers.
"I'm gonna swim in about four events at the SEA Games. And obviously, the goal is to go 4 and 0 ... It's that competitive side. You have the last SEA Games (where it) wasn't how you wanted it to be," he said.
"This is a chance for me to prove to myself, not anyone else, that I can still do it. That's something that I find still fuels me."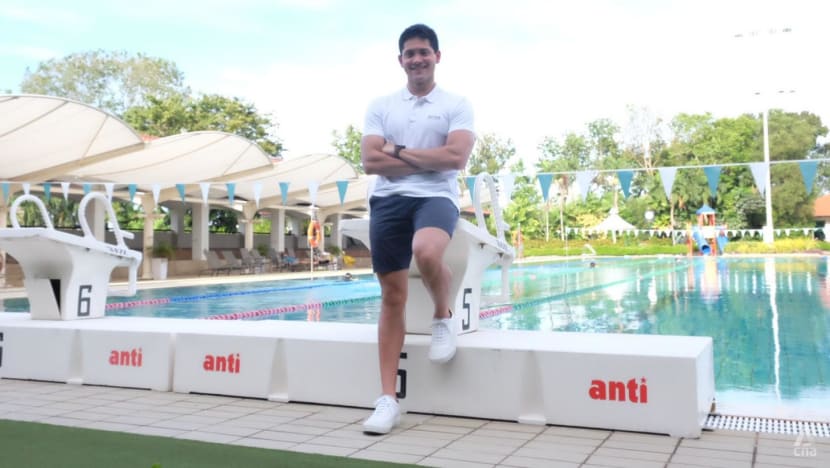 And despite having competed at the highest level, the SEA Games still holds much meaning for Schooling.
"SEA games is something that I grew up with being like the creme de la creme. Of course, the Olympics is the apex. But SEA Games was always something that hit close to home. Especially I've never been to Vietnam before. It will be kind of cool," he added.
"I may have taken the SEA Games for granted maybe two or three times. But towards the end of your career, you look back and you see how important these kinds of Games are. Every single meet you have an opportunity to step up at is an important Games ... At the end of the day, it's you're wearing a flag, so no matter what kind of level, you better represent it at the highest."
Midway through his interviews, Schooling is approached by a number of people for photos. With an amiable smile, he obliges each and every one.
Even after the storm, some things may have changed, but others have not.