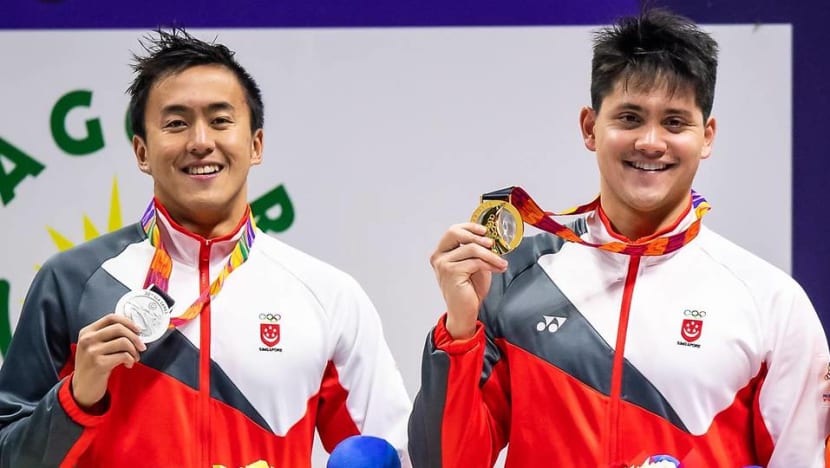 SINGAPORE: National swimmers Joseph Schooling and Quah Zheng Wen's deferments for National Service (NS) have ended and both will be enlisted, said the Ministry of Defence (MINDEF) on Thursday (Sep 16).
"As their deferment until 31 August 2021 has ended, both Mr Schooling and Mr Quah will proceed to fulfil their NS obligations, as agreed to when they applied for deferment," said the ministry in a statement issued to the media.
"They will be enlisted once the necessary pre-enlistment procedures have been completed."
Schooling has been on long-term deferment from NS since 2014, and Quah since 2015.
"As previously explained in Parliament, such deferment from full-time NS is granted very selectively for exceptional sportsmen assessed to be potential medal winners at international competitions like the Olympic Games and who are able to bring national pride to Singapore," MINDEF said.
Their deferments were due to expire after the 2020 Tokyo Olympic Games, but were extended after the Olympics was postponed to 2021.
In its statement, the ministry noted that both swimmers have qualified for and represented Singapore at the 2016 and 2020 Olympic Games.
Schooling won Singapore's first Olympic gold medal at the Rio de Janeiro Games in 2016, in the 100m butterfly, and set a new Olympic record. Quah reached the semi-finals of the 100m and 200m butterfly in that edition of the Games.
Both swimmers did not qualify for the semi-finals of their events at the Tokyo Olympics.
In a statement, Schooling said he will continue with the pre-enlistment procedures and await the next steps from MINDEF. 
"As a son of Singapore, I am honoured to serve my country. More importantly, now more than ever, my family needs me. It is time for me to fulfil my filial duties," he said.
Schooling added that he is grateful for the support he received from MINDEF and the Ministry of Culture, Community and Youth (MCCY) for their "non-wavering support" in his swimming career.
"Without a doubt, I would not have achieved the results I've had without deferring my national service," said Schooling.
Quah said in response to CNA queries that enlisting and serving NS had always been a part of his plan.
"I'm grateful to MINDEF and MCCY for the privilege of a deferment earlier, where I was able to train and prepare for the Olympics in 2016 and 2020 as well as the other major competitions like the Asian Games and the SEA Games.
"Looking ahead, my plans remain the same - to continue to compete at the international stage and fly the Singapore flag high."
His "most immediate goal" is the Commonwealth Games and Asian Games in 2022, as well as the 2024 Paris Olympics, he added.
"I'm looking forward to working with MINDEF, MCCY, SSA (Singapore Swimming Association) as well as the coaches and support teams to see how I can continue to pursue these plans and train at elite-levels while fulfilling my NS.
"I am always thankful for the opportunity to represent Singapore - whether it is through enlisting or swimming," he said.
Other than Schooling and Quah, only one other person in the last 15 years has been granted such long-term deferment – sailor Maximilian Soh, for the 2008 Beijing Olympic Games.
MINDEF grants long-term NS deferment to exceptional sportsmen assessed to be potential medal winners for Singapore at top-tier international competitions like the Olympic Games. 
These sportsmen have to show why deferment is necessary for them to train full-time and compete successfully at international competitions. Their applications must include training schedules and targets.
According to Defence Minister Ng Eng Hen in a parliamentary reply on NS deferment in 2018, MINDEF "will only defer individuals very selectively if their deferment serves Singapore's interest first and foremost, never their own".
This was the basis for Schooling, Quah and Soh's deferment, said Mr Ng.
Deferment was neither "open-ended nor unconditional", the minister added. He noted that the sportsmen would have to return to serve NS. Their deferment would also be curtailed if they did not meet the standards agreed upon.
Applications for deferment are assessed individually, based on the merits of each case, in consultation with MCCY.
POLICIES FOR NATIONAL SPORTSMEN SERVING NS
For national sportsmen serving NS, MINDEF grants them time off or disruption to train for and represent Singapore at international competitions, provided it does not conflict with essential military training and compromise the SAF's operational requirements.
Each application is assessed on a case-by-case basis. 
Athletes at the Tokyo Olympics who had previously trained with support from MINDEF during their full-time NS included badminton player Loh Kean Yew, table tennis player Clarence Chew, diver Jonathan Chan and sailor Ryan Lo.