Tossing metal balls and making waves: A pair of Singapore's young talents primed for SEA Games debuts
In the final instalment of a series featuring Team Singapore athletes at the 32nd SEA Games, Matthew Mohan speaks to two rising stars - petanque athlete Josephine Pan and swimmer Nicholas Mahabir.
SINGAPORE: In a city along the French Riviera about seven years ago, Josephine Pan caught a glimpse of a sport she had never seen before: Petanque.
"I was very curious about it because I never seen something like that before," she told CNA. "They just kind of looked like they were having a lot of fun together."
Returning home from Nice, Josephine practised with brightly coloured plastic petanque balls her parents had bought.
"I would just play with my family downstairs, and then eventually we realised that there were actual courts here. One of the times we were playing here just for fun, we were invited to an … introductory event," she said.
At 16, Josephine will be Singapore's sole representative in petanque at the 32nd SEA Games in Cambodia. She will compete in the women's singles event.
In petanque, players score points by tossing metal balls or boules as close as possible to a small target ball, which is known as a jack. The game is typically played on a gravel-like surface.
"I didn't really think about representing Singapore (when I first started). I was just working on my technique and I found it fun because I like the challenge of constantly just refining my technique," she said.
'I'VE SACRIFICED A LOT'
The desire to keep improving is something 17-year-old swimmer Nicholas Mahabir shares.
"I've sacrificed a lot. A lot of my energy, time with family, time with friends, my social life. I don't really have much of a social life. I just go to bed really early," said Nicholas, who is also making his Games debut in Cambodia.
"There's so many things, I can't really put it into a couple of sentences. Just waking up early, everything we eat, everything we consume. The amount of things we have to do to be a high-level swimmer is a lot."
One of the things Nicholas has controlled is his diet. He eats clean and has stayed away from processed sugar for more than 200 days.
"Performance-wise it definitely makes a difference (but) I don't think it's that major. I've done stuff like that before. My dad is really into health and health foods, so I've always been around that," he explained.
"I always hated it when he was like 'stop eating this', and then once I started appreciating it and understanding how important it is to do those kinds of things, I just decided to do that."
Processed sugar lowers one's immunity, said Nicholas. And falling sick is exactly what he does not need.
"When you're competing and racing and just training in general, you're out for a few days, that'll set you back four or five days, even a week, and then plus another two weeks behind so you'll be behind everyone. For me, I'd say it would set me back at least two weeks," he explained.
"It's more of that and then just going into the meet knowing that I couldn't have done anything more. If I don't swim to my expectation, I can look back and I can be like ... there's really nothing else I could have done. If I've been eating cake and cookies all the time ... I feel like I'd be a lot more upset."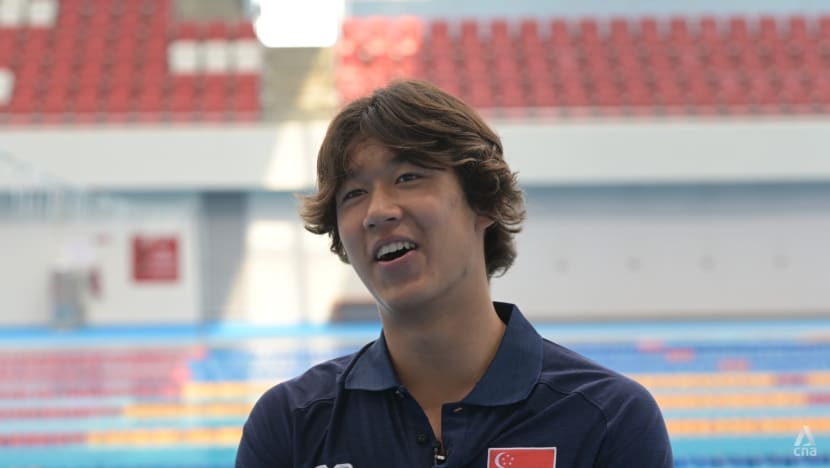 One of Nicholas' role models is compatriot Teong Tzen Wei, who is one of Singapore's leading lights at the Games. The pair are good friends and he has picked up a number of things from Teong, including recovery tips.
"Teong's always super supportive," said Nicholas. "Both of us are quite the same on setting goals and how we carry ourselves and the things we do outside the pool."
While Nicholas started swimming at a very young age, he was introduced to water polo when he was eight by a friend. As compared to the rigour and boredom of swimming, water polo felt different for Nicholas.
"Water polo was a game for me. And it was really fun," explained Nicholas, who moved to the United States when he was six. He returned to Singapore when he was 12, played water polo until he was 14, before returning back to the US.
But the COVID-19 restrictions in the US meant that he could not play water polo, and the only thing Nicholas could do back then? Swim.
"I wasn't too stoked about that. But there really wasn't a choice, so it was just swimming. And then around that time a new kid joined the team and we instantly became best friends. And both of us were always super competitive," he explained.
"During that season, I think I dropped like 10 seconds in a month in one of my events or something. Because I started to take it seriously ... I started seeing that if you work hard, then you get this and the time is black and white. So I started to appreciate that. And then I just started to get better and better, and like it more."
And Nicholas is fast. He may not have competed in the SEA Games before, but he is the current national record holder in the 100m breaststroke. His current personal best of 1.00.37 is quicker than the current Games record of 1.01.17, set by Vietnam's Pham Thanh Bao at the last Games.
But these things don't matter that much to the youngster, who has been training in Singapore since last December. 
"I just want to do my best. We've been working really hard here," he said. "It's been awesome. The support team has got so many staff on deck all the time. And it really feels like family, everyone, all the coaches can talk to you about anything."
"MY DUTY TO GIVE IT EVERYTHING"
Petanque is a "very multi-faceted" sport, added Josephine. 
"It is not about throwing hard, throwing faster. There's a lot of control involved and that is challenging," she said.  "It's almost like a microcosm of life because of all the challenges you have to go through and you have to overcome."
While many have the impression that petanque is a sport played mainly by seniors, the 16-year-old begs to differ.
"Even though it is not the most demanding aerobically and old people can play it, it is very challenging and interesting even for younger people," she explained.
"When I go overseas, I think there's a lot more younger people who play, that's something that I wish we could have in Singapore."
Josephine's coach Anthony Ho, a former national representative himself, recalled how there used to be athletes in their 50s representing Singapore. Now, with youngsters like Josephine, there is a fresher impetus to the sport.
"It doesn't mean that younger is better (because) in this sport, you need a lot of composure, experience, even life experiences," said Ho. "(But), it's the younger ones who can take the duration of the competition, because the competition is one whole day ... The younger ones can take the longer hours better."
Nicholas is swimming for more than just himself.
"Everything my parents and grandparents have done for me, I just want to make them proud. They gave everything for me to just be able to swim, I don't have to go work a job all day. So, I feel like it's my duty to give it everything," said the youngster, who trained 13 times a week in the lead up to the Games.
"I don't really have an excuse ... I feel like I'm so lucky that I've been given the opportunity to be able to do this. So I just have to give it my best."
And this helps him to focus as he stays disciplined and strives towards his ultimate goal of making the Olympics.
"I don't feel like I care about anyone else's expectations because I feel like a lot of people go down that path and there's too much pressure," Nicholas said. "I'd say I set pretty high expectations for myself already."
For Josephine, the goal is to compete with the best in the business, some of whom are from the region.
"I definitely want to get to a level where I can be consistently competitive with some of the best countries in the world - countries like Cambodia, Thailand," she said.
"Getting better results at World Championships, Asian Championships. I just want to get more consistent and confident as a player."
And the diminutive youngster is not your typical athlete, said Ho.
"Her strength is just being herself, and not trying to be someone else," he said. "I hope she can in her quiet 'Jo way' be a role model for others," he added.
Catch the 32nd SEA Games Cambodia 2023 live with three dedicated channels on mewatch. Sign in now at www.mewatch.sg/seagames to catch all the action for free, or catch highlights on Mediacorp Entertainment on YouTube.