Team Singapore showed professionalism, fearlessness and tenacity at the Olympics, says chef de mission Ben Tan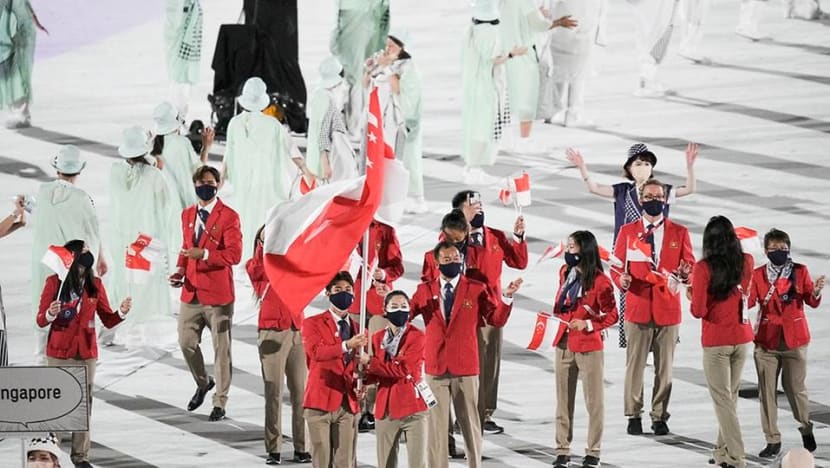 TOKYO: Team Singapore's athletes have shown professionalism, fearlessness, and tenacity at the Tokyo Olympics, said Games chef de mission Ben Tan on Saturday (Aug 7).
Speaking at a virtual press conference, Dr Tan noted that he was "truly inspired" by their performances.
"From the way our athletes have carried themselves, I am truly inspired … We look at the true meaning of sport which is a display of the human spirit," said Dr Tan.
"For example, we look at ... (Yu) Mengyu and (Feng) Tianwei, they are seasoned paddlers, they are very experienced and you can see their work ethic. So from them, I learned what professionalism is."
Yu recorded a fourth-placed finish in the women's singles event in table tennis while Singapore was eliminated in the quarter finals by China in the women's team event.
Dr Tan gave the example of Kimberly Lim and Cecilia Low, who recorded the best finish by any Singapore sailor at the Games.
Lim and Low made history by being the first sailors to qualify for a medal race at the Games, finishing tenth overall.
"Sailing is a European-dominated sport, very difficult for Asians and even more difficult for tiny countries like Singapore to break through into the upper rungs. Yet they analysed what … would be required to get there and they worked backwards and checked the boxes systematically one at a time."
Fencers Amita Berthier and Kiria Tikanah, as well as badminton players Loh Kean Yew and Yeo Jiamin, faced opponents that were "for sure stronger" than them, but they were "quite fearless", said Dr Tan.
He also praised the "tenacity and drive" of rower Joan Poh and lauded divers Jonathan Chan and Frieda Lim, open-water swimmer Chantal Liew and equestrienne Caroline Chew, whom he described as pioneers in their sport.
"It's never easy to be the first person, because you are the one that has to pave the way for others," he added.
Dr Tan noted that Singapore's athletes also had to deal with challenges of preparing for the Olympics amid the COVID-19 pandemic, and managed to tackle the "curveball" posed by it "very well".
DISAPPOINTMENT FOR SWIMMERS
At the same time, Singapore Sport Institute (SSI) chief Toh Boon Yi noted that Singapore's swimmers did not perform up to expectations.
"By their own admission, our swimmers have already acknowledged that. And we have to go back and review what could have been done better, what were the issues," said Mr Toh.
"All of us felt the disappointment, from the swimmers to the officials to the general public, because we had very high hopes. High hopes framed from our last performance at the 2016 (Olympics). But that was five years ago."
He also echoed calls to give the swimmers "space" and that the next steps will be determined down the line.
None of Singapore's three swimmers, including 2016 Olympic champion Joseph Schooling, progressed past their heats in Tokyo.
Mr Toh said that they had noticed the trend of declining performances.
"We saw those trends, and we were working with all the people around to see to it that we could address some of the issues and the problems … we have to go back to the drawing board," he added.
Dr Tan, a former national sailor, said that disappointment is "inevitable" in sport.
"That's the nature of competition. You have 80 participants, there's only one winner. So we need to accept that … you can't win all the time," he said.
"I'm quite sure everyone in Singapore has personally faced disappointments in their own personal lives ... In time to come (our Olympians) will show us how champions actually deal with disappointments."
Catch the Olympics Games Tokyo 2020 LIVE with 14 dedicated channels on meWATCH. Sign in now at mewatch.sg/tokyo2020 and get into the action with Mediacorp, Singapore's Olympics Network.