TOKYO:  If athletes were the heart of the Olympic Games, the people of host nation Japan were its soul.
Yet at the Games, they were conspicuously missing. 
Here, screams of joy bounced off empty seats. Groans of anger faded into the distance. Tears of despair were captured only by television cameras. 
While there were close to 70,000 bubbly, helpful, painstakingly polite volunteers, they were not enough to fill that void.
Some members of the public snapped photographs outside stadiums, buffered by barriers, banished in their own backyard. Others shunned the Games completely. 
The holding of the Games in Tokyo was a proud but polarising affair.
And even as the Games closed on Sunday (Aug 8), feelings continued to be mixed.
"I felt it was really wrong to hold the Olympic Games given that Japan had not completed vaccinations for most populations, and many domestic events and activities had been cancelled," said Tokyo resident Nozomi Seki, when asked what her initial thoughts about the Games had been.
As the Games began, Ms Seki said that she felt pleased for athletes who clinched medals.
"The number of infections in Japan grew to the highest level ever, but most (channels on) TV showed the Olympics instead of discussing the COVID situation, which annoyed me sometimes," she added.
"But when athletes who won medals appreciated the fact that the Olympics took place, it made me feel less angry with the government."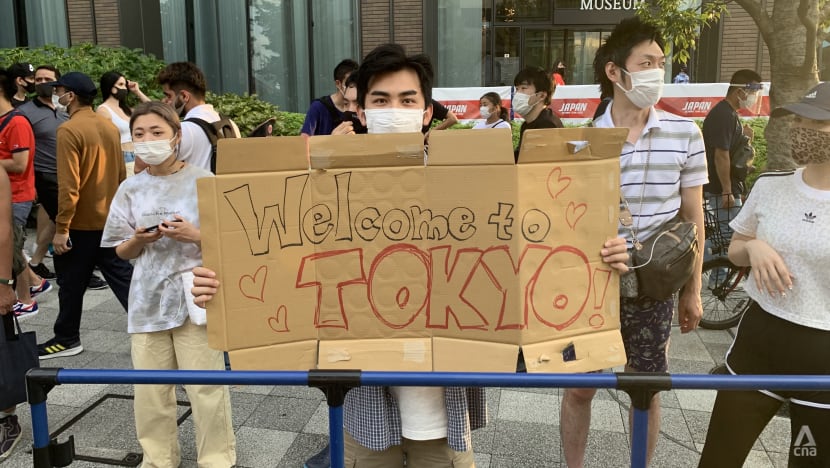 COVID-19 cases in Tokyo hit record highs in the past week, with Japan currently registering a seven-day average of close to 13,000 cases, an unprecedented peak.
"(I'm) still not sure (if hosting the Games was the right move). But at least there wasn't much increase in positive cases among Olympics-related people," said Ms Seki, who said that she is "worried" for the Paralympics.
According to recent reports, organisers recorded 404 Games-related infections since Jul 1. They carried out close to 600,000 screening tests, with an infection rate of 0.02 per cent.
Ms Kio Iwai said she was "very excited" when Tokyo was chosen to host the Games.
Determined to participate in the Olympics, she managed to land a role as leader of the language service team at Yoyogi National Stadium. 
However, she said that her excitement had "worn off" in the months leading up to the Games, as uncertainty persisted and the COVID-19 pandemic continued to rage.
"In March 2021, I learned that it was unlikely I would get vaccinated before the Games. As I have diabetes, I had become reluctant to mingle with the crowd," she said.
"My motto had been to do my best at whatever I do, but I did not want to put myself in a situation where I force myself to smile and help people when, in fact, I am afraid to do so."
With the Games continuing as planned and no vaccinations offered to volunteers, she eventually decided to relinquish her role.
"I felt hopeless and decided to give up the volunteer position. Since then, I have become cool about the Olympic Games. I think it was the best I could do for my mental health."
Despite that, she has enjoyed the Games on television, describing it as "high quality entertainment".
"I have spent hours each day watching the games on TV. I have never enjoyed watching the Olympic Games so much because I can watch every game in real time," she noted. 
"I liked everything, especially sports climbing because I have experienced bouldering with my colleagues."
However, she believes the Games should not have been held.
"They should have cancelled or postponed the Games. Look at the surge in numbers of COVID cases during the Games. I feel anger at the stakeholders who gave the green light," she added.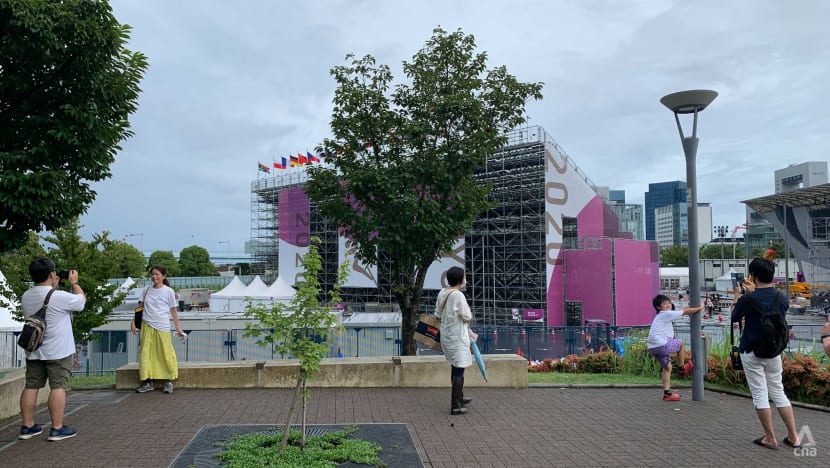 A 'WONDERFUL TOURNAMENT'
Still, enthusiasm for the Games was undeniable. 
On weekends, long queues curved down the block as members of the public waited their turn to snap photos of the Olympic rings outside the National Stadium.
Braving the blistering heat, hundreds of bystanders stood at a nearby bridge to catch the cycling BMX event at the nearby Ariake Urban Sports Park.
And as buses with athletes and foreign media made their way through local roads, some smiled, pointed and waved.
This welcome was felt not just by the media but by athletes and officials as well.
At a wrap-up press conference on Saturday, Singapore's chef de mission Ben Tan noted how the Japanese have been "incredibly welcoming", singling out volunteers for special praise.
"They were in a predicament with so many cases. And in such a situation … who would be in the frame of mind to volunteer? And you know, these Games cannot happen without volunteers - you need a whole army of them," he said.
"And yet, so many came forward."
Some locals, although sceptical at first, have also been won over by the Games.
Mr Yuta Namai, from Kanagawa prefecture, described the Olympics as a "wonderful tournament".
He said that he felt the "power of sports" through the Games.
"The reason is not only the success of the Japanese team, but also the success of the overseas players, and I was very impressed," he said.
While he wanted to watch baseball games, he said he understood the decision to ban spectators.
"It's sad, but I think it can't be helped to protect the safety of the players and spectators," said the 29-year-old.
College student Shotaro Ueno noted that he too had been unsure about the hosting of the Games.
"To be honest, at first I had doubts. But now I think it's very good to host the Olympics," he said.
"That's because I was moved when I saw Japanese athletes and athletes from other countries fighting hard."
For Mr Shutaro Wada, the Games holds deep meaning. He recalled the opening ceremony when former baseball player Shigeo Nagashima was one of the torch bearers.
"My father passed away last year, Nagashima is a national hero ... and my father liked him so much. I felt I was watching with him," explained the 26-year-old.
Mr Wada had initially planned to catch baseball games at the Olympics with his father, who passed away last year.
"I'm happy (that Japan held the Games) but I wanted to experience a no COVID Olympics," he added.
Housewife Rika Mochizuki noted that her favourite moment was when the Japanese softball team won gold.
She also enjoyed new sports such as skateboarding and sport climbing.
"To be honest, before the Olympics, the number of infected people continued to increase and the government did not take effective measures to reduce the number of infected people, so I was against holding it," she said.
"However, as soon as it started, I was very impressed by the fighting of athletes all over the world, and I was crazy for watching Olympics on TV every day," said Ms Mochizuki.
Yet she remained reluctant to share this feeling with others apart from her family.  
"I feel guilty about being impressed by seeing the Olympics," explained Ms Mochizuki. "I think that's a very Japanese way of thinking, but that's what Japan is today."
Catch the Olympics Games Tokyo 2020 LIVE with 14 dedicated channels on meWATCH. Sign in now at mewatch.sg/tokyo2020 and get into the action with Mediacorp, Singapore's Olympics Network.