Singaporean Anil Murthy says he was not sacked as Valencia president, but decided to resign before audio leaks
Former Valencia CF president Anil Murthy says comments he'd made on owner Peter Lim had been misinterpreted and maintains that the leaked audio clips are "doctored" and a "hack job".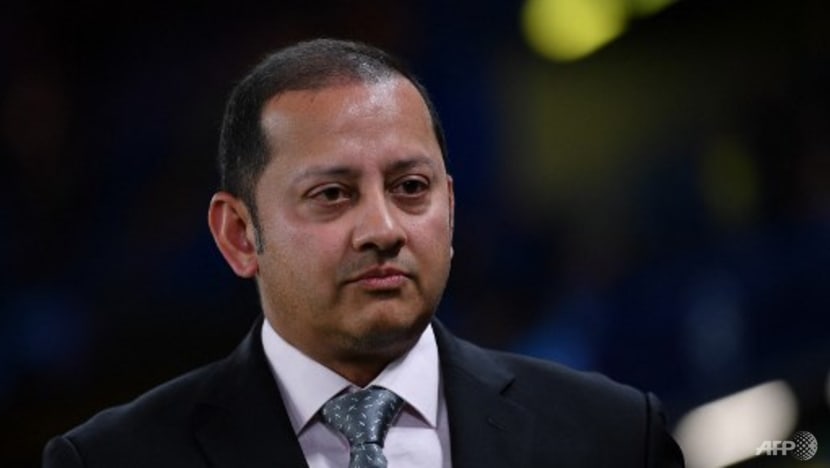 SINGAPORE: Former Valencia CF president Anil Murthy has rebuffed media reports that he was sacked after the release of audio recordings in which he allegedly criticised the club's owner Peter Lim, the club's players, and made derogatory comments about English cities Liverpool and Newcastle.
In a wide-ranging interview with CNA, the Singaporean said that he resigned from his post as club president, something he decided on before the leaked recordings surfaced.
He also reiterated claims that he had made previously, that the recordings were edited, spliced together and taken out of context. 
Mr Murthy told CNA that he and his family received death threats and were harassed "daily", which factored into his decision to resign even before the leaked recordings were published.
Now back in Singapore, he said he wanted to "clear the air" before he can move on. 
"TOTAL BREACH OF ALL ETHICAL NORMS"
The first bombshell dropped on May 16 when Spanish newspaper Superdeporte published an audio recording from a private meal attended by Mr Murthy and several businessmen.
In the leaked audio clips, Mr Murthy allegedly described Liverpool and Newcastle as "shit" cities while also apparently threatening to vilify Valencia players in the media if they forced an exit.
Valencia did not deny the existence of the recordings. An interview with Mr Murthy was put out the same day by the club's media team, in which he accused the news outlet of carrying out a "smear campaign" against the club for months, and that it had "illegitimately published recordings that belong to the private sphere, taken out of context, edited and adulterated".
In a 14-minute video on the club's website, Mr Murthy also explained his side of the story.
However, two weeks later, the club announced that Mr Murthy would "cease to be both president and an employee of Valencia CF".
"The board would like to clarify that the content of the leaked conversations between Anil Murthy and various third parties are the personal views of Anil Murthy and not of Valencia CF. Valencia CF disassociates itself from his views," said the club.
Mr Murthy told CNA he did not want to speculate on why the club put up the statement, and that he had let the club know his "personal views" on the matter.
He described the recordings as a "total breach of all ethical norms", and a "hack job".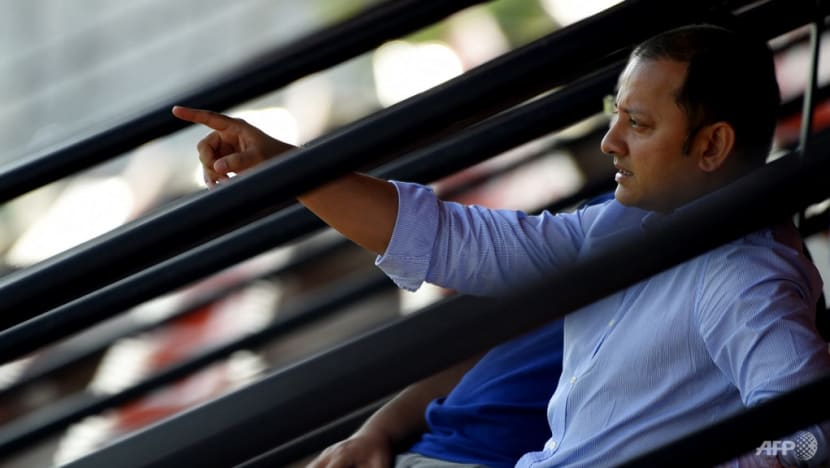 "Many of them (the recordings) were actually rearranged, some words taken from somewhere else and put in. But some of them are actually accurate, except not full ... Context is taken out," he explained.
Mr Murthy said comments on owner Peter Lim had been misinterpreted and taken out of context, while remarks about players Carlos Soler and Jose Gaya had been edited. 
In the Superdeporte article, Mr Murthy was reported as calling Mr Lim an "amateur".
"They (the businessmen) asked me, 'Is Peter Lim still committed to the club?' I say Peter Lim is a fan," Mr Murthy told CNA.
"In Spanish ... it's not my native language, but I can speak it ... that's where you got to be careful.
"When you say fan, it is 'aficionado'. A fan you still say 'aficionado'. You say 'un aficionado' it means amateur.
"So I should have used the word fan. I said Peter Lim 'es un aficionado de futbal'. I should have said Peter Lim 'es aficionado' ... My Spanish teacher told me ... I said: '"How the hell was I supposed to know?'"
He said the recording was "misinterpreted", and that it was in the context of him saying that Mr Lim is a fan. 
Mr Murthy said he has been "loyal" to Mr Lim and has only spoken well about the owner both publicly and privately.
He added that the audio clips about his apparent criticism of the cities of Liverpool and Newcastle were "doctored", he added.
"The way things are put together, you can hear from the audios as well, how it's been cut and rearranged," he said.
"Why would I suddenly become such a controversial character? Have I gone mad? For more than five years I've been speaking publicly, my talking points are all the same," he added.
Mr Murthy said that in the aftermath of the recordings being leaked, he was "very calm". He noted that leaked recordings do surface in Spain, and have happened to other people, including Real Madrid president Florentino Perez.
"I'd say it's sabotage. But it's nothing very unusual in Spain," he said.
In response to questions about why, if the audio was doctored and his views were misrepresented, he has not initiated legal action, Mr Murthy said he took legal advice but was told that he would have no recourse on the matter under Spanish law.
"It's not the first time, it will not be the last time. Controversy is what sells. The real people who are managing this business know that all this is just nonsense," he said.
When asked about his relationship with the owner after the incident, he said: "When the time is right, we'll talk about everything, but a lot of changes are taking place ... The focus right now is supporting the team.
"I think when things settle, I hope I'll have a chance to speak to him."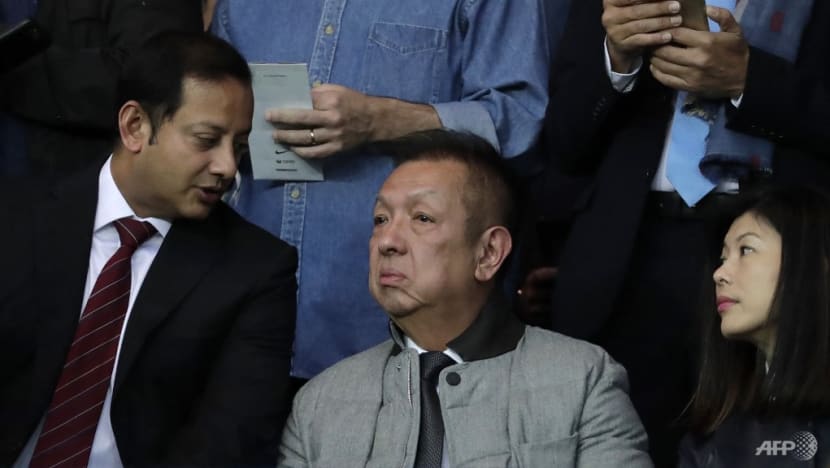 A PLANNED DEPARTURE
One of the richest people in Singapore, Mr Lim bought Valencia in 2014. Mr Murthy, a former Singapore diplomat, was appointed club president in 2017, taking over from Singaporean Chan Lay Hoon.
Lim's ownership of the club has come under heavy criticism from Spanish fans over the past few years, with protests being held on a number of occasions.
Over the years, Valencia fans have questioned a number of decisions made by the club, including the selling of star players, the sacking of coaches and the plans to build a new stadium.
"In the streets, people in cars shout at you all kinds of insults. Crossing the road, they shout at you," said Mr Murthy.
"In restaurants, people come up to you (and say): 'Eh, go home, what are you doing here?' It's daily harassment."
There have been death threats, with his wife and sons targeted too, he said. Mr Murthy added that he had nightmares about what could have happened to his young son.
"My other one is now 15 ... Others tell him: 'It's your fault, you all come to Valencia' ... He tries to keep calm, but after a while he too gets angry," he said.
The abuse escalated this year, said Mr Murthy, and he described it as a "nightmare".
"It got exponentially worse this year ... It was unlivable," he added. 
"If it was not on the streets, it was on social media," he explained, adding that he had to change his mobile phone number every year because of the abuse.
He said he did not leave the club earlier because he had hoped to see the Valencia project through.
"When I start a project ... I really like to finish (it). We went through COVID-19, bringing down the debt and were close to settling things to start building again. And we were getting there," he explained.
"It's not an easy decision for me because for me it's unfinished business. But then you ask yourself, can I be effective? Or am I doing worse?"
After a discussion with his wife, Mr Murthy made the decision to move on at the end of the season.
"We already discussed that it was time for me to step down and move on because it's not a life," he said.
"We can't go out to eat anywhere. We go to a restaurant, people harass you, even reputable restaurants, you hide in a private room somewhere.
"You can't walk around the streets. I'm afraid to go to the supermarket because people come ... it's not that I'm afraid for my life. It's just that you feel animosity - it's not a life to lead.
"So many years of living this life - it was enough."
But the leaked recordings "sealed the deal" for him to leave the club, he added. 
At the same time, Mr Murthy said that he left on good terms with the team.
"Most of them sent me messages to thank me for my friendship, how I was close to them when the league was difficult," he said.
"I was there every day. I was very close to the agents, the players and the captains. I had a good relationship with all of them."
A "MINORITY" GROUP
Looking back on his stint at the club, Mr Murthy said that the Valencia fans were in two camps, a "minority" group that was actively campaigning for Mr Lim's removal and the rest who wanted to see the club win.
"The majority are just tired of these constant battles. Between the ownership, the management, this group, lawsuits, new stadium ... I think the majority of the fans just want to see football and want to win," he said.
Communication with this group of fans could have been better, he added.
"Communication works best when you're winning. When you are not winning ... nobody wants to know your logic behind why you're selling players (if it is) because the revenue dropped, (or if) you need to balance the books. They look at you and say: 'Do you think I'm really interested? So who are you signing next?'" Mr Murthy said.
"So I think the communication, could it be improved? One hundred per cent should have improved. How to improve it? I still don't know."
When asked what other aspects of running the club could have been better, Mr Murthy said there were "many other areas", but declined to go into further details due to a confidentiality agreement.
"It was an extremely challenging environment. And every day is a new problem. And you try your best to navigate," he said.
"Could I have taken different decisions? Probably. Would it have turned out differently? I have no clue, I really have no idea," he added.
For now, Mr Murthy is looking to stay in Singapore and spend time with his extended family. He has no plans to head overseas. 
"For the last 13 years, I've only been here three years ... And I think it's time for us to come home," he added.
Before he looks at what his next move might be, Mr Murthy stressed that it is important that he puts his credibility "back on track" first.
Mr Murthy recalled how a taxi driver recognised him from the news reports and asked if he was the one who "scolded" Mr Lim.
"When I meet people ... people who have known me for a long time, they say: 'Anil, it's important for you before you move on to the next job to clear your name'," he said.
"I think it's important for people to know the truth."