Meet the Indian designers who made Priyanka Chopra's engagement outfit
Beyond Bollywood, Sandeep Khosla and Abu Jani have dressed the likes of Beyonce and Jennifer Lopez. CNA Lifestyle speaks to the designer duo.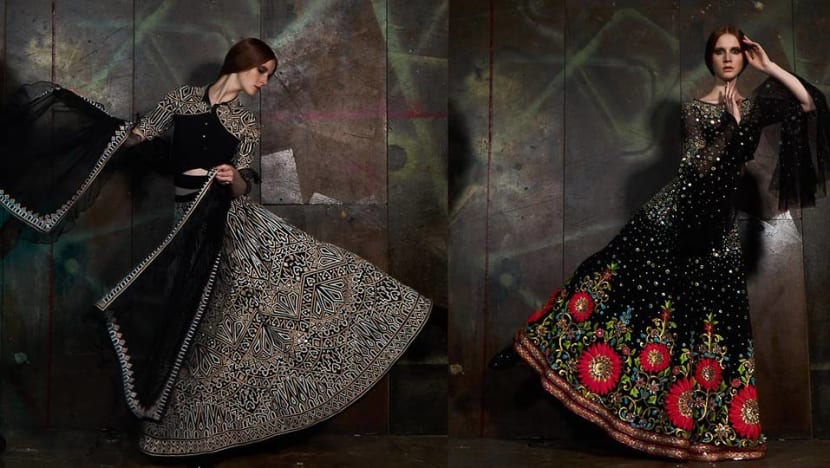 Rack upon rack of finely embellished gowns fill the room. In one corner, display cases brim with diamond-set jewellery. Overhead, light from crystal chandeliers bathe the room in a warm glow, accented by big, white floral bouquets.
I could be in the walk-in-wardrobe of a society maven. In reality, I am in the Crescent Ballroom of The Four Seasons Hotel, about to witness a trunk show put on by India's designers-to-the-stars, Abu Jani and Sandeep Khosla. Together, the pair have dressed many actresses and singers of note in Bollywood and beyond, from Priyanka Chopra and Aishwarya Rai Bachchan to Beyonce and Jennifer Lopez.
The annual event, organised by Singapore firm The Silk Root for the third year running, typically occurs just as the Indian social season gets underway. This is a time when the betrothed tie the knot and families throw lavish parties to celebrate. And, of course, they need custom frocks and spiffy suits to do so in style.

The creations shown in Singapore span three collections: The couture/bridal line Abu Jani-Sandeep Khosla (AJSK); the Western-style brand Khosla Jani; and the diffusion label ASAL by Abu Sandeep. 
Prices range from S$1,000 for an ASAL casual dress to S$20,000 for a top-of-the-line, intricately handwoven ball gown from AJSK.
After 32 years in the business, Jani and Khosla have carved a solid reputation for themselves. The company grew from a single showroom in Mumbai into a 300-man outfit with seven boutiques in India, and trunk shows that call at London and New York Fashion Weeks.
Bollywood's biggest and brightest – the likes of Kareena Kapoor Khan and Sonam Kapoor, seen in the recent comedy Veere Di Wedding – need only place a call to the couturiers, and three days later, they'll be outfitted for a red carpet outing or festive occasion.
Such was the case with Priyanka Chopra, who opted for a radiant yellow sherwani to wear for her engagement to Nick Jonas.

"Priyanka's outfit took a long time to make – almost six months," Khosla told CNA Lifestyle, adding that he was not aware of their engagement plans until three days before the event. 
"The sherwani was something we already had, to be honest. It was made specially for the Abu Jani Sandeep Khosla collection. So, it was not exactly a custom piece. But it had just come in (to the boutique), and she loved it, so it worked out really well."
The chikankari embroidery used on the sherwani is painstakingly handworked by women in Lucknow, Uttar Pradesh. It is, Khosla explained, one of the few embroidery styles to be done by women; the vast majority are done by men. 
Khosla and Jani revived this ancient craft 25 years ago, introducing it to a new upmarket clientele. At any one time, there is a waiting list of 10 to 12 clients, who have to sit tight for a year or two, while their dresses are assembled.
Prior to her own roka ceremony, Chopra wore another AJSK creation – a red sari – to Shloka Mehta and Akash Ambani's engagement party.
"You build a certain amount of trust with certain actors and actresses, like Sara Ali Khan from the younger generation, and Sonam Kapoor, who's a big fashionista in India. She's a clothes horse. Whatever you put on her transforms magically," said Khosla.
Then, of course, there is Bollywood royalty – the Bachchans. Among their first notable clients was the screen legend Jaya Bachchan, wife of Amitabh. Today, they dress her daughter-in-law, Aishwarya Rai Bachchan.
"It's a relationship based on mutual trust and respect. They just tell us, 'Guys, I'm going (to attend a certain event), do whatever you want to do'. We already know their measurements. We know what colours work on them, what embroideries or appliques they like. And we have a team that goes to fit them out every time," said Kholsa.
By the time you read this, Khosla would have hopped on a plane. His next destination is Lake Como, Italy, where Isha Ambani (daughter of billionaire Mukesh Ambani) and Anand Piramal (a billionaire industrialist, philanthropist and social entrepreneur) are due to be engaged.
"I can't talk about it, but it's more than one dress!" he said coyly, before excusing himself to attend to his clients – one of whom, a walk-in customer, was overheard claiming to be the future Queen of Dubai. She was shopping for a wedding dress, of course.