The Horological Society of New York sells out watchmaking classes in Singapore
Watch enthusiasts snap up all available spots for the courses held at The Hour Glass Malmaison boutique at S$682 a person.
Watch enthusiasts come in many stripes. Some enjoyed taking apart and putting together watches when they were young. For others, knowing what makes a timepiece tick is a distinctly adult affair.
On Sep 8 and 9, the Horological Society of New York (HSNY), a nonprofit organisation, along with The Hour Glass, is holding four watchmaking classes at the Malmaison boutique in Knightsbridge – and it took less than 10 days for all 32 spots to sell out at US$500 (S$682) a person, with interest coming from as far afield as Australia.

One such enthusiast is Ida Lee, a Sydney-based watch collector and contributor to Australian watch review website Remontoire, who will be flying in specially for a class.
"This is the first time HSNY have offered their Horology classes to the public in Asia, and it was by a mix of good fortune and timing that I am able to attend. Attending a HSNY workshop was something I had hoped to do on a US visit; now I won't have to travel quite as far. Australia can feel quite a long way away from the rest of the world, sometimes," she told CNA Lifestyle via email.
Collectors are sometimes invited to watch factories to observe the production process. It is a chance for them to appreciate the laborious efforts undertaken by watchmakers, technicians, researchers, engineers and craftsmen in order to bring a timepiece to life.
It is one thing to observe a watch being made, but quite another to attempt doing so on one's own. This is why workshops offered by HSNY and other similar nonprofits around the world are so popular.  
Led by Vincent Robert, HSNY's Director of Travelling Education, each tutorial is four hours long and covers the basics of watchmaking. Students will be taught how to disassemble and reassemble an ETA 6497, a hand-wound mechanical movement used in certain Hamilton, Panerai and Tissot watches. Profits generated from the course fee will go towards the HSNY's future educational programmes.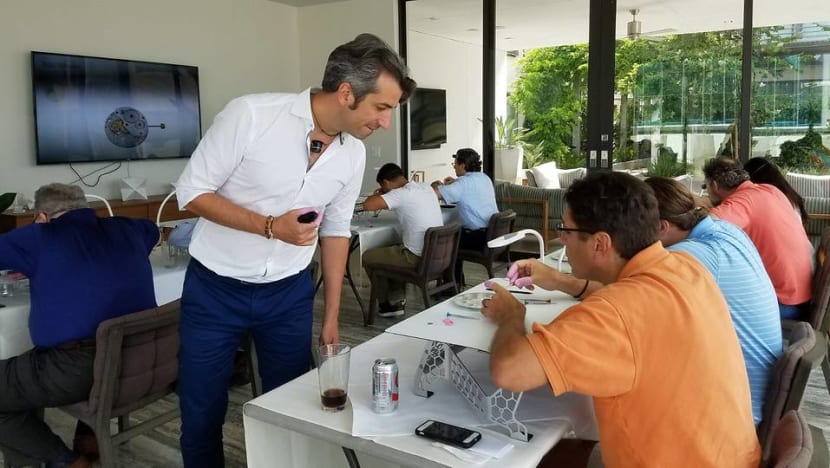 There are slight differences between the way classes are conducted in the US and abroad.
"The courses in New York are taught as single one-and-a-half hour courses during weeknights. With the Travelling Education program, we decided to offer the first three classes (Horology 101-103) as a seamless four-hour experience. The core content taught is the same, but the Travelling Education class focuses more on the flowing experience of a full movement disassembly and reassembly such as a watchmaker would face," Robert told CNA Lifestyle via email.
Local enthusiast Tom Chng, founder of the Singapore Watch Club, was unable to sign up for the classes because of a conflict in his schedule, but he nonetheless applauds initiatives such as this.
"It is encouraging to see a retailer putting an emphasis on educating the public about the art of watchmaking, not just the business aspect of things," he told CNA Lifestyle. "This is a great way for their customers to learn about the finesse and traditional methods involved in the making of timepieces, and will also provide insights as to why a well-made watch is both significant in cost and sentiment."
For The Hour Glass's Group Managing Director Michael Tay, the collaboration with HSNY came about organically.
"We have long been admirers of the work that the Horological Society of New York have been engaged in as we, too, share a similar mission – that of advancing watch culture. When the HSNY approached us to support these watchmaking sessions, we accepted without skipping a beat," he told CNA Lifestyle via email.
The classes, he explained, are a continuation of earlier initiatives like TEMPUS, two exhibitions held in 2004 and 2007 with the aim of developing public appreciation of watch culture.

For watch enthusiasts who are keen to attend such courses, but who missed out this time around, there is hope.
"We've had an incredible response to this series, with a number of participants flying in just to participate in it… so definitely it would be of interest to us to continue pursuing it," said Tay. 
Visit The Hour Glass and the Horological Society of New York (HSNY) for information on upcoming events.