Would you pay US$380 for a four-hour nap? Air New Zealand gives indicative price for economy class sleep pods
A lie-flat snooze in cattle class? For now, it's pie-in-the-sky stuff, but from 2024, a horizontal nap at cruising altitude will be available to some - and it could set weary travellers back around US$100 an hour.
Air New Zealand on Wednesday (May 10) unveiled more details about Skynest, which it calls "the world's first sleep pods in the sky for Economy travellers".
The airline said it had yet to fix a price but indicated a range of between NZ$400 and NZ$600 (US$380) for a four-hour block.
They will be rolled out in September 2024, starting with a pair of ultra-long-haul flights: Auckland-New York and Auckland-Chicago.
The Skynest is made up of six pods in a bunk bed configuration and is located between premium economy and economy. 
Each pod comes with a full-size pillow, sheets and blanket, ear plugs, a reading light, USB outlet, ventilation outlet and "lighting designed for rest".
For safety, the pods will each have a seatbelt to ensure the passengers can stay in the pod should the seat belt sign come on during turbulence. Bedding will be changed between each session, with a 30-minute transition time.
At the end of each four-hour session, the lights will gently come on, with crew members on hand to wake any passengers who sleep through it.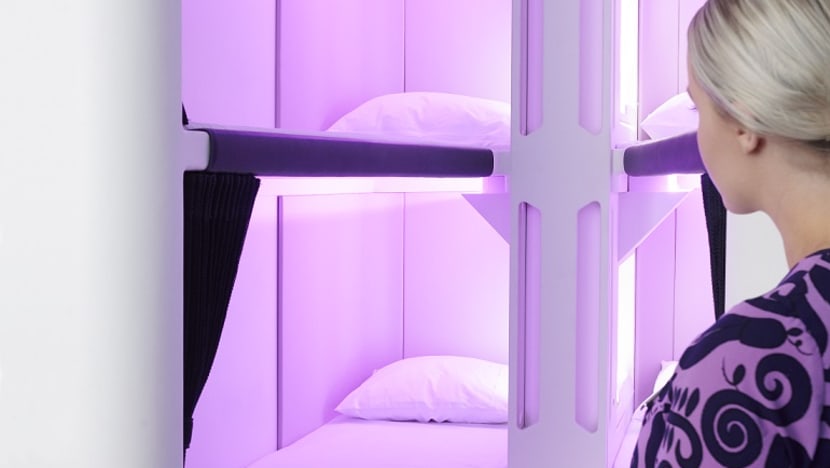 "We're still working through the exact details of how the booking process will work," said Air New Zealand.
"North America is the perfect market for Skynest, as it has a premium segment that values comfort and sleep during long-haul travel," said the airline.
The carrier did not mention when and on what other routes it is planning to introduce the in-flight lie-flat option.