'A day that divides many': Why some Aussies are not celebrating their national day
On Thursday, thousands of Australians across the country marked national day with protests in support of Indigenous people.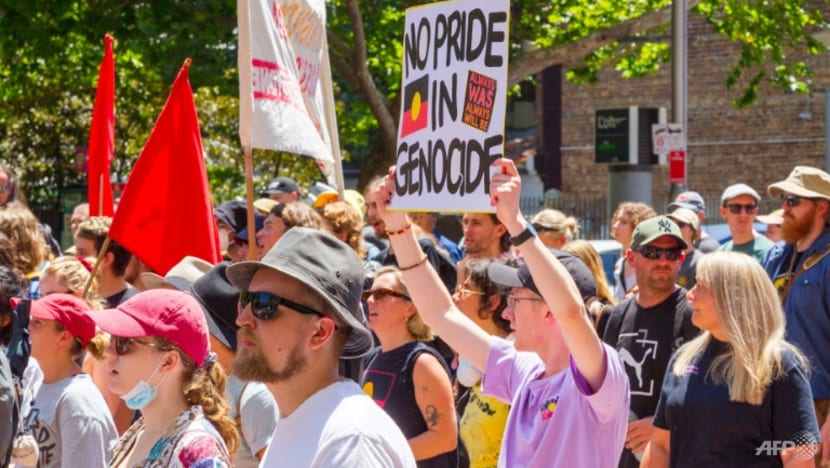 SINGAPORE: Australia's national day is dividing many people across the country, instead of bringing them together. 
The date - Jan 26 - commemorates the landing of Britain's first fleet in 1788, but is also a painful reminder for Indigenous communities, many of whom refer to the anniversary of the day as "Invasion Day" or "Survival Day". 
Some have called for the contentious national holiday to be renamed or moved to another date, but there is no easy solution without ruffling some feathers, historians said on Thursday (Jan 26). 
"I think it is deeply divisive," said Professor Martin Thomas of the Australian National University's School of History. "And it has terrible connotations for the indigenous people. 
"So, to mark that as the national day - and a national day surely should be a day of union and common celebration - you can see why indigenous communities and their many supporters are highly irate."
PROTESTS ACROSS AUSTRALIA
On Thursday, thousands of Australians across the country expressed their unhappiness over the national day with protests in solidarity with indigenous people. 
In Sydney, a large crowd gathered at a rally in the central business district, where some people carried Aboriginal flags. Similar protests took place in other Australian state capitals.
But these protests are not new, having continued in various forms over the years. 
"It is difficult to find a solution, because I think most people agree that there should be some sort of national day of celebration. Most nations have that," Dr Thomas told CNA's Asia First.
"It will be a divisive issue and there is a white nationalist element in this country who will vigorously defend this day," added Dr Thomas, a cultural historian who specialises in Australian, Aboriginal and transnational history. 
"So it's not going to be resolved very pleasantly, I don't think. But I guess part of what we need to do now is start hunting around for other solutions."
GOING BEYOND 'BAND-AID' SOLUTIONS
Recent polls have suggested that attitudes have been shifting towards changing the date, as more Australians distance themselves from the controversial day. 
The campaign to change the date has been gaining momentum. Many public figures, from Tasmanian Premier Jeremy Rockliff to actor Chris Hemsworth, have also advocated for a different date.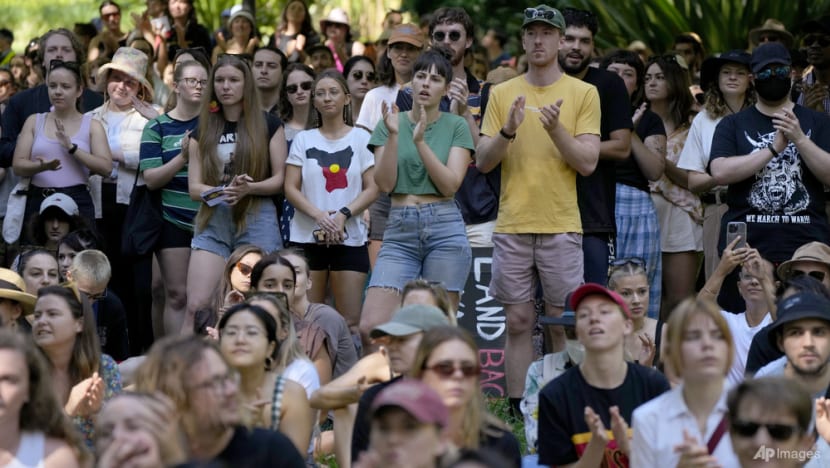 Dr Benjamin Jones, senior history lecturer at CQUniversity, said: "This is a social movement really, and we're observing social change in how Australians view their history and view their past. 
"And it will likely be something that when enough of the population demand a change, then the government will respond."
For some, celebrating the day that the First Nations people were colonised and dispossessed is not particularly patriotic, he told CNA's Asia Now. "The politically safe thing for both the government and the opposition is just to keep things as they are for now. 
"But increasingly, it's just a day that people aren't comfortable celebrating, so it's a day that divides many Australians and that's the opposite of what it's meant to do."
On whether the government will bend to this grassroots movement, he noted: "The government always has its eye on polls, and governments are usually pragmatic enough to try and weigh up issues by how many votes they might gain and how many votes they may lose. 
"But it's a very uncomfortable day at the moment, and there have been what I would call band-aid solutions by trying to change the tone of the day," said Dr Jones, whose expertise is in Australian political history. "Also, Australia is considering becoming a republic again...
"And if Australia becomes a republic on a different day of the year, then that also may give the government of the day an easy alternative and say well, let's have it on this day because that's a logical day to celebrate a national holiday."
NO PLANS TO CHANGE DATE OF NATIONAL DAY
Speaking at a flag-raising and citizenship ceremony in Australia's capital Canberra on Thursday, Prime Minister Anthony Albanese honoured the country's Indigenous people.
While it was a "difficult day" for Indigenous Australians, there were no plans to change the national holiday's date, he said.
Last month, Mr Albanese said a referendum on an Indigenous Voice to Parliament will be held before December this year, giving an institutional voice to the long-suffering indigenous population. 
Indigenous Australians make up about 3 per cent of the country's population. About a third of them live below the poverty line.
Polls have suggested that a strong majority of Australians support having a voice for the Indigenous communities recognised in the Constitution, giving them a greater say in national policy-making.
Indigenous Australians are not currently mentioned in the nation's Constitution and any move to change it is politically contentious, said observers. 
"There are opponents, both from the conservative right and also from the left," said Dr Jones. "On the left, some say that it doesn't go far enough. And the conservative side says that they don't want a different set of rules for different Australians and we should all be equal as citizens. 
"So there are two camps of opposition, but there is at the moment a majority of support for a voice."
But enshrining a First Nations voice in the Australian Constitution may not be the right path forward, with some preferring a treaty instead. 
"We have a democratic Constitution and it's a Constitution which not even the parliament can change," said Dr Jones, adding that the Australian Constitution can only be altered by a referendum of all Australians of voting age.
"It will be a decision for the Australian people. The government of the day will put forward what they think is the wording most likely to be successful," he added. 
"But ultimately, it's not up to senators and it's not up to MPs. The voice will go to the Australian people, and they'll decide whether the Constitution changes."