Australia's major defence overhaul 'necessary', as China rapid military buildup stirs security worries
A government-commissioned review recommended that Australia spends more money on defence, makes its own munitions and develops the ability to strike longer-range targets.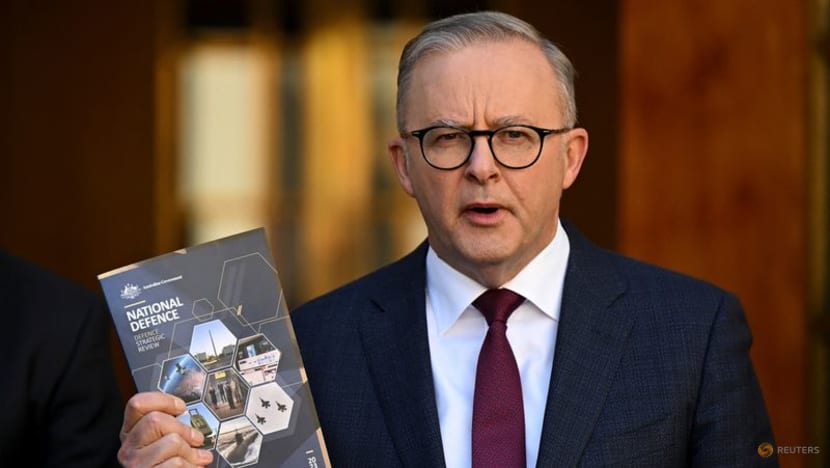 The reorienting of Australia's defence strategies is a necessary leap, as China's rapid and opaque military buildup challenges security in the region, said observers.
A government-commissioned review released on Monday (Apr 24) recommended that the country spends more money on defence, makes its own munitions and develops the ability to strike longer-range targets. 
"I think it is both necessary and impressive," said Mr Blake Herzinger, research fellow for foreign policy and defence at the United States Studies Centre at the University of Sydney. 
"It is a bold move in a time when the status quo, or business as usual, is no longer going to serve Australia's strategic needs."
Australian Prime Minister Anthony Albanese said the defence strategic review was to assess whether the country had the necessary defence capability and preparedness to defend itself in the current strategic environment. 
GOING BEYOND AUSTRALIA'S SHORES
"For Australia, I think this makes a lot of sense," Mr Herzinger told CNA's Asia Tonight on Monday. 
"An evaluation of their priorities now and in the future (shows that) Australia wants to be an active power in shaping and participating in bolstering a region that they want to live in. 
"That means supporting the sovereignty of regional states, enforcing their own sovereignty, and helping regional states stand up against coercion. That means getting a bit beyond Australia's shores, reaching out a bit further into the region than they would've done previously."
Mr Herzinger, whose work is broadly focused on the Indo-Pacific defence policy and US security cooperation, said: "Now, they're thinking more broadly into shared domains that cross regional boundaries (and) global boundaries. 
"So you see an ADF (Australian Defence Force) and an Australian government that are more interested in what's happening around them, in the Indian Ocean, in Southeast Asia and in the Pacific Islands as well."
This comes as China's growing geopolitical ambitions are becoming an increasing concern in the region, said observers.
"There's some trepidation there because the Chinese military buildup has come without the kind of transparency or reassurance that most countries would like to see," said Mr Herzinger. 
"I think we will see Australia continuing to focus to its north, but also to the west and east to extend its security further. So it doesn't have to be reactive and wait for a problem to come to Australia – it is proactively engaged in supporting partners regionally."
CHINA'S MILITARY BUILDUP LACKS TRANSPARENCY
China's military buildup "is now the largest and most ambitious of any country" since the end of World War II, said the review. 
Emeritus Professor Paul Dibb of the Strategic and Defence Studies Centre at the Australian National University said: "There's the development of highly competent military capabilities in the Indo-Pacific region, the likes of which we haven't seen before."
There is a need to demonstrate that the expansion of longer-range strike capabilities is not targeted at China, as "that's a silly idea for a country of our size", Prof Dibb told CNA938 on Tuesday. 
"But should China ever threaten us… they've inevitably got to come through our northern approaches and… we would be able to track them early on."
The review recommended that the government spends more on defence than the current expenditure of 2 per cent of the gross domestic product, boost the ADF's ability to strike targets at longer ranges and produce munitions locally. 
Other recommendations include improving the force's ability to operate from Australia's northern bases, and to strengthen defence partnerships with key allies in the Indo-Pacific region, including India and Japan.
However, some observers noted that Australia still has to deal with other pressing concerns such as healthcare and aged care costs. 
STRENGTHENING DIPLOMATIC TIES
On the regional balance of power, Prof Dibb said this "requires deepening diplomatic engagement in our region and stronger defence capabilities". 
Australia's defence strategic review also supported the AUKUS partnership with the US and Britain. 
Mr Herzinger said the review also points out "very clearly" the need to integrate Australia and the US further as allies and lean on the alliance for strength.
"Australia needs to play a part in buttressing the United States in its role in the region," he added. 
In March, the AUKUS alliance announced an agreement to create an Australian fleet of eight submarines powered by US nuclear technology in a major step to counter China's naval dominance in the Indo-Pacific.
Mr Herzinger noted that the defence strategic review made several references to the acquisition of the nuclear-powered submarines.
"It mentions a number of US-built projects that Australia will be investing in and it talks about co-developed projects that both will be working on," he added. 
"It also acts to bring the United States further into the region, and anchor the United States by expanding access in Australia to US forces and operating together," adding that sailors from the two nations, as well as Britain, will work on the same submarines. 
"It helps to keep the United States in the region and reinforce the type of order that Australia would like to see."