Valued at US$2,000, sold for US$7.6m: How a 'celestial' Chinese porcelain vase stunned an auction house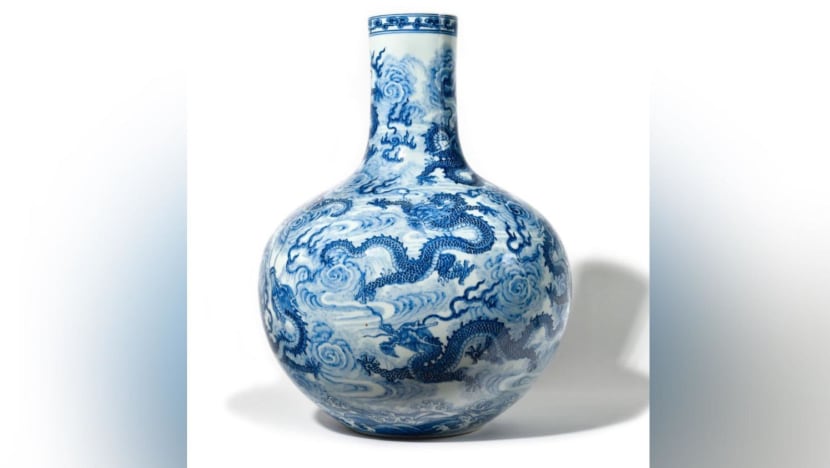 SINGAPORE: A Chinese vase put up for auction by a French auction house has been sold for €7.7 million (US$7.6m) - nearly 4,000 times its estimated value. 
Valued at just €2,000 (US$1,966), it sparked a bidding war among about 30 people at the auction in Fontainebleau near Paris on Saturday (Oct 1), according to media reports. Including the seller's fees, the final purchase price was €9.12m.
The Guardian reported that the bidders, mostly Chinese, were convinced that the vase was a rare 18th-century artefact. 
The term tianqiuping means "celestial sphere vase" and derives from the vase's form. 
On the auction house Osenat's website, it was described as a "porcelain and polychrome enamel vase in the style of the blue-white with globular body and long cylindrical neck, decorated with nine fierce dragons and clouds".
The 59-year-old seller, who lives in a French overseas territory, had simply arranged for the vase to be sold from her late mother's estate and had never even seen it, according to reports. 
The 54cm-tall vase originally belonged to her grandmother, who was a Parisian collector.
The auction house, however, believed it was a "quite ordinary" porcelain-and-enamel piece dating to the 20th century. 
"From the moment the catalogue was published we saw there was enormous interest, with more and more Chinese people coming to see the vase," Cedric Labord, a director at the auction house, told French daily Le Parisien.
"Our expert still thinks it's not old."
An Osenat expert noted that the vase would be "extremely rare" if it had been "200 years older".
Le Parisien reported that the buyer was Chinese and won the bid via telephone.
The house's auctioneer Jean-Pierre Osenat said that he had never seen anything comparable to what happened at the sale.
"It exceeds the price of Napoleon's sabre at the Battle of Marengo in 1800!" he said, referring to the artefact that sold for €4.2m in 2007.