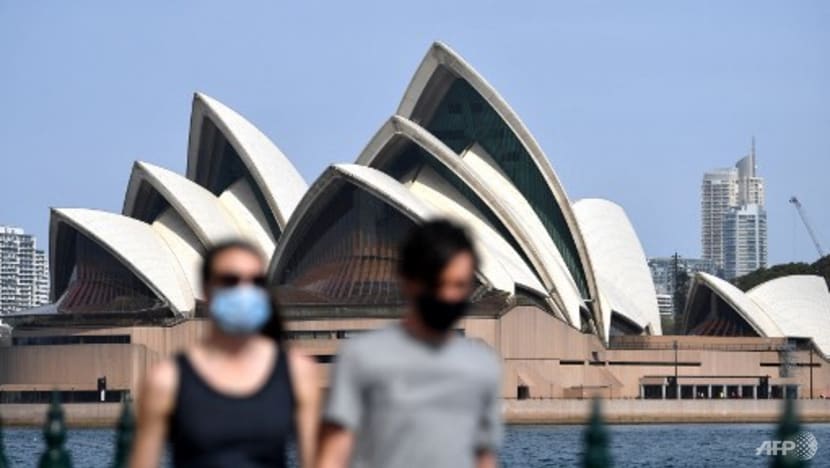 Sydney is suddenly in party mode.
After nearly four months in lockdown, its five million residents are preparing to loosen the shackles imposed by COVID-19, pop the champagne corks, fire up the barbecue and celebrate their first taste of freedom since July.
From Monday (Oct 11), dubbed "freedom day", with 70 per cent of the eligible population fully vaccinated, New South Wales will allow the re-opening of all retail outlets, pubs, restaurants, cinemas and theatres, as well as limited travel.
Once the vaccination rate hits 80 per cent a week or two later, there will be even fewer restrictions with travellers allowed to drive and holiday anywhere within New South Wales.
Hotelier Brian Barry, who runs a small five star, family-run boutique establishment on the Central Coast just north of Sydney, says people are desperate to get away and splurge. "There's a lot of money out there because no one's been spending," he says.
Caviar, crayfish and premium imported wines are likely to be in strong demand as his guests emerge from nearly 16 weeks of strictly imposed stay-at-home rules.
With most of his rooms fully booked for months ahead, he believes this is the start of a regional tourist boom.
The irony is not lost on Brian.
"If you think COVID has been a tragedy, it's also provided an enormous marketing boost for the Central Coast," he admits.
It is a similar picture in Sydney where live theatre, concerts and outdoor events are expected to transform the harbour city into the social epicentre of the state. 
Publicists and party planners are working around the clock to meet the demand from clients keen to catch up on lost time.
PR consultant Chrissy Biasotto, who organises an annual dinner for an international beauty brand – one of the most sought after invitations of the year – says it usually takes four to five months to prepare. 
"We're now having to accelerate the planning and will be working to expedite all the bells and whistles for an early December celebration," she says. 
It will not be easy given the density limits imposed in some locations, under current NSW health rules. 
And then there is the tricky question of who has received the jab and who has not.
Throughout October and November, non-vaccinated individuals will be forbidden entry to many retail outlets, as well as pubs, clubs and many social and sporting facilities. 
It promises to be a minefield for shops and restaurants which are legally obliged to ban anyone who cannot provide proof of inoculation against COVID-19.
Any breach of the rules could end in hefty fines for owners and customers alike.
Only those who have been fully vaccinated will be allowed to participate in Sydney's newfound freedom. Others will have to wait until December and some have branded the law a form of social apartheid.
Even so, health authorities are adamant that lockdown restrictions have to be eased slowly in order to manage the highly infectious Delta variant over the long term.
A RETURN TO HIGH CASELOADS?
And herein lies the ever-present fear. Will the number of cases shoot back up again once the rules are relaxed?
Epidemiologist Raina MacIntyre, Professor of Biosecurity at the University of New South Wales, has little doubt that COVID-19 will continue to pose a threat and that occasional lockdowns are here to stay. 
With people free to move around and 3.3 million locals not fully vaccinated, even at 70 per cent, the risks are obvious. "It's going to really spread," Prof MacIntyre told CNA.
And it will not only be the unvaccinated either.
Waning immunity among those who have had the jab after six months will mean that even those who have had two shots will catch the bug, she warned. 
"I can't give you a number but it's going to be much bigger than the peak we've just seen (when daily cases in NSW hit around 1500)."
"Eventually the health system is going to be the weak point. When the hospitals and ICUs are full, when you can't provide basic health care for everybody and ambulances are ramped up, any country will be forced into lockdown to stop things collapsing entirely," she predicted. It is a grim picture.
"It's like a balancing act," Prof MacIntyre explained. 
"You have the virus on one side of the scale and public health measures on the other. If you take out one public health measure you have to increase the other measures to stop the virus winning. If you don't the virus is just going to dominate."
KNOCK-ON EFFECTS ON THE ECONOMY
How NSW and the rest of Australia will cope in the weeks and months ahead will depend on how each state manages that balancing act.
While NSW and Victoria have gone hard against the Delta strain, much to the frustration of many of their residents, other states continue to pursue a policy of elimination. 
So far their efforts have kept the virus largely at bay but partly because of low vaccination rates, it remains to be see what happens in Queensland and Western Australia when they eventually open up their borders to other states.
If case numbers rise dramatically, there could be severe knock-on effects for businesses, particularly in Queensland where the tourism industry has been decimated by border closures. 
Australia's Treasurer Josh Frydenberg acknowledges that the pandemic has severely dented the nation's economy.
By the end of the latest financial year the federal budget was already in deficit to the tune of A$134 billion (US$97.9 billion), although that was actually better than forecast.
However, the deficit did not take into account the latest lockdowns in New South Wales and Victoria, which have been arguably more ruinous than the previous year's restrictions.    
"We recognise there are many economic challenges ahead and indeed many Australians are doing it very tough right now, particularly in the locked down states," he acknowledged in delivering the Final Budget Outcome for financial year 2020-21.
But he was not without hope that the economy would bounce back in the new year with more people already employed and fewer people receiving welfare payments.
"Since May of last year more than one million new jobs have been created and the unemployment rate has fallen below five per cent for the first time in a decade," he pointed out.
Certainly the demand for workers will rise even more dramatically as shops and offices re-open and Australians learn to live with the virus.
"STARTING FROM SCRATCH"
In that respect small to medium-sized businesses such as  Brian Berry's boutique hotel at Killcare on the New South Wales Central Coast is a prime example of the economy showing signs of life again.
Despite the financial uncertainty of the past 18 months, he has spent the downtime on completely refurbishing the luxury lodgings.
He has started a reorientation programme for his staff "to get them back into the swing".
Sauces and stocks are already being created in the kitchen as "we're all starting from scratch," he admitted. 
Like many small business owners coming out of lockdown, he is keeping his fingers crossed there will be no more shutdowns. 
But he is also realistic enough to understand the challenges ahead. 
"At the end of the day anything can transpire," he conceded.
In the meantime, Brian and his guests are happy to party again - just like the rest of New South Wales.