Europe turns to firewood in the face of uncertainties over gas, electricity supplies
The price of firewood has risen over the past year, but it still remains the cheapest form of combustible fuel.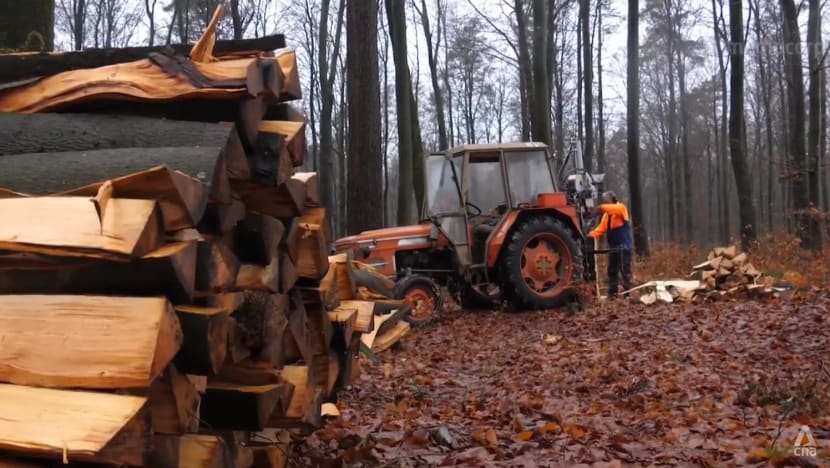 LIBIN, Belgium: There has been an increase in demand for firewood as an alternative fuel source in Europe amid uncertainty around gas and electricity supplies as winter kicks in.
However, the pivot towards firewood is leading some to fear for the future of forests in Europe, which is among the most forest-rich regions in the world and plays host to much of the planet's biodiversity.
The European Union (EU) has been embroiled in an energy crisis for months, with the fallout of Russia's war in Ukraine leading to highly volatile energy prices.
RISING PRICE OF WOOD
In Belgium's St Hubert forest, a small section of forest has for centuries been reserved for local villagers to gather and buy logs at lower rates.
Libin villager Philippe Noirot said: "I love doing this. I have been cutting wood since I was a young child with my parents. It has stayed part of my everyday life."
He added that the firewood has been a lifeline for locals in the past year, with gas and electricity prices proving unpredictable.
More than a thousand households in the village are part of the log allowance scheme, among the last of its kind in the country.
The sales revenue helps fund the work of village authorities, and there are limits on the amount of wood allowed to be gathered under regional rules.
Libin mayor Anne Laffut said the village recently held an additional firewood sale for the first time in response to the energy crisis.
"The demand was so great, people were calling and asking when they could buy wood, saying the regular allocations had run out," she said.
Although the price of firewood has increased as much as four-fold over the past year, it remains the cheapest form of combustible fuel in Belgium.
Wood processing companies are struggling to keep up with orders.
Bois de Chauffage Belgique's wood merchant Valentin André said: "We saw a big boom in terms of sales. Demand has gone up but the supplies have remained at the same level. That means we've found ourselves with very little stock and we've had to increase our prices."
EUROPEAN RULES ON LOGGING
The demand has grown across Europe. According to the United Nations' estimates, around a million more tonnes of wood pellets were burned in the EU last year compared to the year before, with consumption expected to grow further.
With the need for firewood growing, logging rules have become more important. While Belgium has strict limits on logging, the rules vary across the EU, and campaigners say authorities are not doing enough to protect the precious resources.
Hungary has relaxed its forest protection rules to offer easier access to firewood, while German authorities have warned of scammers setting up fake online wood shops to exploit consumers. 
Because more trees can be planted, firewood is classified as a renewable energy and qualifies for EU subsidies, but burning it still leads to emissions. 
"Today, EU renewable energy policies are incentivising the burning of wood, almost all kinds of wood. And that's the problem," said Mr Martin Pigeon, a campaigner with environmental group Fern.
"In a climate crisis, you want as much as possible to leave forests standing because we need them. And burning them is really the last thing we should be incentivising."
The subsidy rules are likely to be tightened soon.
Meanwhile, Brussels has committed to planting 3 billion trees by 2030. EU countries will also be required to submit national nature restoration plans moving forward.
This comes as governments play catch-up with climate change.
Hundreds of thousands of hectares of forest in southern Europe were destroyed by heatwaves and drought last year, and scientists predict they will happen again. 
"The extent and intensity of forest fires in the EU will increase in the next (few) years. And this is one of the main challenges that the EU's strategy intends to overcome, to the extent possible through the promotion of more healthy and resilient forests," said EU environment commissioner Virginijus Sinkevicius.