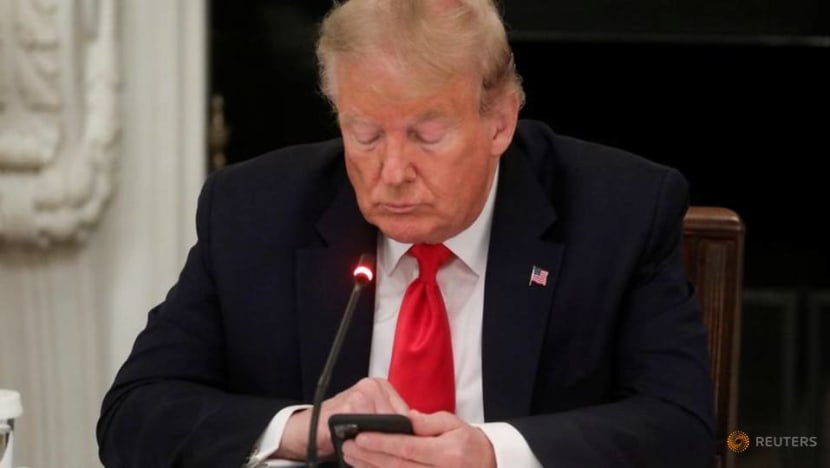 SAN FRANCISCO: Facebook's oversight board on Wednesday (May 5) upheld the company's suspension of former US President Donald Trump but gave the company six months to determine a "proportionate response" going forward, a verdict that may chart how social media will treat rule-breaking world leaders in the future.
Facebook indefinitely blocked Trump's access to his Facebook and Instagram accounts over concerns of further violent unrest following the Jan 6 storming of the US Capitol by supporters of the former president.
"The board found that, in maintaining an unfounded narrative of electoral fraud and persistent calls to action, Mr Trump created an environment where a serious risk of violence was possible," it said.
"At the time of Mr Trump's posts, there was a clear, immediate risk of harm and his words of support for those involved in the riots legitimised their violent actions. As president, Mr Trump had a high level of influence."
The board, whose decisions are binding on the leading social network, however, also said that "it was not appropriate for Facebook to impose the indeterminate and standardless penalty of indefinite suspension".
"Within six months of this decision, Facebook must reexamine the arbitrary penalty it imposed on January 7 and decide the appropriate penalty," said the board in its written opinion.
"It is not permissible for Facebook to keep a user off the platform for an undefined period, with no criteria for when or whether the account will be restored," it added.
The panel said Facebook "can either impose a time-limited suspension or account deletion".
At the time of the suspension, Facebook chief executive Mark Zuckerberg said in a post that "the risks of allowing the President to continue to use our service during this period are simply too great".
The company later referred the case to the board - envisioned by Zuckerberg as the equivalent of a "supreme court" for thorny content decisions - to decide whether to uphold the ban or restore Trump. The board includes academics, lawyers and rights activists.
"Facebook left the indefinite suspension in place and referred the entire matter to the Oversight Board, apparently hoping the board would do what it had not done," said former federal judge Michael McConnell, co-chair of the Oversight Board, during a press conference after publishing its decision on Wednesday.
McConnell added: "Indefinite penalties of this sort, do not pass the international or American smell test for clarity, consistency, and transparency."
The case had been intensely followed for its repercussions for social networks seeking to curb misinformation and abusive content while remaining open to political discourse.
Some analysts said Facebook and other social networks should have acted on Trump sooner, after years of giving him an exemption from rules on hateful content because of his "newsworthiness" as a political leader.
On Wednesday, Nick Clegg, Facebook vice president of global affairs and communication, published in a blog entry following the decision: "We will now consider the board's decision and determine an action that is clear and proportionate ...  "In the meantime, Mr. Trump's accounts remain suspended."
CONTROVERSIAL DECISION
Trump, who has been sending out short, emailed press releases, continued to promote election misinformation in one on Monday, saying "the Fraudulent Presidential Election of 2020 will be, from this day forth, known as THE BIG LIE!"
On Tuesday, he launched a new web page to share messages that readers can then re-post to their Facebook or Twitter accounts. A senior adviser has said Trump also has plans to launch his own social media platform.
Shortly after the board ruling on Wednesday, Trump issued a statement reiterating his false claims that voter fraud caused his defeat in November, and urging his followers to "never give up".
Trump's suspension was the first time Facebook had blocked a current president, prime minister or head of state. Facebook's oversight board said it received more than 9,000 comments from the public on the Trump ban, the most it has had for a case so far.
Several academics and civil rights groups have publicly shared their letters urging the board to block Trump permanently, while Republican lawmakers and some free expression advocates have criticised the decision.
Since taking action on Trump, social media companies have faced calls from some rights groups and activists to be more consistent in their approach to other world leaders who have pushed or broken their rules, such as Iran's Supreme Leader Ayatollah Leader Ali Khamenei, Brazilian President Jair Bolsonaro and lawmakers linked to Indian Prime Minister Narendra Modi.
In its ruling, the board made additional recommendations on dealing with potentially harmful content from world leaders.
The board said "that it is not always useful to draw a firm distinction between political leaders and other influential users, recognizing that other users with large audiences can also contribute to serious risks of harm," according to its statement.
"When posts by influential users pose a high probability of imminent harm, Facebook should act quickly to enforce its rules."
The board also "called on Facebook to address widespread confusion about how decisions relating to influential users are made" and said "considerations of newsworthiness should not take priority when urgent action is needed to prevent significant harm".
"Facebook cannot make up the rules as it goes ... Having clear rules that apply to all users and Facebook is essential for ensuring the company treats users fairly," said the board separately in a series of tweets.
"We call on Facebook to ensure that if a head of state or high government official repeatedly posts messages that pose a risk of harm under international human rights norms, the company should either suspend the account for a set period or delete it," the board added.
Trump's former chief of staff Mark Meadows, responding to the decision, said it would have a chilling effect on free speech and that Facebook needed to be regulated or broken up.
"It's a sad day for America, it's a sad day for Facebook," he told Fox News.
"We need to have some standards, they are not able to police themselves."