Malaysian home baker crowned winner of Great British Bake Off 2022
Syabira Yusoff, a cardiovascular researcher based in London, edged out two other contestants in the final of The Great British Bake Off.
Malaysian home baker Syabira Yusoff has won season 13 of the popular UK TV series The Great British Bake Off.
Ms Syabira, a 32-year-old cardiovascular researcher based in London, edged out finalists Mr Sandro Farmhouse and Mr Abdul Rehman Sharif. 
In the final on Tuesday (Nov 15), the three contestants were tasked with creating a summer picnic using seasonal ingredients from across the UK. The theme of the week was sustainability. 
They had to bake mini cakes, vegetarian pies, as well as finger sandwiches made from their own classic white bread loaf.
Ms Syabira created a "no porky pie" using aubergine and mushroom, as well as a broad bean with coriander paste and salsa verde heart-shaped sandwich, the Evening Standard reported. 
The next challenge was to bake a "summer pudding bombe" in the technical round.
They then had to design an edible sculpture of Our Beautiful Planet in the final showstopper of the series. 
Speaking after her win, Ms Syabira said it was "the biggest achievement in my life".
"All the hard work, the trial and error, it has all been worth it. I am very very proud," she added.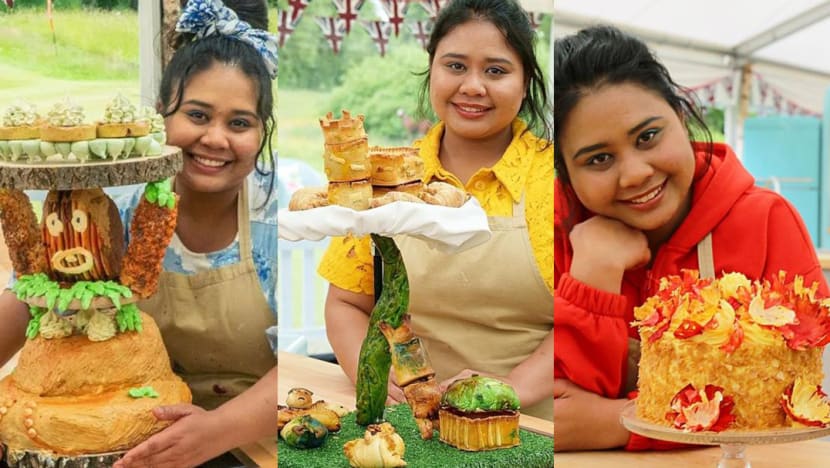 The Great British Bake Off, popularly known as Bake Off or GBBO, is a reality TV series where contestants compete to be the UK's best amateur baker.
Each season spans 10 hour-long episodes. Bakers tackle a different baking skill each week, which becomes more difficult as the competition progresses. 
FAN FAVOURITE
The Malay Mail reported in September that Ms Syabira was a fan favourite among viewers of the baking show. 
According to a write-up on the show's official website, Ms Syabira moved to the UK in 2013 for her PhD and is now settled in London with her boyfriend. 
The 32-year-old's LinkedIn profile shows that she is currently a researcher at King's College London.
Ms Syabira started baking in 2017 as she was homesick as a PhD student in the UK, she said in an interview with King's College London.
One of her fondest memories was eating red velvet cake with her friends in Malaysia before she flew to England, she said.
"One day, I was homesick so I tried to recreate the cake. I was so impressed with the result and continued baking! Baking is a therapy for me when I find it difficult to switch off from work," she told King's College London. 
Ms Syabira said she developed recipes at 5am when she was preparing for the show, and would look at Instagram and Pinterest for ideas.
The show's website described Ms Syabira as a baker who gives Malaysian flavour twists to British classics, with her chicken rendang cornish pasties a particular favourite.
"I'm coming out as a new person after this competition," she said, as quoted on Bake Off's official Facebook page.
"I became more confident and I trust my instinct. We can do anything we want as long as we give all of our heart and work for it."