Deep-freezing the dead: Growing interest in Asia for cryonics with rising population and incomes
Across the world, around 500 bodies are awaiting revival.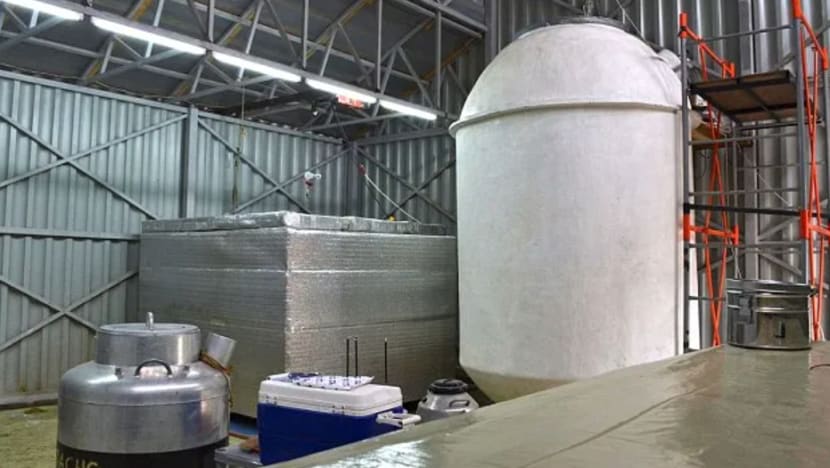 SINGAPORE: The hope to return from the dead is alive and growing, as cryogenic facilities and membership numbers rise, especially in Asia.
Across the world, around 500 bodies are awaiting revival. The youngest known patient is a two-year-old Thai girl.
Cryonics is the process of deep-freezing dead bodies and brains, in the hopes of reviving them in the future.
SOME CALL IT 'QUACKERY'
Mr Cliff Brown, chief executive officer of Bangkok-based Cryonics4U, told CNA that Asia is a fast-paced, growing economy, and is now under the spotlight a lot more.
His company, which will be fully operational by the end of the year, provides advisory services to clients.
"There's been a big shift from from the west to the east. And so now, there's a lot more interest," he added.
He cited the example of two-year-old Matheryn Noavaratpong, the youngest person to be cryonically preserved, who was frozen in Bangkok and is now in a facility in America.
Meanwhile, Russian cryonics company KrioRus told CNA that the "interest in cryonics is growing everywhere", due to technological advancements, knowledge availability and the progress in fields such as cryobiology and gerontology.
People now have the opportunity to learn about alternatives to death, said the firm, which has also seen an increase in interest.
"We have also been approached by Singaporeans. But so far we haven't had many, and we haven't signed any contracts with Singaporeans. But we do have agreements with people from China (and) India."
The United States started the first cryonics facility, followed by the United Kingdom and Russia. 
The industry has since expanded to include Australia, China and Thailand in recent years, despite some scientists and doctors calling it quackery and pseudoscience.
"Realistically, it's possible in our generation, because we've already tripled our age," said Mr Brown, adding that his firm has alerts and alarm systems in place to monitor the long-term viability of stored individuals.
"If you look at what's happened in the world now, the last 50 years, the world's changed a lot and we're progressing and we're going to continue doing that. 
"So, if you look at face value, what are our options? We can be buried or cremated, or we can look at moving forward, doing something in the future."
EXPENSIVE PROCEDURE TO PRESERVE BODIES
On the rising interest, Cryonics Institute president Dennis Kowalski said: "Many people choose cryonics because in a way, you have almost nothing to lose and everything to gain. 
"There is no guarantee that cryonics will ultimately work as planned, but many astute people reason that if you don't sign up for this clinical trial and instead you get buried or cremated that you are absolutely guaranteed to stay dead forever. 
"People are choosing to take the chance that the clinical trial or experiment that is cryonics will work."
Noting how cardiopulmonary resuscitation (CPR) and defibrillators are now routinely used to "raise" the dead, Mr Kowalski, a firefighter and a paramedic, said: "So this makes sense. Impossible has become routine."
In cryonics facilities, bodies are generally stored inside giant stainless steel containers head-down in liquid nitrogen at minus 196 degrees Celsius. 
Water in the body is replaced with cryoprotectant, a type of medical-grade antifreeze that helps prevent ice crystals forming and damaging the body's cells.
In this state, a body can be preserved for decades, experts said.
However, the procedure does not come cheap.
It takes about US$200,000 on average to freeze the whole body, but frugal futurists can preserve just their brains for US$80,000.
"It's an expensive product. I mean today… everyone wants a house, everyone wants a car," said Mr Brown, adding that funding methods for membership include the use of life insurance.
"So we want to try and make it into a third must-have item. So I mean, we want to make it mainstream. Life insurance is a tool." 
BEING REALISTIC
There are also regulatory challenges to overcome before one can be cryogenically frozen, observers noted.
Mr Brown cited the example of a 14-year-old British girl who had brain cancer and whose parents would not allow her to be cryopreserved.
"So she wrote a letter to the High Court in London, and she explained to them in the letter," he added of the cancer victim, who died in 2016.
"She said that she was dying and she wanted to live a long life, and if she's allowed to do the cryonics, she'd have a chance to come back in the future and hopefully they can cure the cancer.
"It is the first case of its kind and the court decided to allow it, so she won the case and she's now being cryopreserved."
KrioRus believes the revival of cryonics patients may take place this century.
However, it said: "One has to be realistic, because one should not set higher requirements for cryonics than, for example, for medicine or construction."
As with any procedure, "cryonics gives a chance, not a guarantee", added the firm, which has cryopreserved nearly 100 people so far.
"But even the chance of immortality comes at a price."