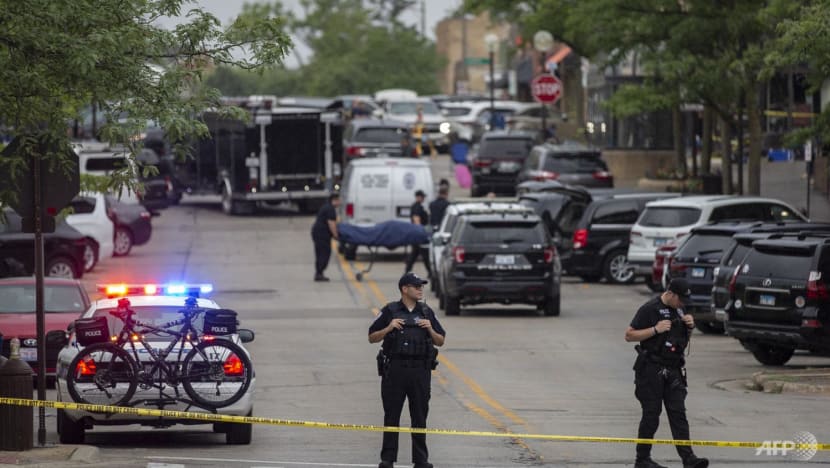 HIGHLAND PARK, Illinois: Six people were killed and more than 36 people were wounded when a man with a high-powered rifle opened fire from a rooftop at an Independence Day parade in the Chicago suburb of Highland Park on Monday (Jul 4).
The suspect, identified as 22-year-old Robert E Crimo III, was arrested after a manhunt, AFP reported. Charges will be filed, Highland Park Police said.
The gunman opened fire at around 10.15am, when the parade was about three-quarters through, authorities said.
Lake County Major Crime Task Force spokesman Christopher Covelli added that the shooting took place from the rooftop of a business that the gunman had reached via an alley ladder attached to the building that was not secure.
He said at a news conference that several of the victims died at the scene and one was taken to a hospital and died there. Police have not released details about the victims or wounded.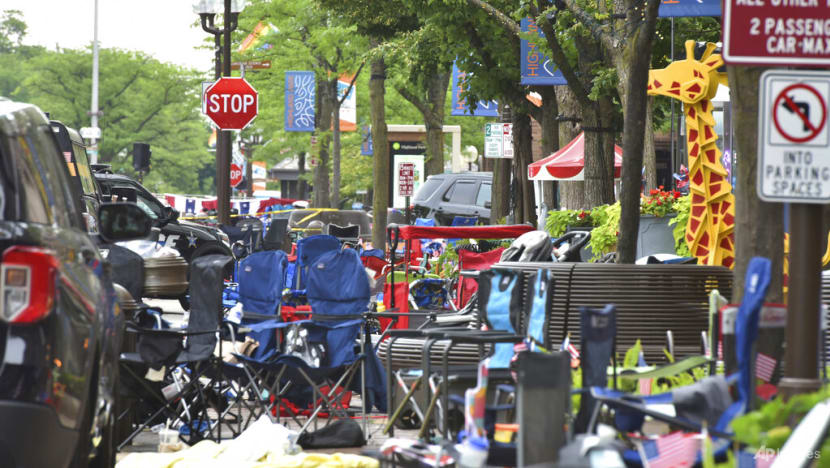 More than 36 people were injured in the shooting, mostly with gunshot wounds, said Jim Anthony, a spokesman for NorthShore University Health System. The victims who were taken to the Highland Park hospital were aged between eight and 85.
Lake County Coroner Jennifer Banek said the five people killed at the parade were adults and she does not have information on the sixth victim who was taken to a hospital and died there.
Roberto Velasco, Mexico's director for North American affairs, confirmed on Twitter that a Mexican national was killed in Highland Park and added that two other Mexicans were wounded.
Illinois Governor JB Pritzker said in a statement: "There are no words for the kind of monster who lies in wait and fires into a crowd of families with children celebrating a holiday with their community."
Mayor Nancy Rotering said the violence "has shaken us to our core", adding: "On a day that we came together to celebrate community and freedom, we are instead mourning the tragic loss of life and struggling with the terror that was brought upon us."
President Joe Biden on Monday said he and first lady Jill Biden were "shocked by the senseless gun violence that has yet again brought grief to an American community on this Independence Day".
Evanston, Deerfield, Skokie, Waukegan and Glencoe cancelled events. The Chicago White Sox also announced on Twitter that a planned post-game fireworks show is cancelled due to the shooting.
Highland Park is a community of about 30,000 people located on the shores of Lake Michigan just north of Chicago, with mansions and sprawling lakeside estates that have attracted the rich and famous, including NBA legend Michael Jordan, who lived in the city for years when he played for the Chicago Bulls. 
Gina Troiani and her son were lined up with his daycare class ready to walk onto the parade route when she heard a loud sound that she believed was fireworks - until she heard people yell about a shooter. In a video that Troiani shot on her phone, some of the kids are visibly startled at the loud noise, and they scrambled to the side of the road as a siren wailed nearby.
"We just started running in the opposite direction," she told The Associated Press.
Her five-year-old son was riding his bike decorated with red and blue curled ribbons. The city said on its website that the festivities were to include a children's bike and pet parade.
Troiani said she pushed her son's bike, running through the neighbourhood to get back to their car.
"It was just sort of chaos," she said. "There were people that got separated from their families, looking for them. Others just dropped their wagons, grabbed their kids and started running."
Debbie Glickman, a Highland Park resident, said she was on a parade float with coworkers and the group was preparing to turn onto the main route when she saw people running from the area.
"People started saying: 'There's a shooter, there's a shooter, there's a shooter,'" Glickman told the AP. "So we just ran. We just ran. It's like mass chaos down there."
She didn't hear any noises or see anyone who appeared to be injured.
"I'm so freaked out," she said. "It's just so sad."
The shooting is likely to rekindle the American debate about gun control, and whether stricter measures can prevent mass shootings that happen in the United States.
After the Uvalde and Buffalo shootings, Congress last month passed its first major federal gun reform in three decades, providing federal funding to states that administer "red flag" laws intended to remove guns from people deemed dangerous.
It does not ban sales of assault-style rifles or high-capacity magazines, but does take some steps on background checks by allowing access to information on significant crimes committed by juveniles.