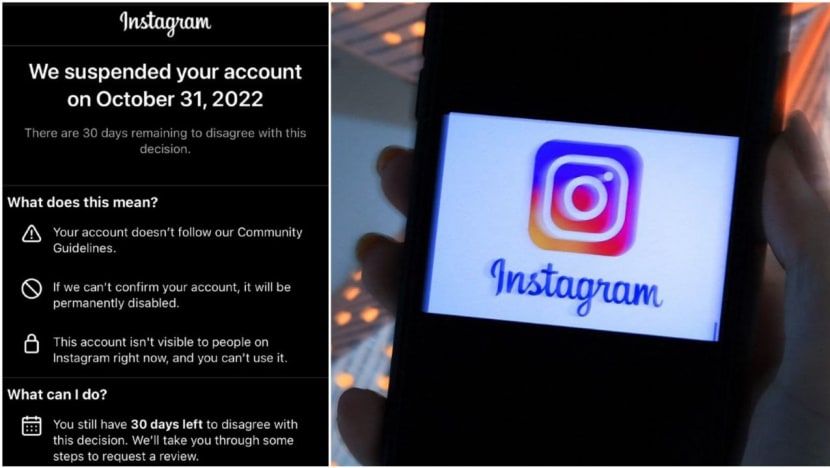 SINGAPORE: Instagram users worldwide reported issues with their accounts on Monday (Oct 31), with some saying their accounts have been suspended or that the app crashed while loading posts.
According to a tweet by outage tracking website Downdetector.com, users indicated that they were having problems with Instagram since about 9pm Singapore time.
The hashtag #instagramdown was trending on Twitter as of 10.15pm, with more than 19,600 tweets.
Instagram's PR team said on Twitter: "We're aware that some of you are having issues accessing your Instagram account.
"We're looking into it and apologise for the inconvenience."
CNA has contacted Meta Platforms for more information.
Instagram users took to Twitter, posting screenshots of their account suspension notifications that claim their accounts do not follow Instagram's community guidelines.
"Anyone else's @Instagram account just get deleted? Got a notification saying it was being suspended due to breach of community guidelines or something - now I can't log in and the whole profile is gone. Just says user not found ..." tweeted @BrettDomino.
"Me watching my Instagram follower count drop like flies," tweeted @fredbear_dining.
Another user, @EmerTheScreamer, tweeted that her account has "completely disappeared" and that she could not log in. 
"I have two factor ID set up. Has anyone experienced this?" she wrote.
One user, @Patricia_Traina, tweeted that her Instagram account seemed to be gone after verifying that she was the owner. 
"Unacceptable. Also it's unacceptable that I can't get a person to explain to me why I cannot get verified," she added.
Some experienced the app crashing while opening and scrolling through Instagram. "Okay Instagram keeps crashing after 15 seconds of opening the app," tweeted @demonja77.
"Now it says I'm suspended. Then it wanted to verify me with the account so it was supposed to send me a confirmation number in text and it never showed up. Anyone knows what's going on?"