'He's no fool': Macron's Taiwan remarks an attempt to boost Europe's voice in a polarised world, say analysts
Mr Macron, in an interview published on Sunday, called on the European Union to reduce dependence on the United States or get "caught up in a disordering of the world and crises that aren't ours".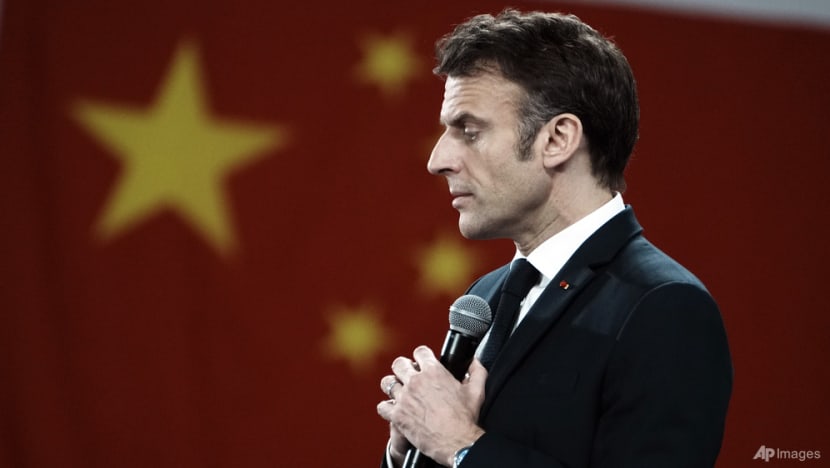 French President Emmanuel Macron's controversial comments that prompted a backlash – including calls for Europe not to get entangled in "crises that aren't ours" – are an attempt to boost the continent's voice in an increasingly polarised world, analysts said on Thursday (Apr 13). 
This includes maintaining the status quo on the Taiwan issue, they noted. 
"President Macron is in fact an extremely gifted political leader," said Mr Allan Behm, director of the international and security affairs programme at The Australia Institute, on Thursday. 
"He doesn't say anything accidentally, and he is certainly not stupid. He's not a fool."
"I think what President Macron is doing is clarifying very well the position of France, which is that it does not want to see any kind of armed conflict in East Asia, and he's also saying that for the European partners, they don't want to see a conflict in East Asia either."
IN THE GOOD BOOKS OF CHINA, BAD BOOKS OF THE WEST?
On Wednesday, Mr Macron said France has not changed its stance on Taiwan and that he backed the current status quo on the island, clarifying remarks that sparked a furore in the United States and Europe. 
"The French and European position on Taiwan is the same one. We're in favour of the status quo. This policy is constant and hasn't changed," the French leader, who recently met with Chinese President Xi Jinping, told a news conference. "It's the One-China policy and a Pacific resolution of the situation."
This comes after Mr Macron, in an interview published on Sunday, called on the European Union to reduce dependence on the US and warned against being drawn into a crisis over Taiwan driven by an "American rhythm and a Chinese overreaction". 
Citing his ideal of EU "strategic autonomy", he said Europe should not be a "follower" of either Washington or Beijing, or get "caught up in a disordering of the world and crises that aren't ours". 
On some critics saying that the 45-year-old's comments were diplomatically risky and highlighted divisions in the EU over how to approach China, Mr Behm told CNA's Asia First: "So I think what the president of France is really doing is arguing for the status quo. 
"And also arguing for moderation and temperance in the way in which people are thinking about this highly problematic and very fast-moving problem."
LIVING IN A GLOBALISED WORLD
Dr Jean-Pierre Cabestan of Hong Kong Baptist University's Department of Government and International Studies, noted, however, that some of Mr Macron's remarks can be seen as dividing Europe, instead of uniting and strengthening ties between countries there. 
"I think any war in the Taiwan Strait will be our problem, our war as well. We live in a globalised world," Dr Cabestan told CNA938 on Thursday. 
"When one side starts a war against the other side, it has international repercussions which is rather hard to evade."
However, observers are not too worried over the pushback against comments made by Mr Macron. 
"The European Union now is much more integrated, and it's harder for a country like France to sort of develop a foreign policy which is very distinct, very different from the rest of the European Union," said Dr Cabestan.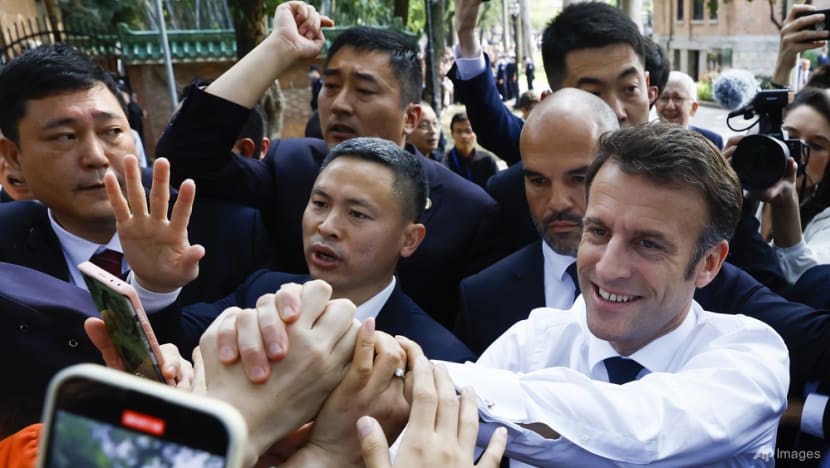 MACRON'S ROCKSTAR RECEPTION IN CHINA
He added: "For the time being, there is no evidence that Macron's policy has been more successful than the policy of the other European leaders."
During his recent three-day visit to China, Mr Macron had a rockstar reception including being mobbed by selfie-chasing students in Guangzhou. 
His unexpected suggestion that Europe not "follow" US policy on Taiwan has been praised in China, with state media and social media users lauding his independent stance.
"I think he's trying, first of all, to boost the bilateral relationship between France and China at a time when the French economy is in difficulties, and there is a need in China for more (foreign direct investments), more cooperation with the developed economies," said Dr Cabestan. 
"So clearly, there is a real need on both sides to improve the bilateral relationship."
Meanwhile, growing tensions in the Taiwan Strait have cast a shadow on Mr Macron's trip.
In recent days, a French frigate had gone through the Taiwan Strait, despite Chinese military exercises around the island, and demonstrated France's engagement in the region.
Dr Cabestan said the move reaffirms "France's attachment to the freedom of navigation in this body of water in the South China Sea, and that's quite important".