US retailers brace for likely recession after overcoming supply chain disruptions, hiring issues
The retail sector is already feeling the impact of a combination of high inflation and rising interest rates.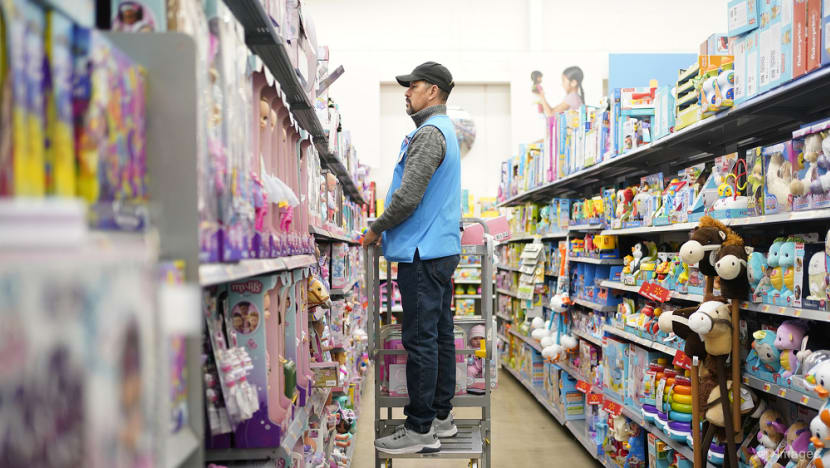 NEW YORK: Retailers in the United States, battered from tackling recent supply chain disruptions, rising inflation and hiring challenges, are bracing themselves for another uncertain year ahead with a possible recession looming. 
The sector is already feeling the impact of a combination of high inflation and rising interest rates. 
Retail sales in the US contracted in both November and December last year, renewing fears that the economy may slide into a recession this year. 
That could mean more penny pinching and quieter streets in the coming months amid inflation taking a major bite out of people's pockets.
CHANGING CONSUMER DEMANDS
December's consumer price index, for instance, revealed food costs rose 10.4 per cent, compared to the previous year. 
Often, consumers have had to absorb those costs, but many retailers have offered big discounts in recent months to attract inflation-conscious consumers. 
Meanwhile, some companies in the retail sector have been trying to come up with solutions to reduce costs.
Retail technology firm Invafresh, for example, uses artificial intelligence and analytics to forecast demand and manage inventory, in a bid to help grocers improve efficiency and cut down on waste.
The company said consumer demands have changed due to those price pressures. 
"Inflation hasn't necessarily stopped us from eating," said Mr Joe Smirlies, senior vice president of project management at Invafresh. "We still need to go out and buy groceries, but it's what we're buying that's changing. 
"So no longer are we getting the premium items that we're accustomed to, that are high margins to our grocery partners. It's really now the lesser margin items, the items that are more staple and regular but obviously at a lower price point."
PRICE PRESSURES STARTING TO EASE?
However, economic data suggests that price pressures may be starting to ease.
Some observers at the recent National Retail Federation Expo believe that there are promising signs for US consumers. 
Morgan Stanley economist Sarah Wolfe said: "In 2023, less excess savings, it's going to be less of a driver for consumer spending. But wages are stickier than inflation. 
"So we have inflation coming down towards 3 per cent, wage growth is also coming off but slower. So what we're going to see is real income growth for 2023 and positive real wages in the back half of the year."
However, the health of the labour market remains uncertain. 
The unemployment rate has been down near historic lows in recent months. But some analysts note that roughly 70 percent of Americans are looking for extra work, largely due to the impact of inflation. 
Mr Sahil Mehta, chief operating officer of Shiftsmart, a platform to help companies find workers, said: "As economic conditions tighten, we're seeing a lot of interesting impact on both sides of the equation for Shiftsmart.
"For employers, there's a need to be more responsive to the demand, the ability to flex up and flex down and engage in a more flexible workforce has proven to be a continuing need."
IMPACT OF INTEREST RATES
Experts believe whatever moves taken by the US Federal Reserve this year will have a direct bearing on the retail sector. 
Raising interest rates may help cool inflation, but could slip the economy into reverse, they added. 
China's reopening could also have a huge impact on US retailers, according to some economists.
"China is not only the world's factory, it's also the world's second largest economy," said Dr Patrick Gourley, associate professor of economics at the University of New Haven. 
"So as their supply chains go back to totally normal, their demand will hopefully pick up and Chinese consumers will go out and start buying stuff."