Supply and demand shocks from COVID-19 fallout force countries to relook trade strategy
Countries are focusing their efforts on getting international trade back on track after the pandemic.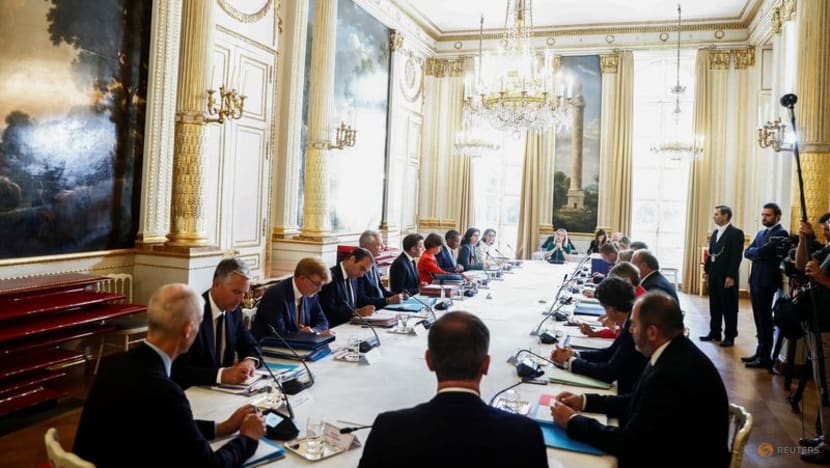 SINGAPORE: The COVID-19 pandemic might have shaken global trade, but it has also forced countries to look for new markets, including diversifying their supply chains, said Mr Olivier Becht, French Minister Delegate for Foreign Trade, Economic Attractiveness and French Nationals Abroad. 
This comes as nations look to get international trade back on track after the pandemic. 
"I think that the COVID-19 crisis was a very bad time for the global trade economy, but it has also (brought) new opportunities," Mr Becht told CNA's Asia Now on Friday (Jan 27). 
ASEAN CAN SEIZE GROWTH OPPORTUNITIES
"We also know that it's very dangerous to have the production of one product, especially if it's a strategic product, in one country… And I think that's a good opportunity also for ASEAN." 
Despite challenges such as geopolitical tensions, rising prices and a likely global recession, he stressed that France is in a strong position with relatively low inflation rates and one of the top gross domestic product (GDP) growth in Europe. 
"France has a very strong economy today, despite the war in Ukraine, inflation in the world, and inflation on the energy market," said Mr Becht. "So I think when countries want to make a business-friendly environment, we can do it."
Countries have been focusing their efforts on strengthening their supply chains.
Western Europe, for instance, is weaning itself from Russian oil and gas, and as a result Russian trade is shifting from Europe to other regions.
Citing Germany, which previously imported around half of its gas from Russia and more than a third of its oil, Mr Becht said: "I think that the German situation about energy and dependence on Russian gas show us how dangerous it is to depend on one country."
On China as a partner as well as a competitor, he said France will diversify its production lines. 
"So we will maintain some production in China, but we will also have the production of the same product in another country and not to depend on one country," he added. 
"And I think it's one of the parts of cooperation we can have with ASEAN countries, especially with Thailand and countries in the region."
He reiterated that France prefers pursuing a "de-risking" strategy when it comes to the challenges that China poses. 
"So we do not want to de-couple with China," said Mr Becht. "We will maintain production in China, but we want to de-risk, so the production of the same product is also in other countries."
MAKING FRANCE MORE APPEALING 
Mr Becht was speaking on the sidelines of a visit to Thailand to deepen long-standing bilateral ties, following French President Emmanuel Macron's diplomatic push in Southeast Asia last November. 
Thailand is an important economic partner of France, and is the country's eighth-largest partner in Asia. 
The European Union and Thailand are set to resume free trade talks by March, nearly a decade after they were stalled by the military coup in Thailand in 2014. 
Mr Becht believes it is the right time to do so, especially after facing crises such as the COVID-19 pandemic and the war in Ukraine. 
"We have to boost all sectors, especially in energy, agri-food," he added. "And I think if we want to have answers to all the challenges we face today, we should (remove) some obstacles, barriers to free trade. 
"So to have a free trade agreement between the European Union and Thailand will be a very good idea and I'm very happy if we could restart negotiations now."
Mr Becht's delegation, which has met several Thai ministers and investors, hopes to strengthen economic cooperation with Thailand, particularly in the areas of transportation, renewable energy and digital technology, which offer important business opportunities for French firms. 
The objective is to "make France more attractive for Thai companies", he said. "And I will do the same for other ASEAN countries."
Mr Becht, who was in Cambodia earlier this week, said: "I think there is a momentum between the European Union, especially France, and the ASEAN countries that will be good for growth, that will be good to create jobs for people and answer the challenges we face today (such as climate change and food security)."
His work trip in Southeast Asia reflects France's increased involvement in the region, which is vital to the country's overall Indo-Pacific strategy. 
On its presence in the Indo-Pacific, Mr Becht said: "I think that trade, and free trade, is a good opportunity to have stability and to maintain peace. 
"And we want to work together with ASEAN countries to have this peace and to have stability in the region."