Turkeys selling for record high prices this Thanksgiving, as bird flu ravages US flocks
Rising inflation and lingering supply chain issues are also making it harder for people to be thankful when it comes to paying for the annual feast.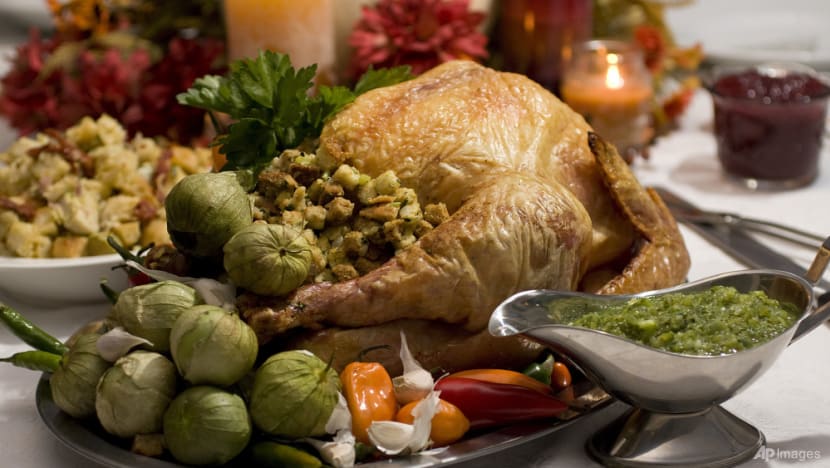 NEW YORK: The cost for a turkey this Thanksgiving holiday is at a record high in the United States, as an ongoing bird flu outbreak wipes out supplies. 
An unexpected resurgence of avian flu sweeping across the country has killed millions of turkeys and hens this year. The prices of turkeys, the centrepiece of Thanksgiving meals, have risen more than 20 per cent compared to last year, according to some estimates.
High inflation and lingering supply chain issues are also making it harder for people to be thankful when it comes to paying for the annual feast this week.
The confluence of factors is eating into Thanksgiving budgets, and it is not just the cost of turkey that has gone up. 
According to the American Farm Bureau Federation, a Thanksgiving meal with all the trimmings will cost around 20 per cent more than last year. Of the items surveyed, only fresh cranberries have gone down in price.
"It's not just about turkeys this year, it's not even about disease only this year. It's about the world that we live in," said Mr Russ Whitman, senior vice president at data research firm Urner Barry.
"It's about the hyperinflation of the food market. It's about high feed costs, it's about high labour costs, and it's about high fuel."
HIGH FOOD PRICES
At gourmet grocer Zabar's, a New York staple for more than 80 years, the week leading up to Thanksgiving is usually their busiest of the year. 
However, foot traffic is down compared to levels seen before the COVID-19 pandemic, with the store pointing at inflation as a contributing factor. 
Zabar's general manager Scott Goldshine said: "Everything from turkeys to eggs to string beans, a lot of the ingredients that we use for Thanksgiving has gone up in the last year, anywhere from 25 to 100 per cent."
October's consumer price index showed that inflation may be showing signs of cooling in the US, but food prices still saw an uptick of 10.9 per cent year-on-year.
Canned pumpkin is up around 17 per cent from last year, according to some estimates. A box of stuffing is also up nearly 15 per cent.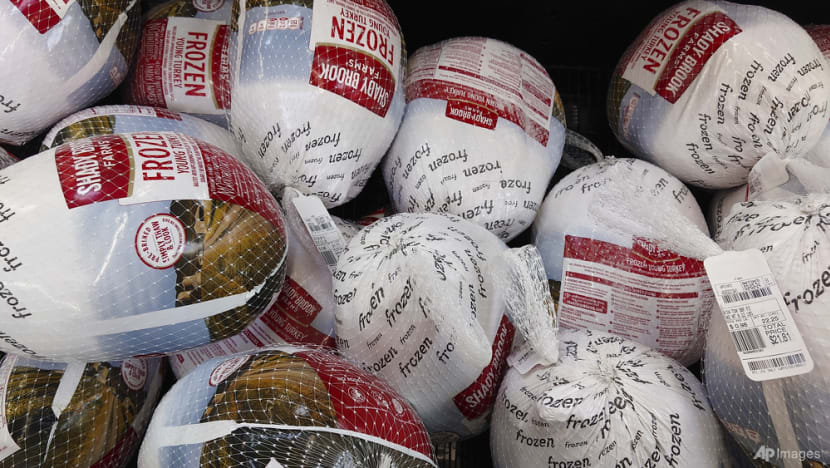 Americans are reacting to the increase. 
One told CNA that many of his peers have been opting out of buying turkeys because of the rising prices. 
Another resident said: "I'm not buying turkey. I'm going to do a vegan turkey and vegetables because they're cheaper."
THANKSGIVING FEAST WILL STILL GO ON
Analysts said these high prices will likely impact consumer behaviour, but they still expect full tables and generous portions when people gather around the thanksgiving table this week.
Families may well choose to leave the budget belt tightening until after the holiday feast, they added. 
Food and beverage analyst Emily Moquin of data intelligence firm Morning Consul said: "People will be making some changes, maybe in where they are shopping. They're looking for the lowest prices, switching retailers potentially to find those deals.
"A lot of retailers offer low cost on turkeys to get folks in the door to buy the rest of the thanksgiving feast, so switching stores potentially, switching brands if they need to, to buy lower cost items."