Tutoring centres in Venezuela plug students' learning gaps, pay educators better wages
While these centres help reduce the country's educational gap, they also reinforce the divide between those who can access quality education and those who cannot.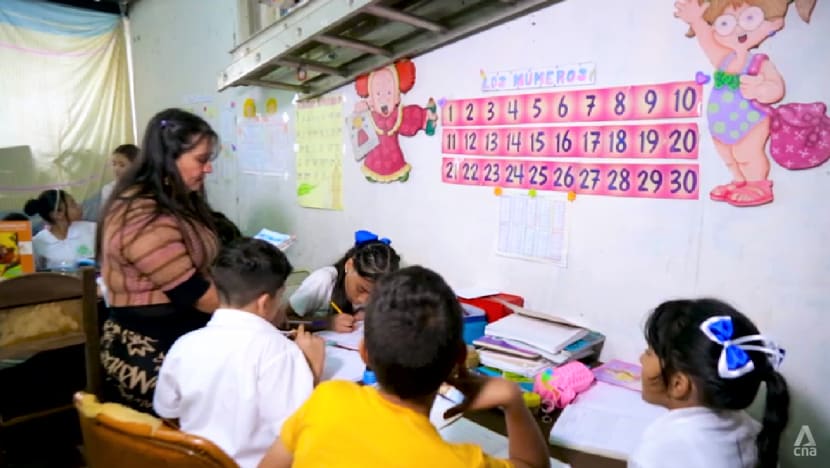 CARACAS: Veteran teacher Mireya Guerrero resigned from her public school job three years ago, after finding it tough to make ends meet for her family. 
The 46-year-old however did not quit the profession. 
She now tutors nearly a dozen eager children of all ages in a nondescript house in Antimano, west of Venezuela's capital Caracas - an improvised school run by her. 
Small private tutoring centres like Ms Guerrero's help not only students to overcome their learning gaps, but also teachers struggling to cope with low salaries.
For Ms Guerrero, teaching private lessons has become a lifeline to provide food for her family of four. 
"I decided to quit, so I wouldn't have to spend money on transportation but instead dedicate what I make exclusively to spend on my own children," said Ms Guerrero, who charges US$5 per week for each student.
For about three hours every day, she offers mathematics, reading and writing classes tailor-made for each student. She also helps them with their homework.
Student Xavier Cantor said: "I think the teacher here explains things better than the ones at my school. That's because sometimes at school they explain so quickly. I can't do my homework and I start lagging behind."
PRIVATE TUTORING A LUXURY FOR MANY
These alternative education centres help reduce the educational gap in the country. 
However, they also reinforce the divide between those who can access quality education and those who cannot.
Paying for private tutoring is a luxury for many Venezuelans, in a country where the monthly minimum wage is about US$22.
Parent Ana Fernandez, who has a child taking such extracurricular classes, said while these put a financial burden on her family, they also help to fill any learning gaps resulting from the COVID-19 crisis.
"Because of the pandemic, they got lazy at home and they had just a few days of school. With these extra classes, they are focusing on math and reading," she added. 
The World Bank said two years of pandemic-related school closures in Latin America may have set learning back by more than a decade.
Four in five children in the region will also not be able to understand a simple text and could see a 12 per cent drop in future earnings, it added. 
PARENTS, RETIRED TEACHERS TAKE UP VACANT TEACHING SPOTS
In Venezuela, schools have already been affected by a long-term economic crisis even before the pandemic struck. 
As a result, many have infrastructure problems and lack basic services such as water. Thousands of teachers have also decided to leave.
At some traditional Venezuelan schools, parents and retired teachers are taking up vacant teaching spots to compensate for the brain drain.
Ms Miriam Lopez, who has been working as an educator for 40 years, said: "Many educators have left the country because they don't earn enough to even pay for necessities. Many are working jobs outside of their teaching expertise."