Anti-Asian hate crimes prompt action by New York's Chinatown community
"The only way to eradicate this kind of ignorance is through our public schools all throughout the state," says New York state senator John Liu.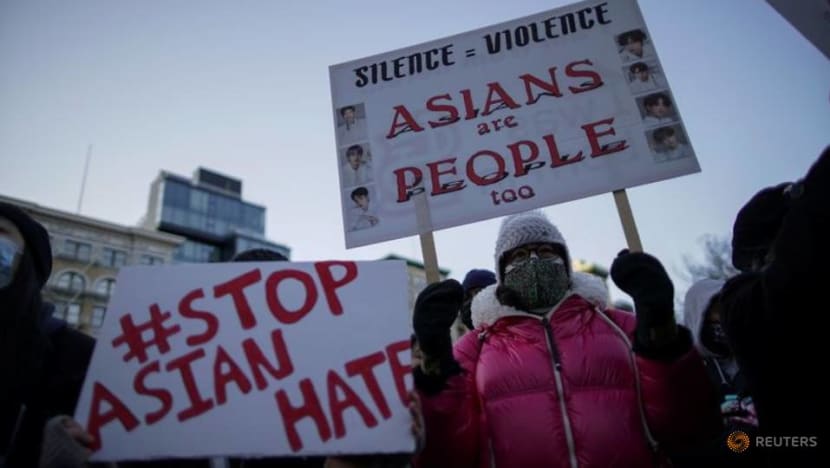 NEW YORK: Anti-Asian violence in New York City has stirred a wave of fear across its Chinatown community, prompting some to take action - such as installing security cameras - in an effort to ease safety concerns.
The number of anti-Asian attacks, fueled by the COVID-19 pandemic, remains elevated in the city.
According to the New York Police Department, there were 139 reported anti-Asian hate crimes in the city in 2021. Last year, there were 83. 
SAFETY THE NUMBER ONE CONCERN
Property owner Brian Chin said: "Safety is a paramount concern for not only the residents but for businesses, because we need to start bringing tourism back to the city."
Mr Chin was the landlord of 35-year-old Korean-American Christina Yuna Lee, who was killed by a man who followed her into her Chinatown apartment in February 2022. 
A homeless man was charged but police did not call it a hate crime. Some observers said the vandalism of her memorial after her death was an act of hate. 
Mr Chin said implementing security measures has become increasingly important over the past few years. He has 16 cameras on his property.
At key intersections across Manhattan's Chinatown, community leaders are taking steps to install a more extensive network of security cameras. Already, several hundred cameras have been installed in Chinatown. 
Chinatown Business Improvement District executive director Wellington Chen, who was nearly the victim of a knife attack 18 months ago, helped spearhead these camera installations. 
Many people are taking extra steps to protect themselves, he said, adding that safety was crucial for the neighbourhood's prosperity.
"(There are) self defence classes by local martial artists, seniors (are taught) how to be vigilant … and there is the distribution of literature on scams and pickpocketing. So there's a lot more awareness now."
RANDOM, UNPROVOKED ATTACKS
Many of the attacks in Chinatown are apparently random and unprovoked, said observers. 
Some blame the increased number of homeless shelters in the area for the hate crimes.
"They do need help, but the problem is having all these homeless shelters and rehab centres all in Chinatown is not good," said Mr Thomas Lo, a small business owner in Chinatown. 
"It's not really fair for the people that live here."
The number of people in the city's shelter system is up at a record high, intensifying debates about homelessness.
More substantive steps are now being taken to try and address the root causes of hate and bigotry.
Public schools across New York City will teach Asian-American history next school year, and efforts are underway to pass a bill to mandate its teaching across the state. 
"It's a lot easier for people when they need a scapegoat to blame people, in this case Asian Americans that they just don't know a whole lot about," said New York state senator John Liu. 
"And the only way to eradicate this kind of ignorance is through our public schools all throughout the state."
The hope is that the attacks against Asians seen in recent years - and the fear generated - will soon be relegated to the history books, said observers. 
"We're trying to get back to normal. It feels safer now that there are some people on the street," said Chinatown Ice Cream Factory co-owner Christina Seid. 
"In the beginning of the pandemic, you could hear a coin drop and there would be nobody on the street so that was really extremely unsafe. I feel a little bit better now."