'Am I driving into hell?': Bushfire survivors in Australia continue to face mental health trauma
Besides the physical and financial repercussions, mental health struggles also pose a challenge to those caught up in climate-fuelled disasters.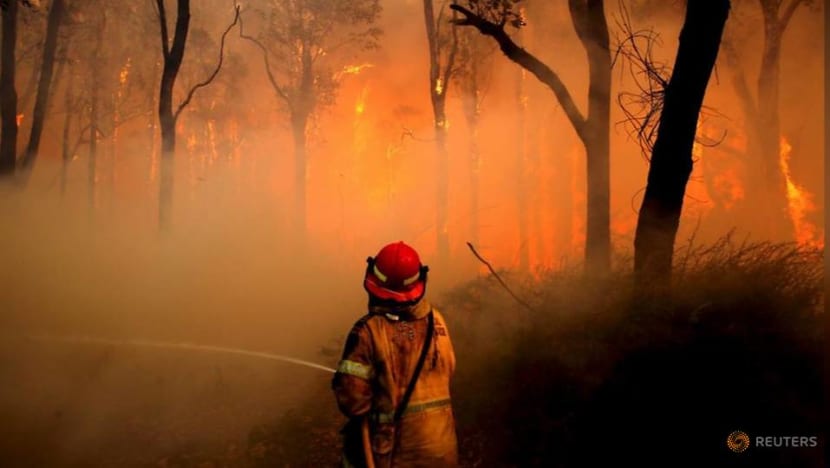 SYDNEY: Three years ago, Australians John Grono and Donna Andrews lost their home and nearly died in a massive bushfire which engulfed much of southeastern Australia. 
The inferno has cost them dearly, not only financially but also at an emotional level. 
"When we left, I reckon the flames were within 40 feet of us. And you don't think, you react. You just get out," recalled Mr Grono of his initial shock. 
Till today, the bushfire survivors, whose old house is being rebuilt, have not recovered from the incident. There are regular flashbacks, as pictures and conversations trigger nightmare memories. 
"We ended up having to drive through flames to get out. And we were in separate cars, so we were each on our own," said Ms Andrews, who is still staying in a temporary accommodation in the Southern Highlands in New South Wales. 
"I stopped and thought, am I driving into hell here? It's a wall of flame."
TRAUMA FROM EXTREME WEATHER
Like them, many victims of extreme weather events have been left traumatised. 
While they suffered no long-term health problems, they continue to experience psychological effects.
"Prior to that, neither of us had any mental health issues at all. So it wasn't something we were familiar with," said Ms Andrews. 
"But we knew we literally had a black cloud over our heads that would intensify at certain times, when you would feel completely overwhelmed and you just couldn't get out of bed."
While climate change is driving a serious global impact, some countries are suffering more than others from intense weather systems.
Australia is on the frontline when it comes to the effects of global warming, with floods, droughts and bushfires taking their toll in recent years.
Besides the physical and financial repercussions, mental health problems also pose a challenge to those caught up in these natural disasters.
A recent survey conducted by climate science and impacts organisation Climate Council found that 50 per cent of those interviewed admitted their mental health had been detrimentally affected by intense weather.
"We have had stories of symptoms of anxiety, of depression, post-traumatic stress disorder, and greater challenges with substance abuse, with relationships," said Dr Simon Bradshaw, a researcher at the Climate Council. 
"It's really that whole gamut of symptoms you see when people are put under a lot of duress and that includes exacerbating existing challenges people are having."
NEED TO OFFER BETTER MENTAL SUPPORT
The survey also found that many of the victims of climate-fuelled disasters lack the mental health support they so urgently need.
As extreme weather events become more frequent, more victims of climate change are likely to require greater mental health support from the government and agencies, said observers. 
Professor Grant Blashki, lead clinical adviser at mental wellbeing support organisation Beyond Blue, said a third of the people who have been affected by intense weather reported not getting enough mental health help. 
"So there's a lot more work to be done," he noted, adding that residents from rural and regional backgrounds may find it even harder to get the help they need.
Listen: Rising temperatures in the Himalayas