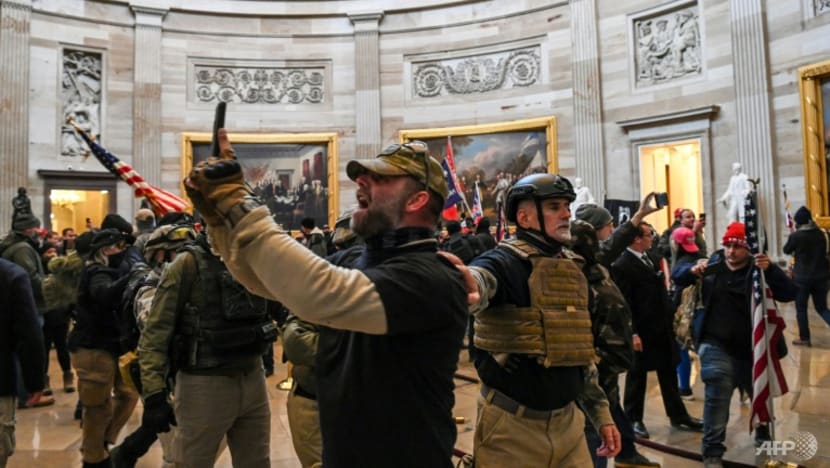 The US House of Representatives committee investigating last year's insurrection at the US Capitol is often in the headlines due to partisan sniping over its existence.
But most of its work so far has been done behind closed doors. Former President Donald Trump, his Republican allies and conservative pundits call the probe a political witch hunt focused on punishing the former president rather than identifying what went wrong on Jan 6, 2021.
Committee chairman Bennie Thompson, a Mississippi Democrat, says some of what the panel has uncovered may be presented this spring in the form of prime-time televised hearings.
WHAT HAS THE COMMITTEE DONE SO FAR?
According to Thompson and committee aides, the panel of seven Democrats and two Republicans has interviewed more than 350 witnesses; collected more than 45,000 records, including emails and texts; received hundreds of tips; and issued 52 subpoenas, or orders to produce documents or testimony.
Those subpoenas have prompted legal battles with high-profile former Trump aides or supporters including former White House Chief of Staff Mark Meadows and one-time Trump strategist Steve Bannon.
The House voted to hold each of them in criminal contempt for their refusal to cooperate; Bannon has since been indicted and is set to go on trial in July on two counts of contempt, which can potentially carry a penalty of up to a year in jail plus a fine.
The committee held a public hearing in July to hear testimony from a panel of police officers at the Capitol who came under attack on Jan 6.
HAS ANYTHING INTERESTING BEEN REVEALED?
Other than the fights over subpoenas, the biggest headlines generated so far have stemmed from text messages, turned over by Meadows, that he sent or received on Jan 6 or in the days leading up to it.
They include messages from members of Congress and others at the Capitol during the assault ("We are under siege up here at the Capitol"); from Trump's son, Donald Jr ("We need an Oval address. He has to lead now. It has gone too far and gotten out of hand"); and from Fox News hosts including Laura Ingraham ("Hey Mark, the president needs to tell people in the Capitol to go home.") 
WHO ELSE DOES THE COMMITTEE WANT TO HEAR FROM?
Jeffrey Clark, a former top Justice Department official who sought to involve the agency in Trump's efforts to challenge the election results, has also been held in criminal contempt by the committee after refusing to answer many questions during a deposition, but the full House has not yet voted on that.
Thompson has said that the committee is likely to invite the House Republican leader, Kevin McCarthy, for an interview - he has acknowledged speaking to Trump on Jan 6 as the Capitol was being breached - and that he hopes former Vice President Mike Pence will voluntarily talk to the panel too.
The committee also has asked for the voluntary testimony of House Republicans Scott Perry of Pennsylvania and Jim Jordan of Ohio; Perry is refusing and Jordan has not accepted as of yet, saying he has "real concerns" about the panel's approach. The committee is also battling in court for hundreds of pages of official Trump administration records.
WHY THE LACK OF COOPERATION?
Some of those refusing to cooperate are citing Trump's claim of executive privilege, the limited right of a president to decline requests from Congress and the courts for information about internal White House talks and deliberations. (To what degree a former president can still cite executive privilege is a question largely untested in courts.)
Others, such as longtime Trump confidante Roger Stone, have invoked their Fifth Amendment protection against self-incrimination.
Part of what could be motivating the resistance is a desire to delay the committee's progress. All 435 House seats will be on the ballot in November's midterm election, and Democrats could lose their majority when the next Congress begins at the start of 2023.
Republicans have been clear that, should they gain House control, they would shut down an investigation they view as partisan, aimed at undermining Trump and the GOP, and a waste of taxpayer dollars.
WHAT DOES THE COMMITTEE HOPE TO LEARN?
Thompson has said the panel's work seeks to "uncover the facts, tell the American people the full story of Jan 6, 2021 and ensure that nothing like that day ever happens again."
One potentially explosive line of inquiry is whether Trump and his allies were involved in planning and inciting the march on the Capitol and subsequent attack on law enforcement officers who were protecting it. Another is what explains the 187 minutes of inaction before National Guard and additional police were sent to the Capitol.
Other areas of inquiry include why the Capitol and federal and local law enforcement agencies were not better prepared; what pressure was applied to state and local officials to overturn election results; online and social media misinformation and extremist activity; and whether there were crimes, or violations of campaign finance law, in the funding of rallies and events on Jan 6 to promote claims the presidential election had been stolen.
HOW CLOSE MIGHT THIS GET TO TRUMP HIMSELF?
His actions and inactions are central to the timeline of Jan 6. The committee's vice chair, Representative Liz Cheney of Wyoming - one of the panel's two Republican members - said on Jan 2 that the committee has "firsthand testimony now that he was sitting in the dining room next to the Oval Office watching the attack on television as the assault on the Capitol occurred."
She said Trump "could have, at any moment, walked those very few steps into the briefing room, gone on live television, and told his supporters who were assaulting the Capitol to stop." Not doing so, she said, was a "serious dereliction of duty."
Cheney has also suggested that Trump "corruptly sought to obstruct or impede Congress's official proceeding to count electoral votes," a reference to that day's congressional certification of President Joe Biden's 2020 victory. 
WHY IS THE COMMITTEE DOMINATED BY DEMOCRATS?
The Democrat-controlled House passed legislation to create the committee after Senate Republicans blocked the creation of an outside commission, independent of Congress, modelled on the one that investigated the Sep 11, 2001, terror attacks.
Then, when House Speaker Nancy Pelosi refused to seat two of McCarthy's choices for the panel, he pulled his other picks. The two Republicans Pelosi named to the panel, Cheney and Adam Kinzinger of Illinois, are both Trump critics who have become regular targets of attacks from within their own party.
WHAT WILL THE FINAL PRODUCT BE?
Thompson said on Jan 4 that he hopes to hold public hearings starting in late March or soon thereafter and might push to hold them during television's evening prime time so the public can have "the best opportunity" to hear testimony and evaluate evidence.
An interim report could be released by mid-year, followed by a final report before the midterm elections in November, complete with recommendations on policy changes. Thompson and other committee members also have spoken about potential "criminal referrals".
WHAT WOULD A CRIMINAL REFERRAL ENTAIL?
The committee could send the Justice Department any evidence it believes shows criminal wrongdoing. That would place the matter in the hands of Attorney General Merrick Garland, a Biden appointee. If committee members "come upon something that's illegal or we think warrants a criminal review by some other agency, we'll make that referral," Thompson said.