Ready to go electric? Join the crowd
A BMW Group Asia survey reveals that drivers in Singapore are surprisingly keen to make the switch to electric cars.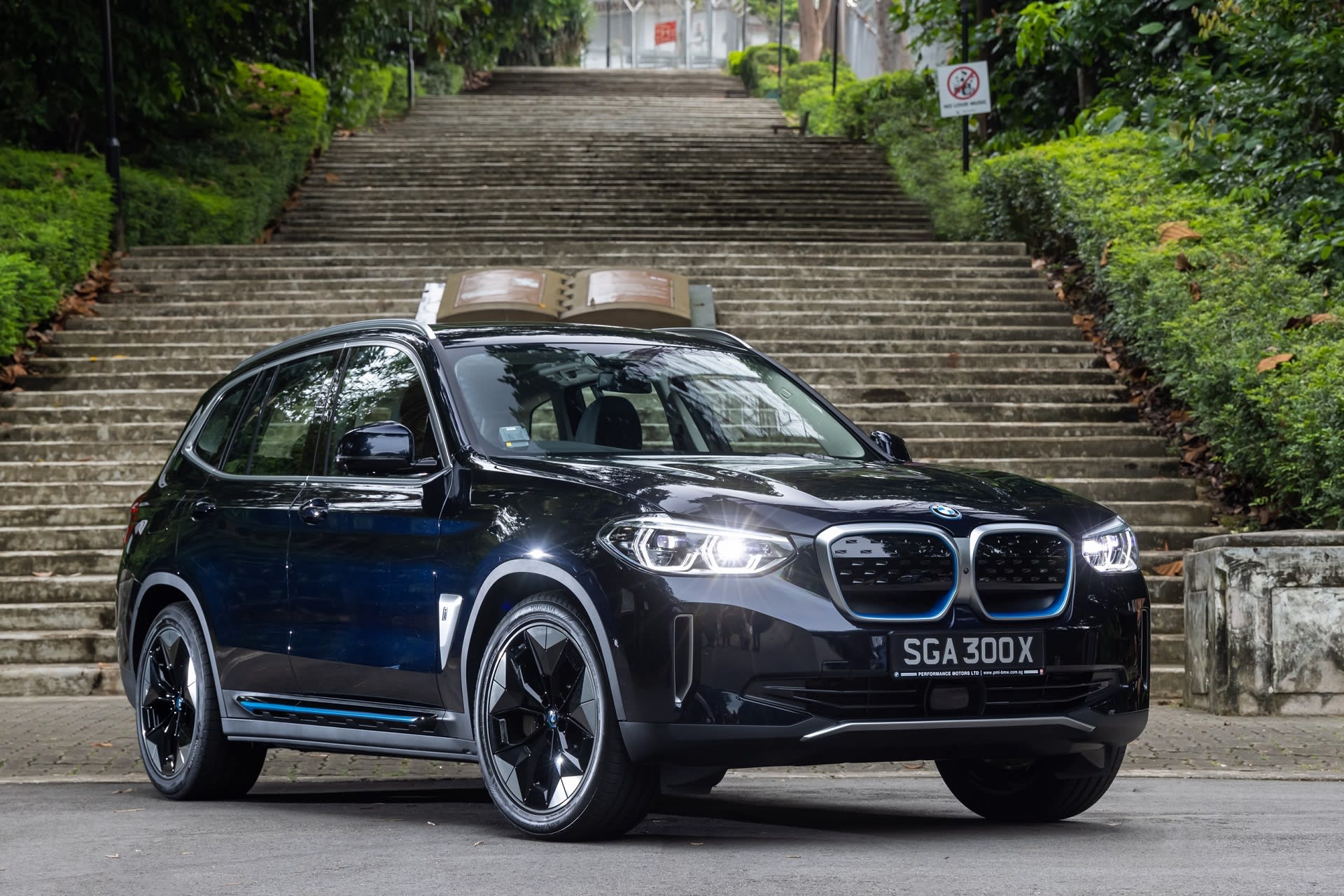 Have you thought about switching to an electric car? If so, you're not alone. A survey commissioned by BMW Group Asia reveals that 46 per cent of respondents are ready to go electric, meaning they will consider purchasing either a full electric vehicle (EV) or a plug-in hybrid electric vehicle (PHEV).
For those new to the list of EV acronyms, a PHEV is a car that can be charged from a wall socket and has enough range for a day's motoring, but it also has an internal-combustion engine for longer distances.
The online survey of 1,000 Singaporeans also found that the majority of the respondents want to live in a more environmentally conscious world, with 87 per cent saying a key benefit of owning an EV was the reduction in carbon emissions.
PRACTICAL BENEFITS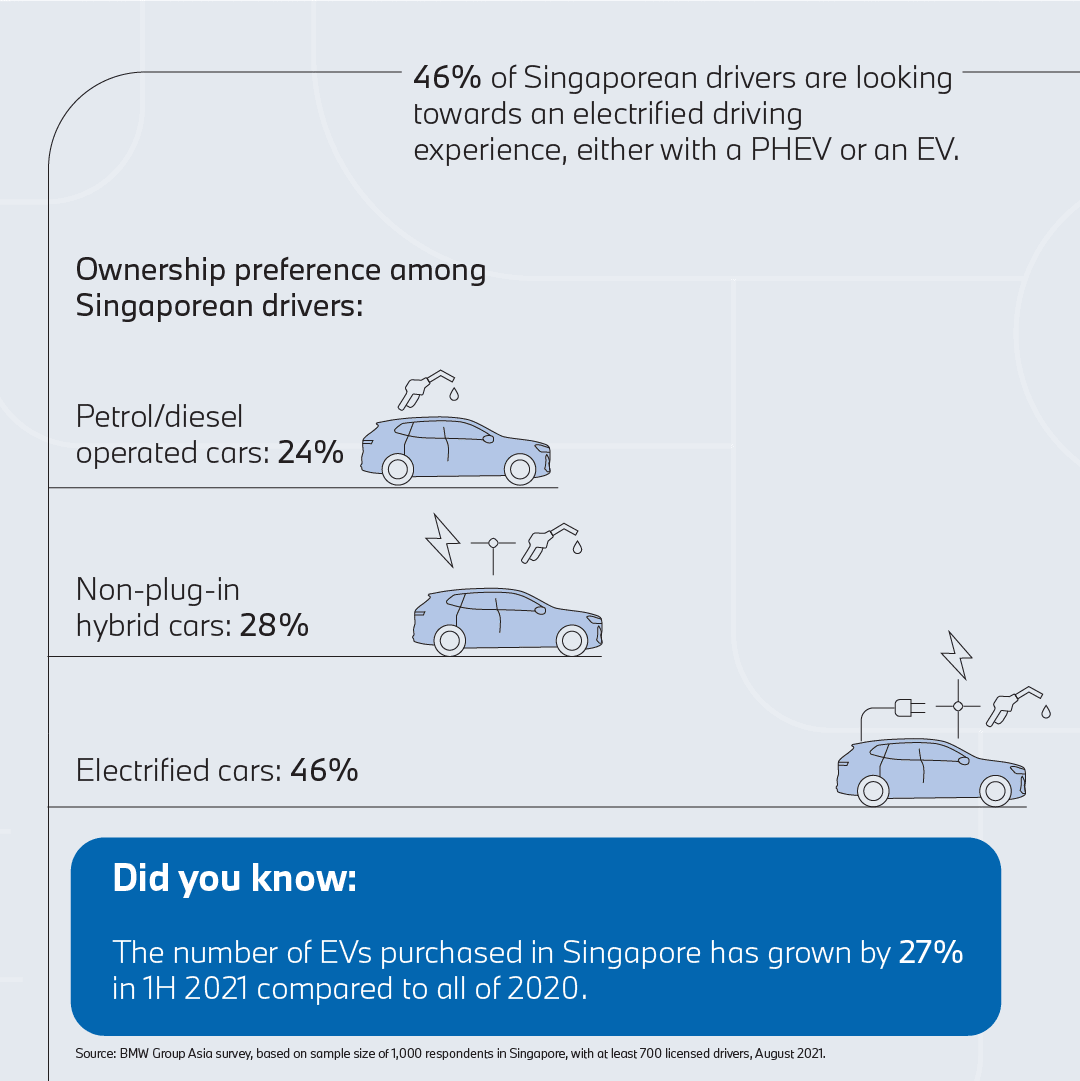 But there are pragmatic reasons for wanting an EV, too. Electric cars are quiet, smooth, responsive to drive, and relatively easy to maintain as they have fewer mechanical components.
For instance, the fully-electric BMW iX3 has a comprehensive 5-year/100,000km warranty and it also comes with six years of free servicing. Its battery is covered by an 8-year/160,000km guarantee, ensuring peace of mind for the years ahead.
According to BMW, since sales of the BMW i3 began in Singapore in 2014, fewer than 3 per cent of customers have made a warranty claim for a battery problem.
"As high-voltage battery technology continues to improve and we gain more experience from the growing number of EVs on the road, we expect the claim ratio to decrease," said Ms Preeti Gupta, corporate affairs director and sustainability lead, BMW Group Asia.
And the improvements don't stop there. "Consistent R&D has enabled the BMW Group to produce batteries with better performance, improved quality, longer lifetime, less weight and an increased vehicle range," Ms Gupta said. "For example, the storage capacity of the high-voltage battery for the BMW i3 has doubled since the model launched in 2014, thanks to a higher battery density."
REDUCED COSTS, ENHANCED INCENTIVES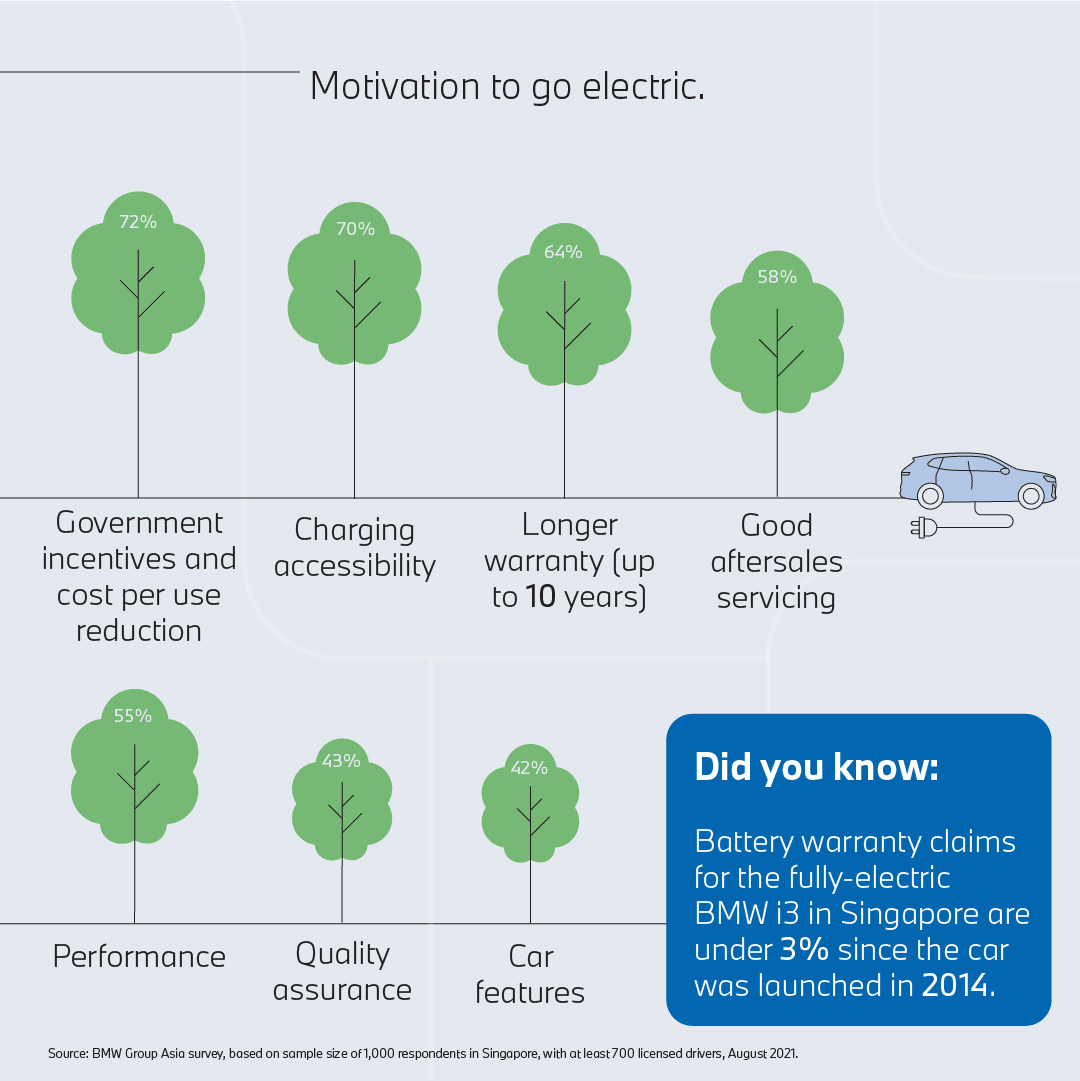 As batteries continue to improve, they also become cheaper to manufacture, so EVs could be cost-competitive with combustion cars within a few years.
Until that happens, there are incentives and rebates today to help lower the cost of EVs. Clean air tax rebates of up to S$25,000, plus an additional early EV adoption incentive of S$20,000, mean that the most eco-friendly EVs could offer buyers up to S$45,000 of savings.
"In a bid to support sustainable mobility, the Singapore Government has announced rebates and incentives to encourage more drivers to make the switch," Ms Gupta said. "This has enabled BMW Group Asia to price the BMW iX3 at a similar price point than its combustion-engined variant, the BMW X3."
The incentives, which kicked in this year, could be one major reason why more Singaporeans are taking to EVs. The car industry sold just 97 electric cars last year, but EV sales in the first half of 2021 alone hit 123 units
TACKLING THE PUBLIC CHARGING PUZZLE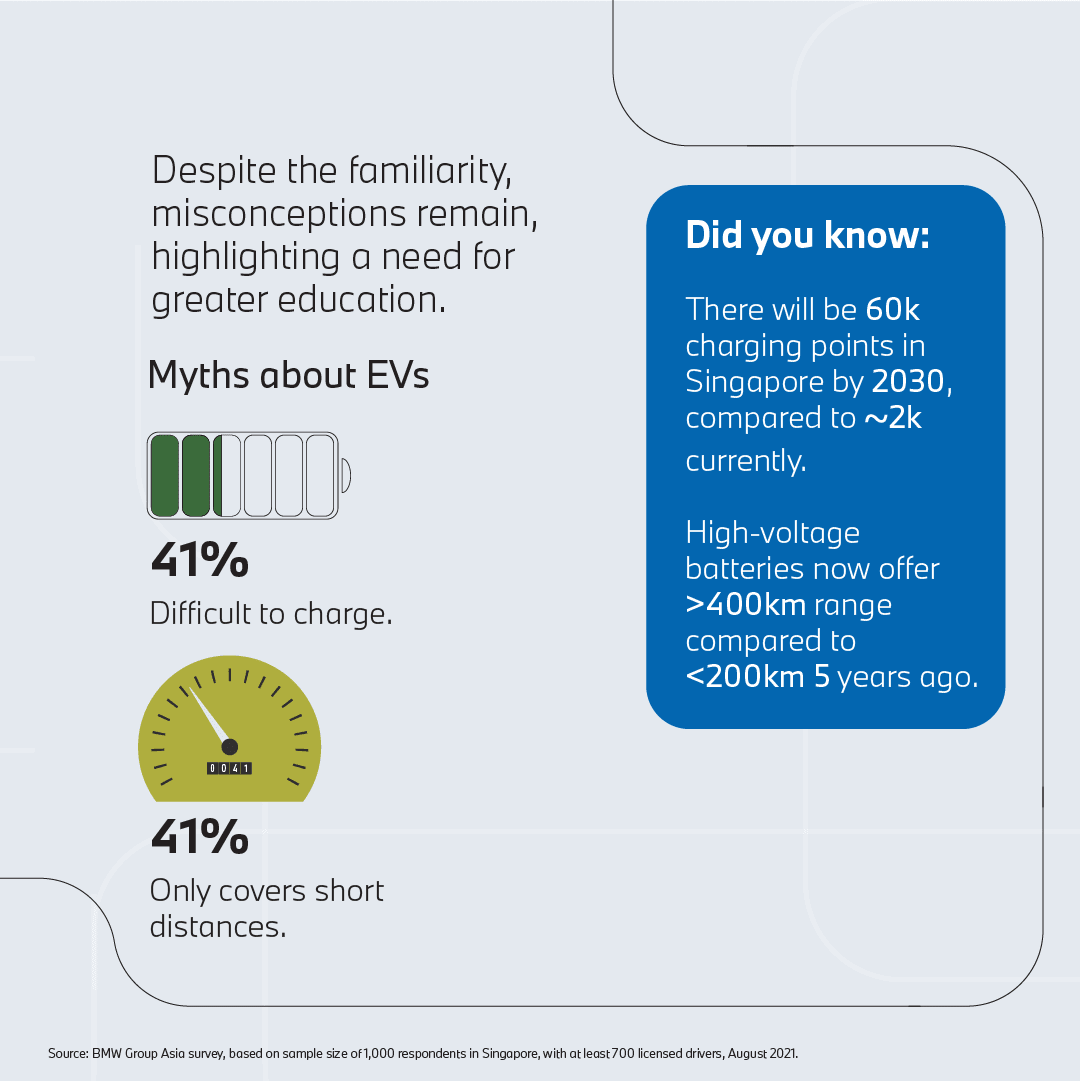 But what would spur EV adoption even more? According to the BMW Group Asia survey, Singaporean drivers remain pragmatic when it comes to cars.
Some 72 per cent of respondents cited government incentives and access to public charging facilities as the most important factors in driving EV adoption, with access to home charging following closely at 70 per cent.
The public charging issue is something time will solve. In only four years, all Housing and Development Board (HDB) car parks in at least eight towns will be fitted with EV chargers. BMW Group Asia and Greenlots, its appointed charging service provider, will also work with condominium management councils to install chargers.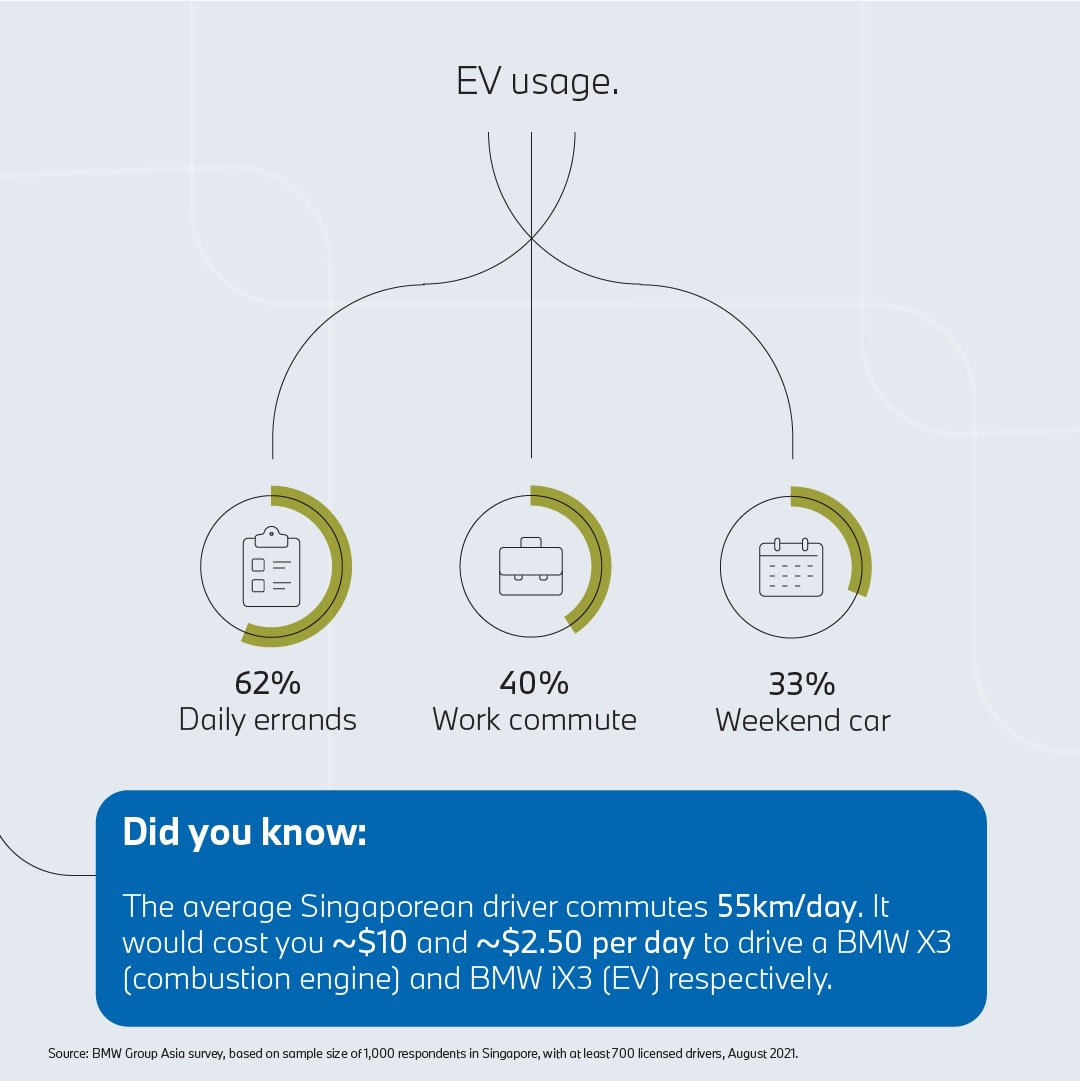 For residents of private apartments and condominiums, the Electric Vehicle Common Charger Grant was recently announced. It will co-fund the installation costs of 2,000 chargers to encourage the early adoption of EVs.
The results of the first pilot tender for charging points were also recently announced. The winners are expected to have 620 charging points installed and operational across Singapore by the third quarter of 2022.
Manufacturers also have solutions for drivers who are able to charge their cars at home. For example, BMW iX3 owners who live in landed properties have the option of having a charging point installed in their homes. Owners only have to think about the perfect spot for their BMW Wallbox, which supplies up to 11kW of electricity for overnight charging.
All that is in addition to the Government's aim to have 60,000 charging points around the island by 2030. Given the BMW iX3's range of almost 460km on a full battery, this means it will only need to be charged once a week or less.
Improved charging technology is making the process more convenient. Speedy 50kW chargers available on public charging networks can easily add 100km of range to a BMW iX3 in a little over 20 minutes. When high-speed charging is eventually available, the BMW iX3's battery can be taken from 0 to 80 per cent of its capacity in just 34 minutes at the maximum 150kW rate.
PHEV OPTIONS
For all that, one ready way for drivers to experience the benefits of an electric drive without making the jump to pure-electric propulsion would be to drive a PHEV. With five plug-in models across various vehicle segments on offer, BMW has a wide range of such cars to meet various needs.
And with two full EVs in its line-up, along with the MINI Electric under the overall BMW Group brand, BMW is well-positioned to serve e-mobility's growing fanbase.
Want to know what your electric future could look like? Here's what BMW's range of electromobility solutions has to offer.