Tackling inequalities, accelerating green growth among priorities in 12th Malaysia Plan tabled by PM Ismail Sabri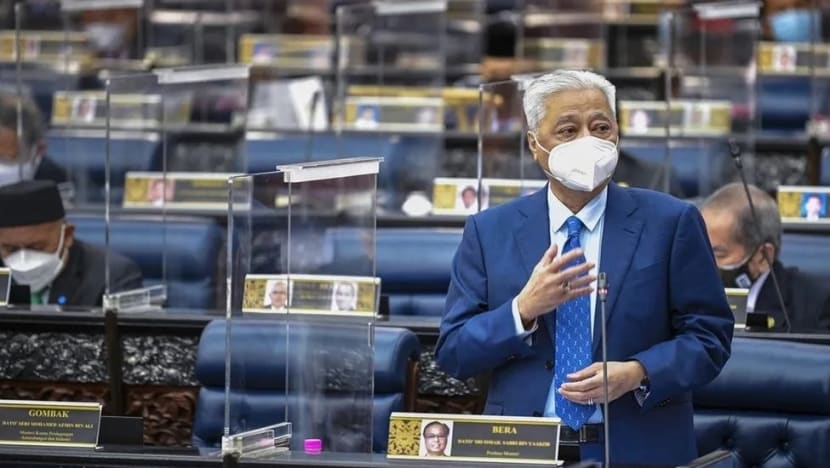 KUALA LUMPUR: Malaysian Prime Minister Ismail Sabri Yaakob tabled the 12th Malaysia Plan (12MP) at the parliament's Lower House on Monday (Sep 27), charting the country's economic focus from 2021 until 2025. 
Themed "Malaysian Family - Prosperous, Inclusive and Sustainable", the 12MP targeted a gross domestic product (GDP) growth of 4.5 per cent to 5.5 per cent between 2021 and 2025, as well as an average monthly household income of RM10,000 (US$2,387) by 2025. 
The five-year plan also aimed to reduce the gulf in GDP per capita between the central territories and East Malaysian states, the prime minister said, while pledging to reduce the intensity of greenhouse gas emissions of GDP by 45 percent by 2030. 
The 12MP was supposed to be tabled in August last year, but was postponed due to the COVID-19 pandemic. 
Malaysians have placed high hopes on the government to solve the economic and health crisis, said Mr Ismail Sabri.
"However, due to the heavy needs to protect lives and livelihood in 2020 and 2021, the space to implement new development projects was limited. This situation is expected to carry on until next year. 
"As such, the government's allocation for development will focus more on continuation of projects. God willing, we expect the government's fiscal position to improve in 2023 when the economy stabilises," he said. 
The development expenditure allocation for 12MP is valued at RM400 billion.
Introduced for five-year periods, the Malaysia Plans outline the government's economic development blueprints. The first one was implemented from 1966 to 1970. 
The 11th plan themed "Anchoring Growth on People" was tabled by then-prime minister Najib Razak in May 2015, with a focus on achieving Vision 2020, Malaysia's quest to become a developed nation.
CLOSING THE INCOME GAP
In his speech tabling the 12MP, Mr Ismail Sabri said a whole-of-country approach would be needed to tackle hardcore poverty.
A special unit would be formed to coordinate data as well as programmes implemented by the government, corporate sector and civil society organisations, he said. 
"With officers specifically tasked to manage poverty at the district level, I am confident that hardcore poverty could be eradicated by 2025," he said. 
Besides the financial aspects of poverty, the prime minister said more students from B40 (bottom 40 per cent) families would be prioritised for entrance into high-performance schools and scholarships.
Access to healthcare would also be broadened, as malnutrition and stunted growth among children in B40 families was on the rise, the prime minister said. 
Mr Ismail Sabri said retraining and reskilling programmes, as well as entrepreneurial activities, would be increased among the M40 (middle 40 per cent) group to enhance their capabilities and employability. 
REGIONAL DEVELOPMENT
The East Malaysian states of Sabah and Sarawak and less-developed West Malaysian ones comprising Kedah, Kelantan, Perlis, and Terengganu would receive at least 50 per cent of the basic development expenditure, Mr Ismail Sabri said.
"This allocation focuses on providing basic infrastructure, digitalisation, education, healthcare services and economic development. I will closely monitor its implementation," he said.
The broadband coverage for Sabah and Sarawak would also be improved through a RM7.7 billion project throughout the 12MP, Mr Ismail Sabri said.
The allocation would cover the construction of digital infrastructure such as telecommunication towers and transmitters. 
"As I have mentioned before, I am committed to solving the issues related to the demands of Sabah and Sarawak over the Malaysia Agreement 1963 (MA63). 
"These include basic infrastructure needs, gas and electricity regulations, as well as the aspects of digitalisation and security," said Mr Ismail Sabri.
ACHIEVING CARBON NEUTRALITY BY 2050
Mr Ismail Sabri said although Malaysia only contributes 0.7 per cent of global greenhouse gas emissions, the government would continue to fulfil its commitment to reduce its greenhouse gas emission intensity of GDP by 45 percent by 2030. 
This would be based on the emission intensity of GDP in 2005, in line with the Paris Agreement 2015. Greenhouse gas intensity is the ratio of a country's emission to the economic value it generates. 
"Today I am giving my commitment that Malaysia will become a carbon neutral country by 2050 at the earliest," the prime minister said. 
To support the 2050 aim, economic instruments such as carbon pricing and carbon tax would be implemented.
While other details for carbon reduction would be announced once studies for long-term, low-carbon strategic development have been finalised by the end of next year, the government has given its commitment not to build new coal-firing power stations, the prime minister added.
The water sector, Mr Ismail Sabri added, would be thoroughly transformed to ensure both supply and sustainability. 
SPURRING ECONOMIC GROWTH
In his speech, Mr Ismail Sabri also outlined a number of focus areas for the 12MP, such as energising the country's economy and fortifying catalysts for growth. 
These included strengthening the transformation of Malaysia's micro and small- and medium-size enterprises, and boosting growth in strategic and high-impact sectors such as electrical and electronics, global services and aerospace, halal industries, biomatter and smart agriculture. 
Malaysia would also boost productivity by reducing its reliance on low-skilled labour, the prime minister said.
"The government wants to see the private sector play a larger role in helping the country spur economic growth. 
"Related to this, I guarantee that the government will reduce bureaucracy, provide quality and reliable infrastructure, strengthen the ecosystem to support private investment and raise a skilled workforce," he told the Lower House.