Malaysian government and opposition Pakatan Harapan ink 'historic' MOU on bipartisan cooperation
On Twitter, PKR communications director and Lembah Pantai MP Fahmi Fadzil wrote: "PH remains the opposition. Parliament will not be dissolved before Jul 31, 2022."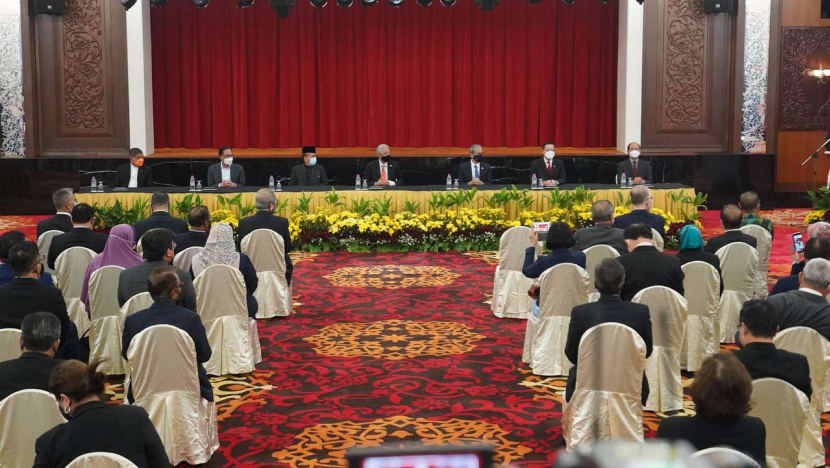 KUALA LUMPUR: The Malaysian government signed a Memorandum of Understanding (MOU) with opposition bloc Pakatan Harapan (PH) to strengthen political stability amid the COVID-19 pandemic through bipartisan cooperation.  
"Today, the federal government and PH made history by inking a Memorandum of Understanding on Transformation and Political Stability," Prime Minister Ismail Sabri Yaakob said in a statement, adding that a "solid and stable" bipartisan cooperation was formed with the MOU. 
The MOU was signed on Monday (Sep 13) at the parliament's banquet hall, with Mr Ismail Sabri representing the government and Mr Anwar Ibrahim, Lim Guan Eng, Mr Mohamad Sabu and Mr Wilfred Madius Tangau representing the four component parties of PH. 
PH comprises Parti Keadilan Rakyat (PKR), Democratic Action Party (DAP), Parti Amanah Negara and United Progressive Kinabalu Organisation.  
Also present at the MOU signing ceremony were Cabinet ministers and other PH leaders.  
According to Mr Ismail Sabri's statement, the memorandum touched on a COVID-19 plan, administrative transformation, parliamentary reform, judiciary independence, Malaysia Agreement 1963 and the establishment of a steering committee. 
"The transformation introduced by this government does not only encourage excellent governance in combating COVID-19, but also catalyses a conducive investment environment while driving a strong economic growth for the wellbeing of the Malaysian family," said Mr Ismail Sabri.  
The Malaysian family is a concept introduced by Mr Ismail Sabri since becoming prime minister to promote inclusivity across the religion, race and ethnic boundaries. 
The government was confident that with the MOU, all political differences would be set aside and the country's recovery would run holistically and exclusively, he added in the statement.  
In a Facebook post after the ceremony, Mr Anwar said: "We will do the best possible for the future of the people and the country."
PKR communications director and Lembah Pantai MP Fahmi Fadzil wrote on Twitter: "PH remains the opposition. Parliament will not be dissolved before Jul 31, 2022."
The MOU signing followed a series of negotiations since Mr Ismail Sabri, from United Malays National Organisation (UMNO), was sworn in as Malaysia's prime minister on Aug 21. 
UMNO had earlier withdrawn its support for Mr Muhyiddin Yassin, causing him to lose majority support in the Lower House. As a result, Mr Muhyiddin stepped down on Aug 16 and Mr Ismail Sabri assumed the role with 114 statutory declarations backing him as the new prime minister. 
The Lower House currently has 220 MPs. 
The king, in a statement on Aug 18, said in order to ensure harmony, MPs who win should reach out to cooperate with those who have failed, and all parties should be ready to cooperate in one team.
On Aug 25, Mr Ismail Sabri met Mr Anwar, Lim and Mr Mohamad at the Prime Minister's Office. 
Last Friday, Mr Ismail Sabri offered a list of parliamentary and government administration reforms in exchange for support. He said the government would table an Anti-Party Hopping Bill, which if passed, would prevent politicians elected on one party's platform from defecting to another party. 
Other proposals included ensuring equal membership in parliamentary special committees for both government and opposition lawmakers and granting the opposition leader the same remuneration and amenities as a minister. 
PH replied publicly that it was "inclined to accept the offer". 
On Sunday, a joint statement was issued to note that both sides would prioritise a new political landscape through transformation and reform initiatives in the government administration, especially in strengthening parliament's role. 
Describing the MOU signing as a "historic event" in Malaysian politics, DAP national organising secretary Anthony Loke said the memorandum did not mean that PH has joined the government.
"PH MPs still sit on the opposition bloc and will continue to play the role of 'check and balance' to the government," he said in a Facebook post ahead of the ceremony.
They would continue to monitor and criticise the government's weaknesses, he said. 
"However, for any legal Bill and the Budget process which need to be consulted and agreed on together as policy, our side will cooperate with the government," he added.
In return, Mr Loke said, the government would have to implement various policies to assist the people and bring reforms in the national administrative system as well as strengthening the institution of parliament. 
Earlier on Monday, when giving the royal address at the opening ceremony of the parliament's fourth term, King Al-Sultan Abdullah Ri'ayatuddin Al-Mustafa Billah Shah said he welcomed and appreciated the bipartisan cooperation being forged by the government and the opposition. 
The monarch said such maturity was what ordinary Malaysians wanted. 
He also told the politicians not to gamble away the future of Malaysia and its people for their own interests.