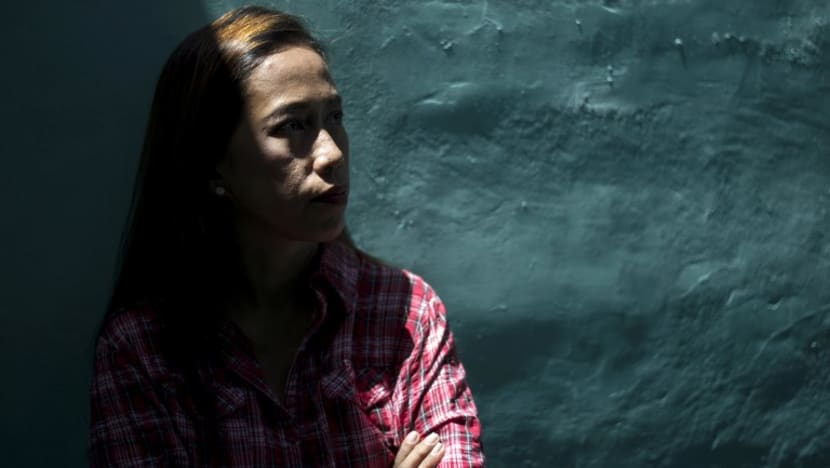 MANILA: Having a happy, long lasting marriage is an aspiration for lots of people around the world.

But a marriage takes work. And sometimes, despite the best efforts, they do not last. Globally, divorce is common. In 2016 alone, there were more than 800,000 divorces in the United States.

But in the Philippines, for non Muslims, there were none. Divorce there is prohibited.

The Philippines is the only country in the world outside the Vatican City where getting a divorce is not allowed.

In the predominantly Catholic country, the power of the religious lobby and the conservative nature of many politicians means any change to the laws would face fierce opposition.
But a fight is underway to do just that. A divorce bill has passed the Philippine congress and is expected to be debated in the Senate sometime soon. It is the furthest such legislation has ever progressed.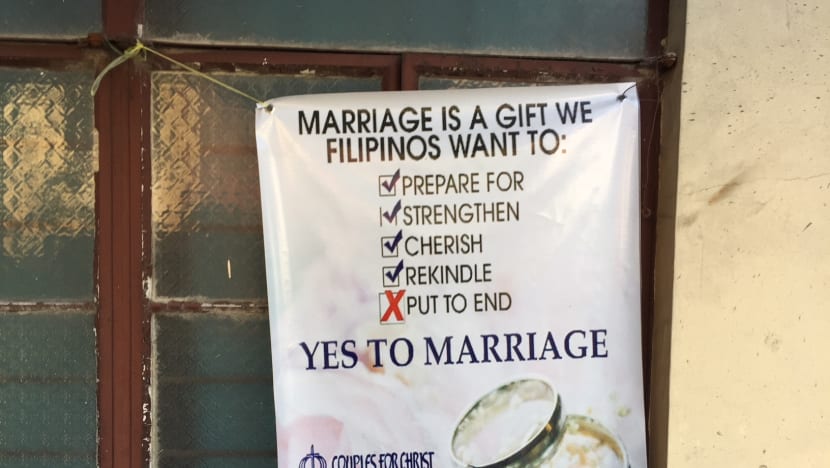 One of those leading a national push for awareness of the need for a divorce law is Melody Alan - a Manila woman still in the grips of a damaging marriage.

Her group - the Divorce Advocates of the Philippines - is active on social media, boasts a few thousand members and has organised events like the 'Walk for Divorce'.

But this fight it not only a collective effort - it is a personal one for Melody.

She got married in 1995 to her first boyfriend. It was an abusive relationship from the start, rocked by her husband's drug use and alcohol abuse.

"I got married after I graduated from college and I knew from the very beginning that my husband drank a lot. He is an alcoholic." she said in an emotional interview with Channel NewsAsia.

"I had this nervous breakdown whenever he was drunk. I expected that he will cause trouble outside, pick a fight and then when he came home I was really nervous because he will really throw things. He would hit me," she said. "You know it is scary. It is a scary situation."

Due to the Philippine law that prevents divorce, Melody is still married. She has been separated from him since 2009. But she has not been able to fully move on from this destructive chapter.

"Sometimes, it is too hard for me to write his surname when it is not really needed. I would just write my single name because I don't want to use his anymore."

A DISHONEST PATH

Melody's situation is not unique.

But at present, the only option for her and many other women and men is to seek an annulment of the marriage. Effectively, the end result is the same as a divorce.

But the process is lengthy. It can take several years and due to legal costs can cost much as US$10,000.

There is another sticking point.

An annulment requires the couple to prove that the marriage was not legitimate to begin with. Reasons why that would be the case can include polygamous relations, fraud, mistaken identity or psychological incapacity.

For those whose relationship has simply fallen apart, for whatever reason, taking the annulment path is a dishonest one.

Melody Alan blames the influence of the Catholic Church.

"Why is the church trying to be blind to the reality that this is the real thing? If they wanted annulment, annulment is a lie. So, the church is allowing it. Is that right?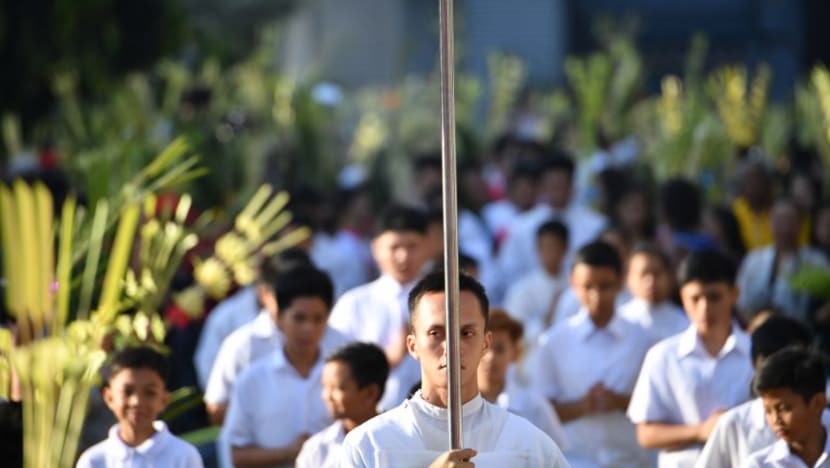 The Catholic Church is a force in Philippine society. Most Filipinos are deeply religious. They look to their faith as a guide when it comes to moral decisions.

And on this issue the church remains steadfast in its message to its congregations.

"The church has always been on the side of traditional marriage. I mean it to say the traditional marriage is between a man and a woman and that it is a lifetime commitment," said Father Jerome Secillano from the Catholic Bishops Conference of the Philippines (CPCP).

The CPCP is a group that aims to "promote the greater good which the Church offers to humankind".

"The definition of marriage is not only biblical, or theological but as we understand it, it is also legal. It's an inviolable social institution. The the church is duty bound, really obligated, to protect marriage at all costs," Fr Secillano said.

The church supports annulment as the only separation option for couples, even those in irreconcilable relationships.

It says it wants to protect the institution of family but the reasoning is somewhat confusing.

Father Secillano argues that an annulment is less damaging to a family - especially to children involved - because the marriage never actually existed in the first place.

"In annulment, there is no a marriage to speak of in a sense because from the very start the church believes that the marriage is null and void. There is a ceremony that happened but then that's a mere ceremony so the validity of the marriage is not there," he said.

"They might be together in one house living under one roof, might be believing they are husband and wife but they are not essentially husband and wife in the mind of the church and also in the mind of the state."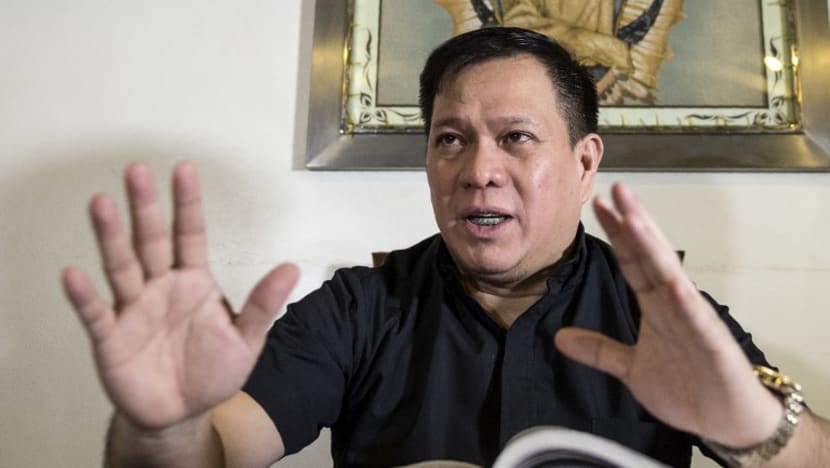 'DRIVE-THROUGH DIVORCE'

For the Catholic Church, the stakes are higher than ever before.

A legalised divorce bill passed the nation's House of Representatives in March and is set to be debated in the Senate in the current session. If legislation is confirmed there, it would be sent to the president for final approval.

One of the bill's champions is Senator Risa Hontiveros, the chairperson of Akbayan party and a fighter against social inequality, and particularly women's rights.

"We, Filipinos, have to recognise that there are many people especially my fellow women who are trapped in violent, or otherwise abusive, toxic relationships and efforts at resolving these problems have failed," she said.

She believes the expected opposition from the Catholic Church hierarchy will be the biggest hurdle to successfully passing legislation.

"We have to always remember that we are legislating for Filipino of various spiritual traditions, for agnostic or atheists. We are deciding on a secular issue as a secular piece of legislation. Part of maturing a democracy is promoting secular politics."
Father Secillano openly admits though that the Catholic church will put pressure on certain politicians to ensure the bill doesn't pass.

"The church believes that it should not lobby. But it is also understood that the church should actually talk about the issues head on. Meaning to say, maybe approach some senators and then tell the senators to look at the downside of passing the divorce bill," he said.
One of those senators might be Sherwin Gatchalian - a critic of the divorce legislation. He is one of a number of senators to outwardly express opposition to the law as it is currently proposed.

"Getting married should not be convenient and getting separated should not be convenient or else you lose the true meaning of getting married," he said. "I believe in processes strengthening the family instead of weakening the family."
He argues that the Philippines' close connection to US culture means there are social misconceptions about what divorce really means.
"The first thing that comes to their mind is what I personally call the 'Las Vegas type' of divorce which I also call the 'drive-through divorce'. You get married easily and you get separated or divorced easily. "

Gatchalian says he will take a pragmatic view - dictated by society as much as religion - when it comes to how he will debate and vote on the legislation.

Opinion polls in the Philippines show that 53 per cent of people are now in support of legalised divorce. The trend is on an upward trajectory.

As a politician he knows he can't ignore his voters. "Times really are changing," he said.

"How do you strengthen family but take into account the realities of abuses and violence? How do you balance that? That's why my view here is to have a balanced bill or a balanced law that will take into realities but the same time will not weaken the core of our society, which is family."

Melody Alan is watching every development closely. She is waiting for closure, finally, and it is resting on what the Senate decides.

"We're very hopeful because this is the first time that it moved up and we've seen that the advocacy of having a divorce in the Philippines is getting stronger and a lot of victims are coming out to share their experiences," she said.

"We'll really push this and will do everything we can for them to see what's going on."
For more on this issue, click here to listen to The Asia Angle podcast.