Cabinet appointment will be tricky test of Malaysia PM Anwar's leadership: Observers
Malaysia's new prime minister has to assemble a Cabinet smaller than previous administrations, while appeasing the many political parties supporting his government.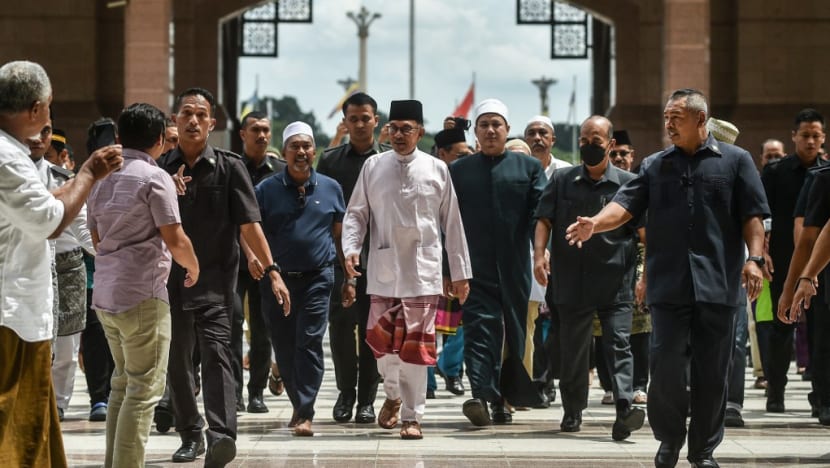 SINGAPORE: Malaysia's new prime minister Anwar Ibrahim is facing a tricky leadership test in his first week after taking office, as he assembles a Cabinet smaller than previous administrations while appeasing various political bigwigs supporting him. 
The Cabinet line-up – which he will announce in the coming days – will need to instil confidence and satisfy the many different parties, after one of the most polarising elections in the country, analysts said on Monday (Nov 28). 
Stability is very critical at this point, stressed Associate Professor Maznah Mohamad of the Department of Malay Studies and Department of Southeast Asian Studies at the National University of Singapore. 
"It is, of course, a challenge for Mr Anwar because the coalition is very delicate in a way (and) the plurality of the people in it," she told CNA's Asia First.
"It is a challenge because on the one hand, he wants a very small Cabinet, but on the other hand, there are so many parties for him to appease."
Prof Maznah added: "Hopefully, people will see the bigger picture. The bigger picture is really to make sure that confidence in the government is instilled."
SMALLER CABINET, LOWER MINISTERIAL SALARIES
Mr Anwar had earlier stressed that his Cabinet size will be downsized and that he is also seeking the agreement of members who will be appointed to reduce their salaries.
Ms Aira Nur Ariana Azhari, senior manager of the democracy and governance unit at the Institute for Democracy and Economic Affairs, said the cabinet appointment will be "a real test" of Mr Anwar's leadership skills.
"You want to appoint the best people to the best positions but at the same time ... maintaining the support from all these different parties is extremely crucial," she added. 
"Because the last thing you want is one party threatening to pull out and yet another government collapses ... so we do not want that."
DOING AWAY WITH CABINET POSTS AS REWARD
Mr Anwar will also do away with appointing ministers as a form of reward.
"Of course, we can consider one or two cases where it's absolutely necessary, but it should not be seen as rewarding political masters in order that they support you," the Pakatan Harapan chairman said on Sunday.
"I want them to support me based on my policies and my commitment towards good governance, my commitment to anti-corruption drive, and to resuscitate the economy."
Malaysia has previously been known for having inflated Cabinets and giving positions for political reward, Ms Aira told CNA938's Asia First.
Prof Maznah said: "Much as he wants to put people who are competent in the Cabinet positions, you can't run away from the politics itself. So he would still need to give positions to the main parties or the coalitions involved."
 
She believes it is necessary to have an equitable distribution of power, but that will be a challenge with a small Cabinet. 
"But I think it's very important for him to drive home the message that a stable government is important, that having him there leading the country would actually promise a better Malaysia," she said.
"So that message has to come through, at all levels. The lower income groups will be his priority, but also I think the middle class and the elite groups are equally important."
VOTE OF CONFIDENCE
In his first press conference after being sworn in as Malaysia's 10th prime minister on Thursday, Mr Anwar said a motion of confidence will be tabled in parliament on Dec 19 to end the question of the legitimacy of his government.
On Sunday, Barisan Nasional (BN) chairman Ahmad Zahid Hamidi said the former ruling coalition will support the vote of confidence. He noted that this was to ensure the legitimacy of Mr Anwar's leadership can be finalised and silence those who dispute it.
But anything can happen between now and when parliament sits in three weeks' time, said Ms Aira. 
"Not only is this unity government a new phenomenon in Malaysia, but this sort of pledging support in a confidence vote is also quite unprecedented," she added.
"Of course, for the sake of the government's stability, I do hope that this vote of confidence passes and we have a prime minister, we have a government, and we can hit the ground running."
It remains unclear who will end up forming Mr Anwar's Cabinet, but Ms Aira said "Malaysians should be quite clear-headed with the fact that it is crucial for the prime minister to maintain support". 
CHALLENGES ON DOMESTIC, GLOBAL FRONTS
Meanwhile, Malaysia is reviewing its government subsidies programme to direct money towards low-income groups, said Mr Anwar, who is prioritising the issue of rising costs of living.
He added that government agencies have two weeks to review the implications of narrowing the subsidies.
Prof Maznah said some may feel that not everyone deserves subsidies, and that it should only go to the hardest-hit groups. 
"So if it's targeted, the government has to ensure that only the deserving ones get the subsidies and I think this will be very tricky," she added. "Something like this will have to be very well administered and not prone to abuse."
Prof Maznah said the government has to also consider the issues faced by some middle-class households.
"These are the kinds of details I think that the new administration would have to work out in trying to implement the targeted subsidy scheme," she added. 
On the international front, Mr Anwar's reputation as a respected politician will help Malaysia to build stronger ties with other countries, noted observers.
 
"I'm not saying that just because he is well known, that would necessarily ensure more friendly diplomatic relations," said Prof Maznah. "But I think that is an important factor, and I think he has committed himself to establishing very close relationships."
Ms Aira said Malaysia's foreign policy and the attitude towards its neighbours have been "quite consistent" over the years. 
"Not much surprises, but I think what's different is Anwar is a global figure that cannot be denied," she added.
"So I hope he can bring up some of the long-standing issues that (have) been bogging down ASEAN ... Hopefully with his stature, we can start having serious conversations about these issues."