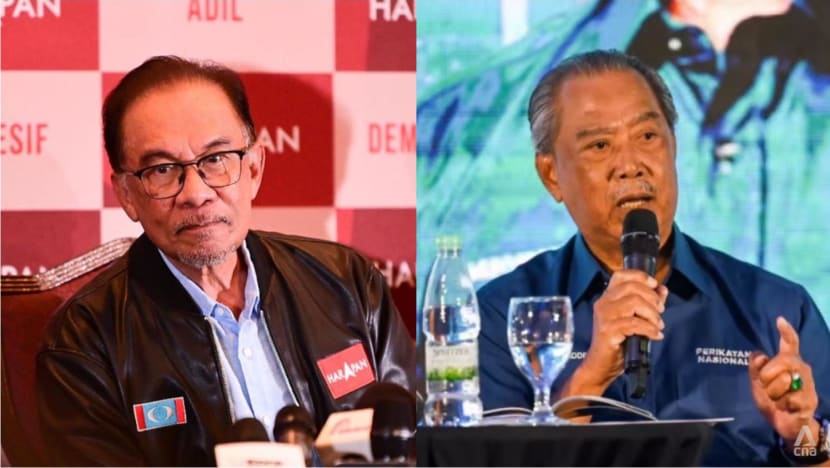 KUALA LUMPUR: Malaysian Prime Minister Anwar Ibrahim has filed a defamation suit against Mr Muhyiddin Yassin for defamation, saying that the Perikatan Nasional (PN) chairman's remarks about him are untrue, malicious, and aimed at cheap publicity.
Malaysian media reported that the suit is in regard to Mr Muhyiddin's remarks that Mr Anwar had been paid RM15 million (US$3.38 million) annually as Selangor's economic adviser.
The suit, which was filed by Mr Anwar's lawyers SN Nair & Partners at the Kuala Lumpur High Court on Tuesday (Dec 20), seeks general, compensatory, aggravated and exemplary damages from Mr Muhyiddin over the alleged defamation.
Mr Anwar is also seeking an injunction from the court to stop Mr Muhyiddin from further saying, writing, publishing or distributing the same or similar defamatory words.
In a brief media statement on his Facebook page on Wednesday, Mr Muhyiddin confirmed that he had received the writ of summons and statement of claim from Mr Anwar's lawyers regarding the defamation lawsuit.
"As Anwar has chosen to bring this case before the courts, I have instructed my lawyers to handle the case in accordance with the law," Mr Muhyiddin wrote.
Citing the court document, Malay Mail reported that Mr Muhyiddin uttered those claims during the campaign rally on Dec 5 for the 15th General Election (GE15) Padang Serai parliamentary seat. The campaign speech was made in support of PN candidate Azman Nasrudin.
According to the Star, Mr Anwar said excerpts from that speech were published by the TikTok account @beritakini8 and gained 1.1 million views, 6,061 comments, over 21,400 likes, and 2,169 shares by Dec 7.
Voting for the Padang Serai parliamentary seat was postponed after incumbent Pakatan Harapan (PH) candidate M Karupaiya died on Nov 16 after he collapsed during campaigning. Mr Azman won the Padang Serai contest with a majority of 16,260 votes.
Earlier in December, Mr Anwar had sent a letter of demand to Mr Muhyiddin asking for a public apology over the latter's remarks.
The Pagoh Member of Parliament, however, did not respond to the letter. This led to the filing of the defamation suit.
In his letter then, Mr Anwar had demanded an unconditional apology be published in newspapers and media of his choice. He had also sought compensation over "serious injury" to his reputation, according to Free Malaysia Today.
On Dec 7, the political secretary to Selangor chief minister Amirudin Shari, Ms Juwairiya Zulkifli reportedly said that Mr Muhyiddin's allegation is a recycled accusation that has been denied numerous times.
"During the period Mr Anwar Ibrahim was Selangor's economic adviser, he was only given a symbolic salary of RM1 a year. The salary had not been paid to him since the date of appointment. He did not receive any allowances or privileges other than the RM1 salary," she was quoted as saying by Bernama.
Mr Anwar was first appointed as Selangor's economic adviser in November 2009 and served under its then-chief minister Mr Khalid Ibrahim.
He continued in the role after his imprisonment in 2015 on a sodomy charge, when Mr Mohamed Azmin Ali became the state's next chief minister. He was then given a full royal pardon and released from prison in May 2018 after PH won the general election that year.
Earlier this month, Mr Anwar, who is also the PH chairman, separately filed defamation suits against Kedah chief minister Muhammad Sanusi Md Nor and Perak Parti Islam Se-Malaysia (PAS) commissioner Razman Zakaria.
According to local media, both allegedly defamatory remarks were made during the campaign rallies last month, leading up to the GE15.