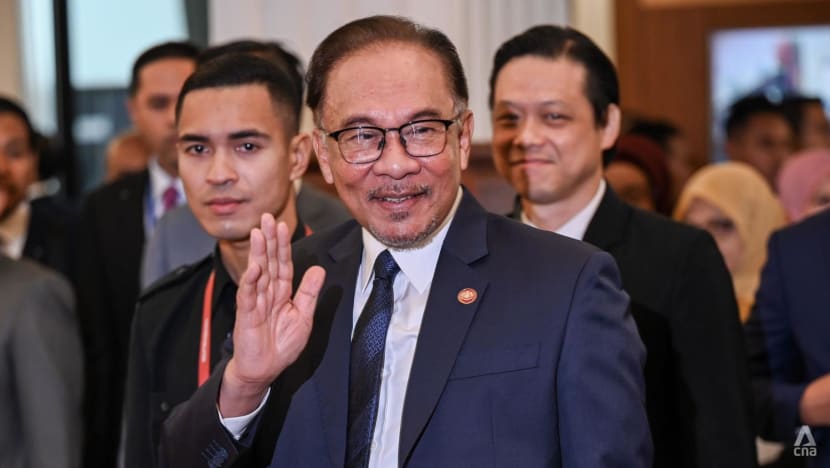 KUALA LUMPUR: Malaysian Prime Minister Anwar Ibrahim secured a vote of confidence during his first parliament session as the country's top leader on Monday (Dec 19), confirming the legitimacy of his leadership and the unity government he leads.
The vote of confidence was done via a voice vote only, with no call for a bloc vote. Newly-elected Speaker of Parliament Johari Abdul confirmed that a majority of Members of Parliament (MP) supported the vote, eliciting applause from the chamber.
Earlier, parliament elected Mr Johari, who is from Pakatan Harapan's (PH) Parti Keadilan Rakyat (PKR), as the new speaker and his two deputies, Barisan Nasional's (BN) Ramli Md Nor and PH's Alice Lau.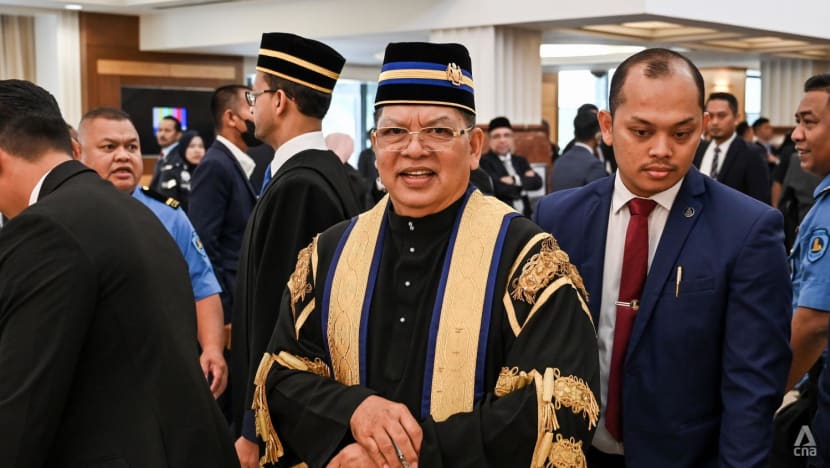 Last Friday, leaders of five political coalitions and parties in Mr Anwar's government signed a memorandum of understanding to support his administration, which Mr Anwar believes would secure a vote of confidence from 148 MPs, or a two-thirds majority out of 222 seats.
The five are PH, BN, Gabungan Parti Sarawak (GPS), Gabungan Rakyat Sabah (GRS) and Parti Warisan (Warisan).
Under the agreement, all parties and coalitions should vote to support the prime minister in all matters related to confidence and supply, and matters that can affect the legitimacy of the government.
During the debate ahead of the confidence vote on Monday, parliament turned into a shouting match, with some MPs on both sides of the aisle trading personal attacks and speaking over each other.
MPs from the opposition Perikatan Nasional (PN) coalition questioned the legitimacy of Mr Anwar's government, calling some parts of the MOU "unconstitutional". 
They also highlighted how four GRS MPs who quit the Sabah chapter of Parti Pribumi Bersatu Malaysia (Bersatu) after the election could have breached the anti-party hopping law.
Bagan MP Lim Guan Eng, from PH, urged the opposition to "accept reality" that a unity government has been formed, and not use the debate simply to provoke the government.
One flashpoint was when Opposition Leader Hamzah Zainudin brought up a Nov 24 article by an Italian news publication Agenzia Nova, which prompted objections from the government backbenchers, accusing the report as slanderous towards Mr Anwar.
Last week, Mr Anwar said that a confidence vote would allow him to lead the country effectively with a clear mandate, even though such a vote was not required as he already had a clear majority in the Dewan Rakyat, Malaysia's Lower House of parliament. 
In his first press conference after being sworn in as prime minister on Nov 24, Mr Anwar announced that a vote of confidence would be held in parliament to end questions about the legitimacy of his government.
This came after Malaysia's 15th General Election on Nov 19 produced no clear winner, with neither Mr Anwar's PH nor Mr Muhyiddin Yassin's PN securing a simple majority in the 222-seat Lower House.
PH won 81 seats while PN managed 73, putting both in a position to form the next government. A coalition needs to be backed by at least 112 lawmakers to form the next government.
Both PH and PN scrambled to gather support from BN, GPS and GRS. BN, which finished a distant third, managed to win 30 seats. GPS won 23 seats while GRS emerged victorious in six seats.
BN, after talks with PH and prolonged internal deliberations, announced on Nov 22 that it would back neither PH nor PN, opting instead to stay as the opposition.
After the king summoned both Mr Anwar and Mr Muhyiddin that afternoon in a bid to resolve the impasse, the PH leader told reporters that the ruler has yet to make his decision.
In a separate press conference, Mr Muhyiddin said that the king had asked PH and PN to form a unity government. But PN turned down the suggestion.
On the morning of Nov 23, representatives of BN and GPS, the two potential kingmakers, were summoned for a royal audience. 
Following the royal audience, BN chairman Ahmad Zahid Hamidi was quoted as saying by local media that the king had advised BN to be part of a unity government.
Later that night, BN announced that it will join a unity government but not one led by PN.
GPS had initially pledged support for PN, only to later say that it would heed the king's wishes to be part of a unity government.
GPS had repeatedly said that it did not mind working with any coalition or party from the peninsula as long as it is not PH or its component party the Democratic Action Party (DAP).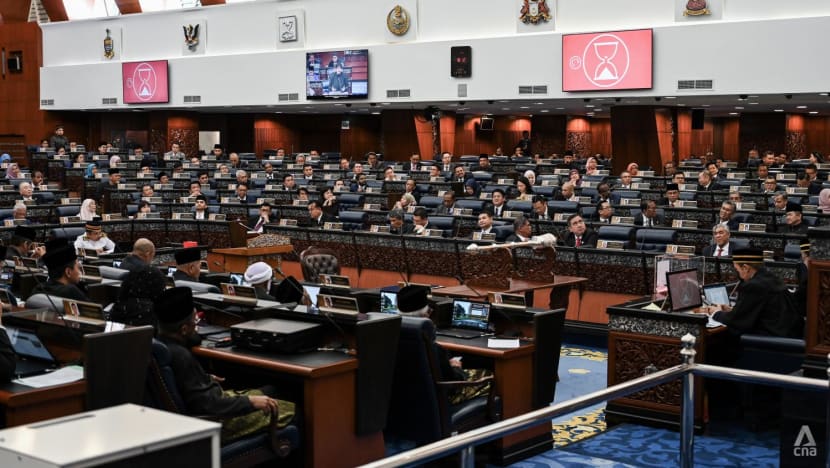 Ties between GPS and DAP have been fraught as the latter cancelled some projects in Sarawak during the short-lived PH administration from 2018 to 2020. Additionally, GPS and DAP had campaigned bitterly against each in the urban state and parliamentary seats in Sarawak.
But DAP secretary-general Anthony Loke said on Nov 23 that he was in Kuching to speak with GPS chief Abang Johari Abang Gopeng and apologise on behalf of DAP if any of its statements had insulted the people and government of Sarawak.
GPS said it accepted the apology and added that it will join the Anwar-led unity government and leave the issue of Cabinet positions to the new prime minister.
After a special meeting of the Malay rulers on Nov 24 regarding the political impasse, Istana Negara announced Mr Anwar as the next prime minister of Malaysia.
MUHYIDDIN CHALLENGES PM'S LEGITIMACY
In a separate press conference that day, Mr Muhyiddin insisted that he commands the majority support from the MPs to lead the government.
He also called on Mr Anwar to prove that he has the support of the majority of lawmakers.
"For the sake of the people's confidence in the legitimacy of Anwar Ibrahim as prime minister, he should prove that he has the support of the majority of MPs," he said.
"This must be proven through the process that has been set by the parliament speaker in a letter dated Nov 20, which is by submitting the statutory declarations (SDs) of the majority of MPs."
On Dec 7, PN wrested from PH the parliamentary seat of Padang Serai in Kedah by more than 16,000 votes, taking its seats to 74 after delayed polling due to the death of a candidate.
Mr Muhyiddin said the result showed the public did not approve of the PH-BN partnership in a unity government proposed by the king.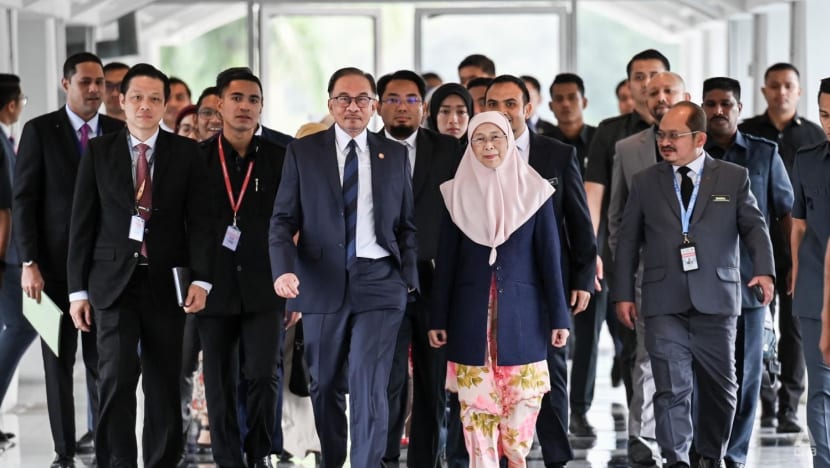 Mr Anwar clarified on Dec 11 that there was some effort in obtaining SDs and this occurred within the period set by the king post-election.
"As in any race, he can overtake us in the first turn, we can cut him off at the third turn. What's important is the finish line. It's obvious I obtained the bigger total because those who provided their SDs previously withdrew before 2pm," he was quoted by local media as saying.
Ahmad Zahid, who is also Deputy Prime Minister, had previously said on Nov 27 that BN will support the vote of confidence for Mr Anwar.
The vote would finalise the legitimacy of Mr Anwar's leadership and those who dispute it, he wrote in a Facebook post.
The confidence motion on Mr Anwar's leadership was the eighth item on the agenda of the Dewan Rakyat's first session scheduled for two days from Monday.