Anwar to lead unity government comprising PH, BN and GPS; keeps door open for other partners
The new Malaysian prime minister said that there will be a vote of confidence in parliament on Dec 19 as a test of whether he commands a majority in the Lower House.
KUALA LUMPUR: Malaysian Prime Minister Anwar Ibrahim said on Thursday (Nov 24) that he will lead a unity government comprising the main coalitions of Pakatan Harapan (PH), Barisan Nasional (BN) and Gabungan Parti Sarawak (GPS).
However, he left the door open for others such as Perikatan Nasional (PN) and Gabungan Rakyat Sabah (GRS) to join in as well. 
Speaking at his first press conference since he was sworn in as prime minister, Mr Anwar said: "I have stressed that this government is a unity government. 
"This national unity government, as of this evening before the swearing-in ceremony, comprises Pakatan Harapan, Barisan Nasional and Gabungan Parti Sarawak. Hence, with this majority and the strength of PH, (it is) the biggest bloc," he added. 
He noted that the unity government also included Parti Warisan Sabah, Malaysian United Democratic Alliance and other independent lawmakers. 
"As a prime minister representing all Malaysians, all races … I am open to accepting the rest of the parties to make this country united," said Mr Anwar.
He stated that he was willing to work with all parties, including PN led by Mr Muhyiddin Yassin which has 73 seats and GRS led by Mr Hajiji Noor which has 6 seats. 
"I want to ask PN if they are ready to join us in this unity government," said Mr Anwar.
He added that Malaysia has now witnessed a "major change"
"Not just in the appointment of a new prime minister, or new leaders, but a new hope for Malaysia. I want to raise the dignity of the people, end corruption and abuse of power and fight for the lives of the people." 
When asked if the deputy prime minister position would be given to a BN politician, the prime minister offered little by way of clues.
He said that since the prime minister comes from PH, the deputy prime minister role will be held by other component coalitions in the unity government - BN and GPS.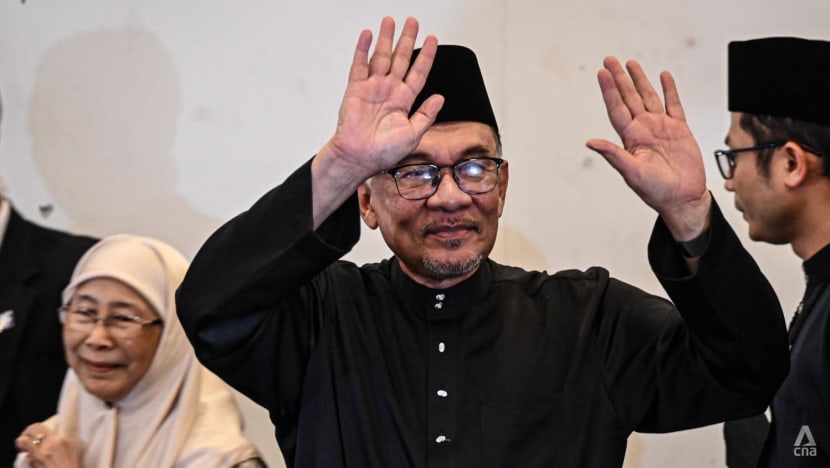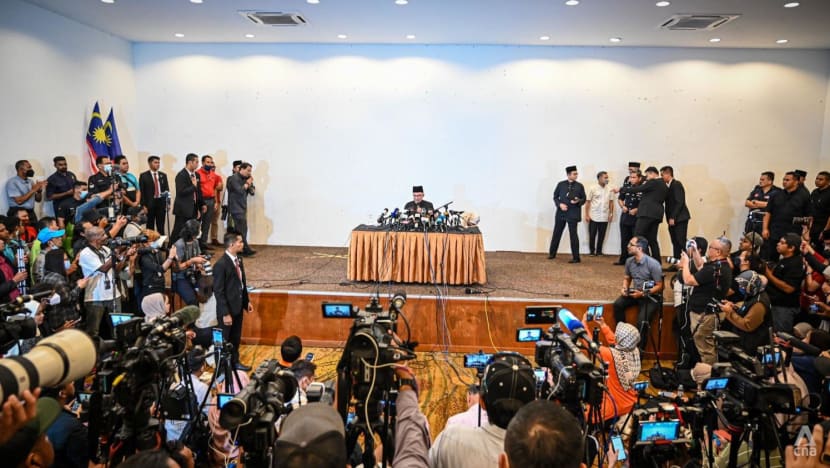 Mr Anwar, who was flanked by his wife and Bandar Tun Razak lawmaker Wan Azizah Wan Ismail during the press conference, announced that he would not be taking his prime minister salary. This is in line with a promise that he had made during campaigning. 
He noted that with the formation of the unity government, investors' confidence has been restored in Malaysia, as evidenced by how shares have recovered on Thursday.
He also declared next Monday a public holiday in Malaysia. 
The new prime minister said that the next parliamentary session will take place on Dec 19.
POLITICAL IMPASSE
Last Saturday's election produced no clear winner, with neither Mr Anwar's PH nor Mr Muhyiddin's PN able to secure a simple majority in the 222-seat Lower House.
PH won 81 seats while PN managed 73, putting both in a position to form the next government. A coalition needs to be backed by at least 112 lawmakers to form the next government. Both coalitions scrambled to gather support from BN, GPS and GRS. 
BN, which finished a distant third, managed to win 30 seats. GPS won 23 seats while GRS emerged victorious in six seats.
After the king summoned both Mr Anwar and Mr Muhyiddin on Tuesday afternoon in a bid to resolve the impasse, the PH leader told reporters that the ruler had yet to make his decision.
Separately, Mr Muhyiddin said that the king had asked PH and PN to form a unity government. But PN turned down the suggestion.
On Wednesday morning, representatives of BN and GPS, the two potential kingmakers, were summoned for a royal audience. 
Following the royal audience, BN chairman Ahmad Zahid Hamidi was quoted as saying by local media that the king had advised BN to be part of a unity government.
"Tuanku's decree was to form a unity government," he reportedly said. 
Subsequently, talk of a unity government believed to be based on PH's leadership, gathered further steam.
Late Wednesday night, BN announced that it will join a unity government but not one led by PN. 
In what may be an olive branch, Democratic Action Party (DAP) secretary-general Anthony Loke said on Thursday that he was in Kuching to speak with GPS chief Abang Johari Abang Gopeng. DAP is a component party of PH.
Mr Loke said in a statement: "I have told (Abang Johari) that if there were any statements issued by DAP leaders which insulted the people and government of Sarawak, I on behalf of DAP would like to openly apologise."   
GPS accepted the apology. It has also said that it will join the Anwar-led unity government and will leave the issue of Cabinet positions to the new prime minister.
GPS had initially pledged support for PN, only to later say that it would heed the king's wishes to be part of a unity government.
GPS had repeatedly said that it does not mind working with any coalition or party from the peninsula as long as it is not PH or DAP. 
Ties between GPS and DAP have been fraught as the latter cancelled some projects in Sarawak during the short-lived PH administration from 2018 to 2020. Additionally, GPS and DAP had campaigned bitterly against each in the urban state and parliamentary seats in Sarawak.
Shortly after, the stars seemed to align further in PH's favour as GRS also announced that it will adhere to the decision of the king to form a unity government.
During GE15 campaigning, GRS had an electoral pact with BN's Sabah chapter. Both GRS and BN are currently in control of the Sabah state assembly. 
After a special meeting of the Malay rulers on Thursday morning regarding the political impasse, Istana Negara announced that Mr Anwar is the next prime minister of the country.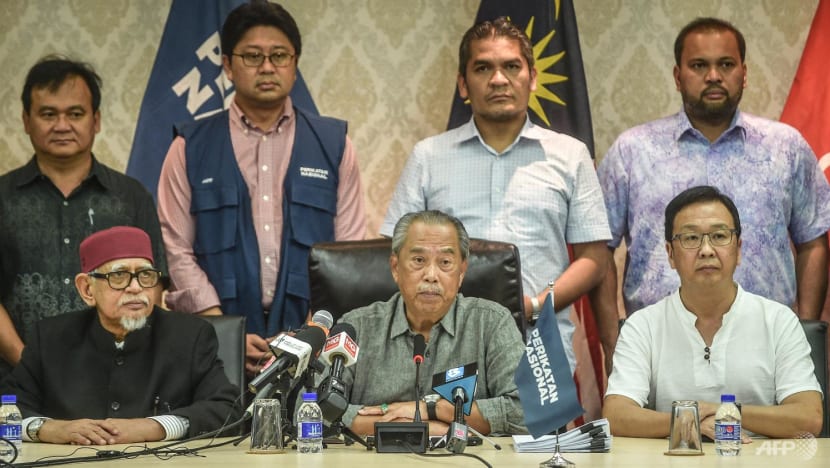 MUHYIDDIN CHALLENGES ANWAR TO DEMONSTRATE MAJORITY
In a separate press conference on Thursday, Mr Muhyiddin insisted that he commands the majority support from the MPs to lead the government.
He also called on Mr Anwar to prove that he has the support of the majority of lawmakers.
"For the sake of the people's confidence in the legitimacy of Anwar Ibrahim as prime minister, he should prove that he has the support of the majority of MPs. 
"This must be proven through the process that has been set by the parliament speaker in a letter dated Nov 20, which is by submitting the statutory declarations (SDs) of the majority of MPs," said Mr Muhyiddin. 
The PN leader added that he was not disputing the formation of a unity government but Mr Anwar's appointment as prime minister.
He stated that he had 115 SDs of MPs backing him as the prime minister as required by Speaker Azhar Harun.
"PN had sent a letter from the Parti Islam Se-Malaysia (PAS) secretary-general, Gabungan Parti Sarawak chairman, Gabungan Rakyat Sabah chairman and the Parti Kesejahteraan Demokratik Masyarakat president stating their agreement to form a coalition government with PN.
"Also, 114 statutory declarations were sent to Istana Negara of MPs expressing their unconditional trust in me to be appointed prime minister," he said, adding that an additional SD was submitted on Tuesday.
On Sunday, Mr Azhar Harun said that he had issued letters to the leaders of political parties and coalitions, asking to nominate a prime minister candidate through a statutory declaration from each member of the Lower House. 
During his press conference on Thursday night, Mr Anwar stated: "We have a truly convincing majority."
He said that during the next parliamentary sitting on Dec 19, a vote of confidence on his leadership will be the first item on the agenda.