Anwar warns against possible vote buying, says he will not take salary if elected Malaysia PM
The Pakatan Harapan chairman made several stops in Johor while on the GE15 campaign trail on Tuesday (Nov 8).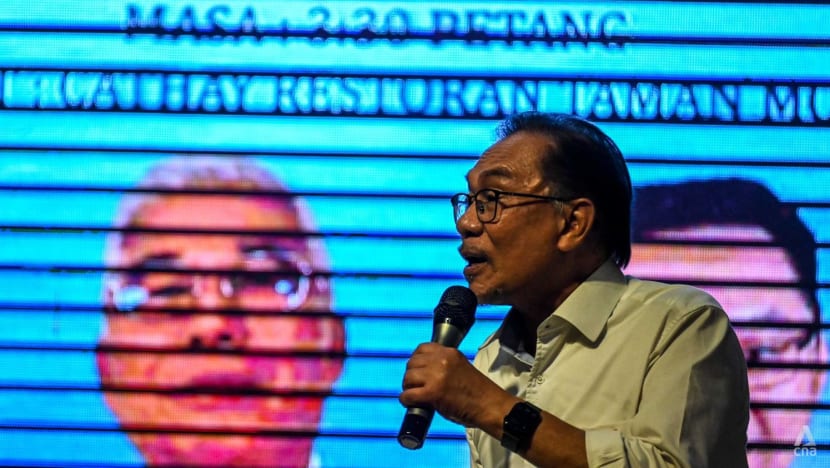 SIMPANG RENGGAM, Johor: Pakatan Harapan (PH) chairman Anwar Ibrahim has warned that the Barisan Nasional (BN) coalition could resort to buying votes if it becomes apparent that the latter is falling behind in polling estimates. 
He also reiterated that he will not draw a salary if elected as prime minister after the 15th General Election (GE15). 
Mr Anwar made these remarks when visiting some constituencies in Johor on Tuesday (Nov 8), as he continued to hit the campaign trail for the national polls. 
While speaking in a rally in Simpang Renggam, Mr Anwar said: "I've heard, that they (BN) know they are falling behind Pakatan Harapan (in terms of support). 
"So two to three days before polling day, they will go back to their old ways, take take and take from public coffers, and give it to the people." 
"Even though based on our calculations at this point, Maszlee Malik will win in style (in Simpang Renggam), but be careful. They will give money to every household," added the Parti Keadilan Rakyat (PKR) president. 
The Simpang Renggam federal constituency is one of the key battleground seats as it sees a fight between two heavyweights, PH candidate and former education minister Maszlee Malik and BN candidate former Johor chief minister Hasni Mohamad. 
Perikatan Nasional's (PN) Fazrul Kamat and Gerakan Tanah Air's (GTA) Kamal Kusmin are also contesting the seat.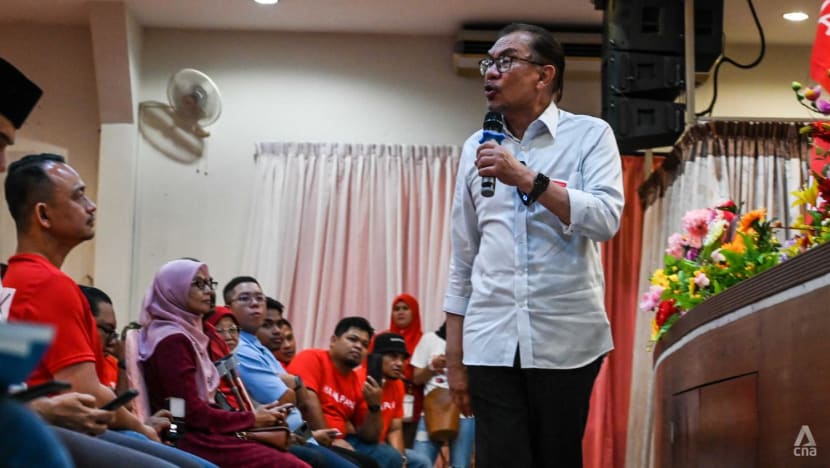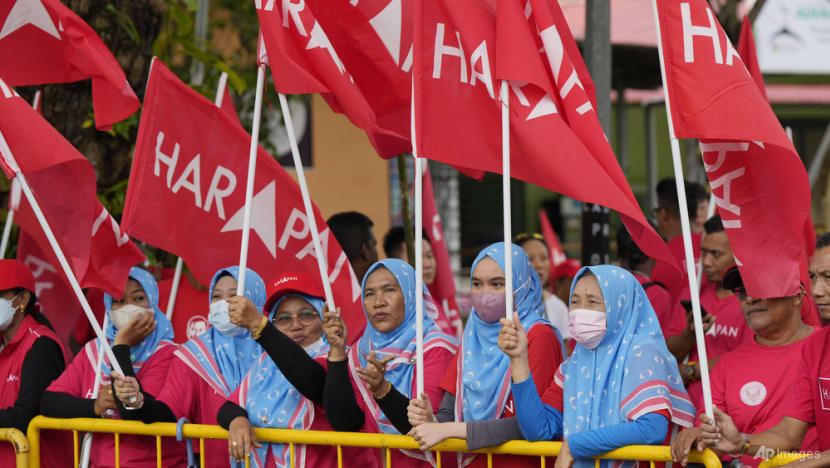 Earlier in the evening, speaking to reporters after an event in Tebrau, Mr Anwar stressed that besides not accepting a prime minister salary, the salaries of his Cabinet ministers will also be reduced. 
"I thought given the track record, the disillusionment and cynicism against politicians who have been amassing wealth without exception, including previous prime ministers who have enriched their families, their in-laws, their children, I have to stop the rot," said Mr Anwar. 
"So the rejection of salaries is to give a message that not all leaders are politically corrupt and greedy."
In his speech there, Mr Anwar explained that reducing the salaries of his Cabinet members would be among the first things he would do if he gets elected. 
Additionally, he said that he would not take a salary presently "due to the current economic situation". 
"I want to be a prime minister and prove that we can have a good government in this country," said Mr Anwar. 
PH is fielding 206 candidates at this year's election. The coalition comprises PKR, Democratic Action Party, Parti Amanah Negara and United Progressive Kinabalu Organisation. The Malaysian United Democratic Alliance is an allied party.
On Nov 7, PKR's deputy president Rafizi Ramli said that PH was "controlling" the campaign narrative for the Nov 19 election
He added that PH is aiming to win more than 90 seats in Peninsular Malaysia before working with a coalition in East Malaysia to form the government. This will be possible if the voter turnout this year is more than 70 per cent, said Mr Rafizi. 
He earlier outlined that he expects PH to win 11 seats in Kuala Lumpur, 19 in Selangor, and possibly 13 to 15 seats in Johor. PH is seen to have more support in the urban rather than rural seats. The latter make up the majority of federal seats.  
There are a total of 222 seats in Malaysia's Lower House and a minimum of 112 seats is needed to clinch a simple majority and form a new government.