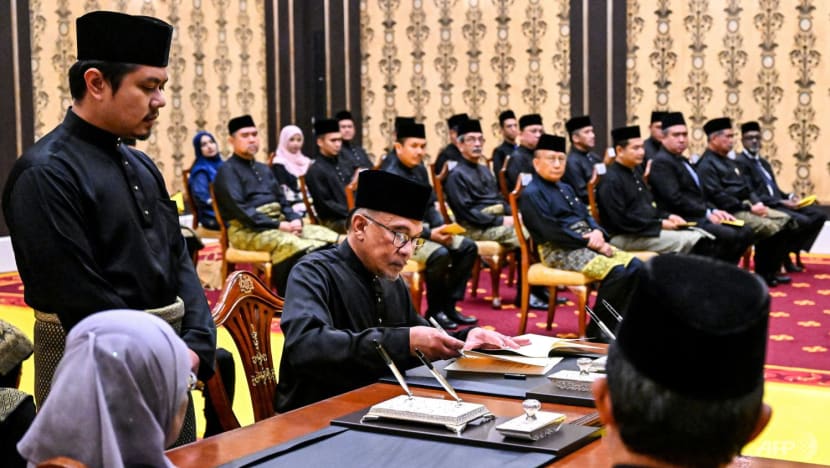 KUALA LUMPUR: Pakatan Harapan (PH) chairman Anwar Ibrahim was sworn in as Malaysia's 10th Prime Minister on Thursday (Nov 24).
His appointment was confirmed by Istana Negara just after lunch, following several days of political uncertainty as last Saturday's election failed to produce a clear winner.  
In the palace statement confirming Mr Anwar as the next leader of Malaysia, the king advised Mr Anwar and the new government to show "humility and wisdom".
"The fact is that ordinary people should not be burdened with endless political turmoil when the country needs a stable government to boost the economic landscape and development of the country," said the statement.
The statement also reminded elected Members of Parliament to show priority, high commitment as well as to provide the best service to the people.
"His Highness would like to remind everyone that those who won did not win everything and those who lost did not lose everything."
According to the statement, the king said that he agreed with his fellow rulers that a stable government should be formed as soon as possible after the general election through a proper and careful process. 
This came after a special meeting among the rulers on the political impasse on Thursday morning, with the king indicating that he wanted to seek the views of the other Malay rulers.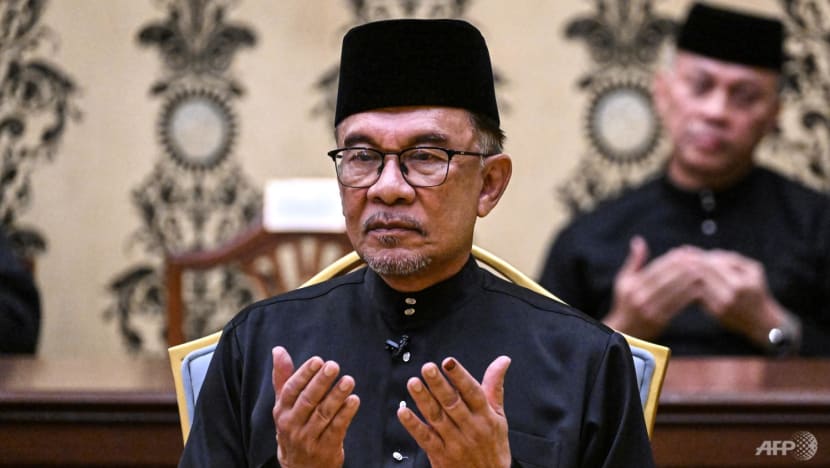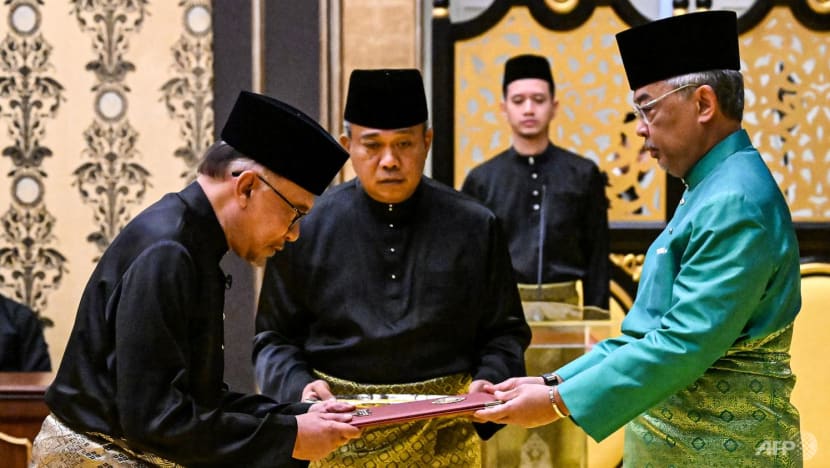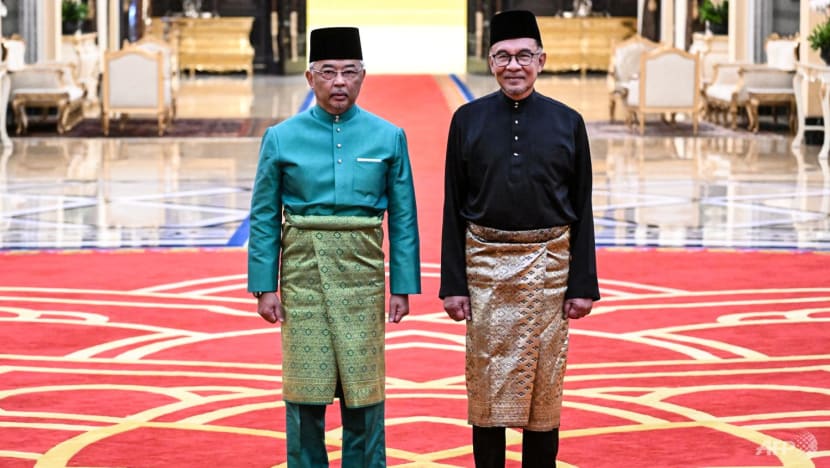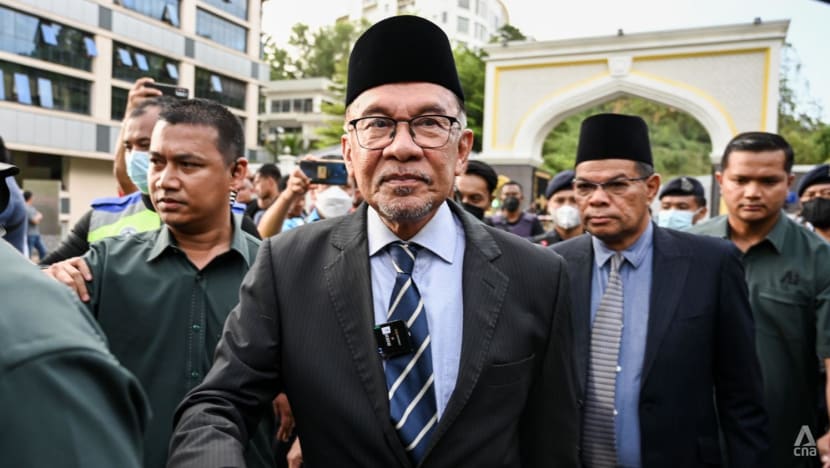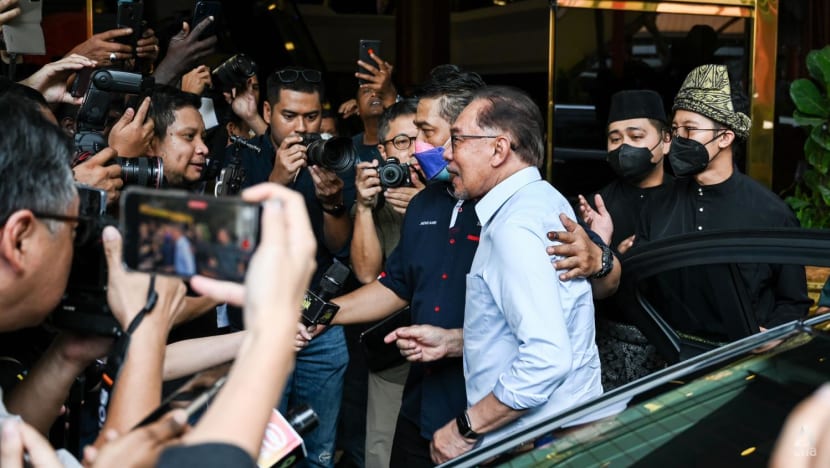 HUNG PARLIAMENT SCENARIO
After the 15th General Election (GE15) last Saturday produced no coalition that could command a simple majority in the 222-seat Lower House, PH and Perikatan Nasional (PN) scrambled to gather support from Barisan Nasional (BN), Gabungan Parti Sarawak (GPS) and Gabungan Rakyat Sabah (GRS).
PH won 81 seats while PN managed 73, putting both in a position to form the next government. A coalition needs to be backed by at least 112 lawmakers to form the next government.
BN, which finished a distant third, managed to win 30 seats. GPS won 23 seats while GRS emerged victorious in six seats.
After the king summoned both Mr Anwar and Mr Muhyiddin on Tuesday afternoon in a bid to resolve the impasse, the PH leader told reporters that the ruler has yet to make his decision.
In a separate press conference, Mr Muhyiddin said that the king had asked PH and PN to form a unity government. But PN turned down the suggestion.
On Wednesday morning, representatives of BN and GPS, the two potential kingmakers, were summoned for a royal audience. 
Following the royal audience, BN chairman Ahmad Zahid Hamidi was quoted as saying by local media that the king had advised BN to be part of a unity government.
"Tuanku's decree was to form a unity government," he reportedly said. 
UNITY GOVERNMENT NARRATIVE GATHERS STEAM
Subsequently, talk of a unity government believed to be based on PH's leadership, gathered further steam.
Late Wednesday night, BN announced that it will join a unity government but not one led by PN. 
In what may be an olive branch, DAP secretary-general Anthony Loke said on Thursday that he was in Kuching to speak with GPS chief Abang Johari Abang Gopeng. DAP is a component party of PH.
Mr Loke said in a statement: "I have told (Abang Johari) that if there were any statements issued by DAP leaders which insulted the people and government of Sarawak, I on behalf of DAP would like to openly apologise."   
GPS had initially pledged support for PN, only to later say that it would heed the king's wishes to be part of a unity government.
GPS had repeatedly said that it does not mind working with any coalition or party from the peninsula as long as it is not PH or DAP. 
Ties between GPS and DAP have been fraught as the latter cancelled some projects in Sarawak during the short-lived PH administration from 2018 to 2020. Additionally, GPS and DAP had campaigned bitterly against each in the urban state and parliamentary seats in Sarawak.
Shortly after, the stars seemed to align further in PH's favour as GRS also announced that it will adhere to the decision of the king to form a unity government.
During GE15 campaigning, GRS had an electoral pact with BN's Sabah chapter. Both GRS and BN are currently in control of the Sabah state assembly. 
As the Malay rulers began to depart Istana Negara after their special meeting, PN's supreme council also announced that it has agreed to consider the proposed establishment of a unity government.
"The special meeting of the PN supreme council on Thursday has discussed the proposed formation of a unity government at the federal level.
"Accordingly, the meeting agreed to consider the proposed establishment of a unity government which involves discussions with parties that will benefit the well-being of the people and the stability of the country," said the coalition's secretary-general Hamzah Zainudin in a statement.
Over at Mr Anwar's office in Putrajaya, members of staff gathered to say their prayers after it was confirmed that he will be the next prime minister.
Mr Anwar was deputy prime minister in the 1990s before he was sacked by then-prime minister Mahathir Mohamad in 1998. 
He spent two stints in jail for sodomy and corruption in what he said were politically motivated charges aimed at ending his career.
Mr Anwar received a royal pardon after PH won the 2018 polls. But the PH government led by Dr Mahathir only lasted for 22 months before it fell apart due to infighting.