Malaysia PM Anwar says time needed to reform governance and economy, blames previous leaders for 'systemic corruption'
In an interview with CNA, Mr Anwar also slams past prime ministers and ministers for "amassing wealth" and living exorbitant lifestyles, leading to an erosion of public trust.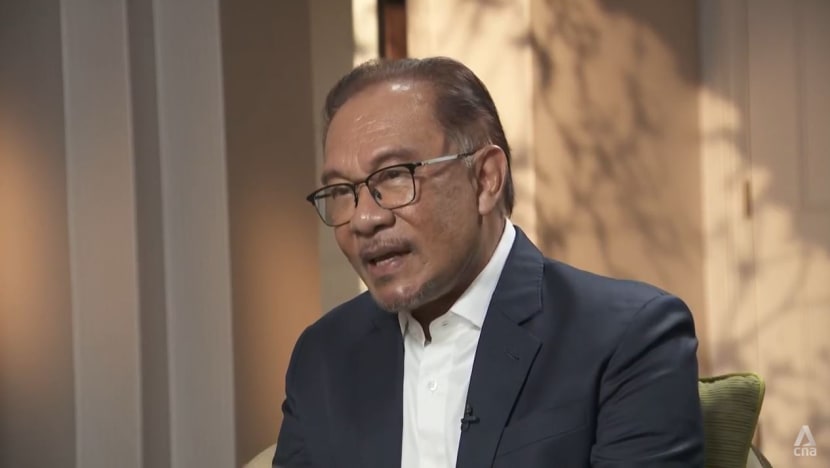 SINGAPORE: Malaysia Prime Minister Anwar Ibrahim has pledged to reform the country's economy and governance though these "will take time", as he blames the systemic corruption and the public cynicism towards political leaders on previous administrations for enriching themselves and living "exorbitant lifestyles".
In an interview with CNA in Singapore on Wednesday (Sep 13), Mr Anwar said Malaysia cannot continue its "total dependence on obsolete policies" of distributing handouts and subsidies, adding that it is "no longer tenable" for the current economy, as he identified economic reforms in the renewable energy sector.
On improving governance, he stated his determination to ensure Malaysia becomes a "mature, responsible" democracy with clear separation of powers between the executive and judiciary, even as he acknowledged that the recently dropped graft charges against his Deputy Prime Minister Ahmad Zahid Hamidi has cast doubt on his anti-corruption agenda.
By focusing on the economy and governance, Mr Anwar expressed confidence that he could win back public support against a "worrying" backdrop of race- and religion-based politics.
"It will take time, because the cynicism is due to the failure of political leaders in the past to prove that leadership must be accountable, and corruption cannot be deemed to be systemic, which is the case in Malaysia," he said in the interview before he gave a speech at the Milken Institute's Asia Summit.
Besides domestic issues, Mr Anwar in his hour-long address also touched on Malaysia's foreign policy amid tensions between China and the United States, and how he is dealing with both countries to seek justice in the multibillion dollar 1Malaysia Development Berhad (1MDB) case.
DON'T EXPECT ME TO INFLUENCE THE ATTORNEY-GENERAL: ANWAR
On Sep 4, Malaysia dropped all 47 corruption charges against Mr Ahmad Zahid in a case involving his charity foundation, sparking criticism from legal bodies, civil societies as well as from across the political spectrum.
The prosecution had applied for and was granted by the court a discharge not amounting to an acquittal, which means it can refile the charges or reinstate the case at a later time should new evidence surface.
Mr Anwar said on Wednesday that the Attorney General (AG) had the "sole discretion" to make this decision, and that he had been "tough" with the AG to ensure that this decision could be explained to the court.
"He has given very detailed arguments in favour of that particular decision, and I think we have to respect that," he said, highlighting that the AG in question, Idrus Harun, was not appointed by him, but by former premier Muhyiddin Yassin who currently leads the opposition Perikatan Nasional (PN) coalition.
Mr Idrus's contract has since expired, and he has been replaced by the current AG Ahmad Terrirudin Mohd Salleh since Sept 6.
The Attorney General's Chambers had previously set out 11 reasons for its decision that included, among others, arriving at the conclusion based on the new evidence and representations that were presented in the case.
Mr Anwar reiterated that the decision was for Mr Idrus to make, and that in the bigger picture, he had inherited a system that was "quite rotten" with corruption.
Nevertheless, he acknowledged that Mr Idrus' decision had raised concerns about his ability to push through his anti-graft agenda, as the public started to wonder if Malaysia was reverting to its old, corrupt ways.
"So, the perception is that, well, you are going back to that known system by previous prime ministers. So, any decision by the AG will be suspect. But do you expect me to then influence the AG against his decision? No," he said.
"Time will tell. Given some time, they will understand that I am determined to make sure that this country becomes a mature, responsible democracy. Accountable, with a clear separation of powers within the executive and judiciary."
Mr Anwar said the previous government had made a commitment to separate the Attorney General's Chambers and the Public Prosecutor's Office, "but nothing was done", while his administration has started working on a draft Bill to achieve this.
Mr Anwar's government had announced on Tuesday the formation of two special task forces to kickstart institutional reforms to separate the AG's roles as both the government's legal adviser and public prosecutor.
"Some countries do separate, some countries don't. To me, what's more important is to ensure that people of integrity are in that place. Because you can separate and still the system can be then corrupt," he said.
Without naming anyone, Mr Anwar also slammed previous prime ministers and ministers for "amassing wealth", saying he needs time to rebuild public trust.
"And you can't expect people to trust you, because the moment you are prime minister, you must be very rich, with your exorbitant and flamboyant lifestyles. But this has to change," the premier told CNA's Melissa Goh and Afifah Ariffin in the interview.
And it is this focus on improving governance that Mr Anwar believes will help him win back public support at a time when many are voting on racial and religious lines.
"Yes, we have had this rather shocking and to an extent worrying phenomenon of this wave of support by the Malays to the Islamic party and the Malay nationalist party," he said, referring to the parties that make up PN.
"That is concerning because you use the race and religious card, and you ignore issues of governance, corruption and economic policies. Will it last? No."
Mr Anwar believes this has been proven by the results of two by-elections held in Johor on Saturday, when his Pakatan Harapan (PH) ruling coalition retained both a parliamentary and state seat.
"And I believe, given the opportunity for us to disseminate the correct information, and focus on the economy and governance, it will help immensely," he added.
CURRENT SUBSIDY POLICIES "OBSOLETE"
Mr Anwar had tabled in Parliament on Monday a mid-term review of the 12th Malaysia Plan, where he announced plans to implement targeted subsidies as well as expand the country's tax base, in what some analysts have called "ambitious" economic reforms.
On the shift from broad-based subsidies, Mr Anwar told CNA that the government has tried doing this through "subsidy rationalisation" in the electricity sector, where society's richest will pay a normal rate and the poor will still be able to enjoy subsidies.
"And this would continue to other areas," he added. "But more importantly also is the amount of leakages and waste. If this can be stopped, the amount of subsidies which can be saved will amount to billions of ringgit."
Mr Anwar also called for clear industry transformation plans that are mission-based with the ability to propel the industry and the economy.
"Similarly, on the issue of energy transition. We have renewable energy, but unfortunately we have no clarity in terms of specific plans," he said.
"So we have then worked out a plan for energy transition ... that would be able to impress on the general public and investors that there is a niche in this country which benefits the economy immensely."
When asked about the perception that the government cannot achieve all these big plans as it is constantly derailed by political instability, Mr Anwar insisted he currently has the support of 147 out of 222 Members of Parliament, which he called a "strong majority".
"Generally, I tell my colleagues, 'Why are you so particular and so obsessed with having a two-thirds majority? Sometimes a government can survive with a responsible opposition,'" he said.
Mr Anwar said the option for the current opposition to sign a Confidence and Supply Agreement with the government, which would likely establish bipartisan cooperation for the sake of political stability, is always on the table.
This comes as the opposition has previously threatened to try non-electoral means of toppling the current government.
In 2021, the Malaysian government - then led by the United Malays National Organisation (UMNO) - had signed a similar Memorandum of Understanding with then-opposition bloc PH to strengthen political stability amid the COVID-19 pandemic. 
"(The negotiating team) has met them (the opposition) once, but they have not responded. They're just asking for perks, projects and funds, but not negotiations," Mr Anwar claimed.
"And this is not of course a mature process in a democratic set-up. I've always used the term democratic accountability because it's both for the government and the opposition to understand."