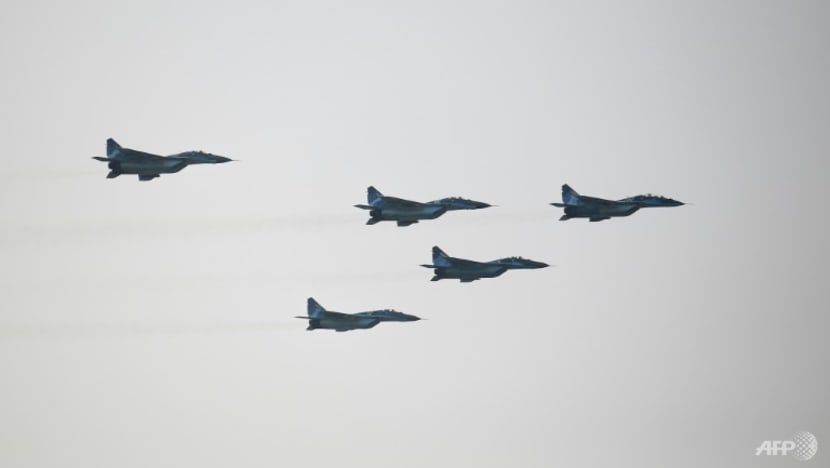 SINGAPORE: The Association of Southeast Asian Nations (ASEAN) "strongly condemns" an air strike that is estimated to have killed more than 100 people in a remote village in Myanmar. 
The statement by the regional bloc on Thursday (Apr 13) came two days after news emerged of the attack on Pazi Gyi village in Kanbalu Township, Sagaing region, in the country's northwest.
ASEAN Chair Indonesia said on Thursday: "All forms of violence must end immediately, particularly the use of force against civilians. 
"This would be the only way to create a conducive environment for an inclusive national dialogue to find a sustainable peaceful solution in Myanmar."
In a Facebook post on Thursday, Singapore's Foreign Affairs Minister Vivian Balakrishnan said "any attack on civilians is reprehensible and cannot be condoned".
He also expressed his condolences to the families of the victims. 
No official death toll from the Tuesday morning strike on Pazi Gyi village has been released, although authorities confirmed they had carried out an aerial military operation in the area.
At least 130 fatalities have been reported by media outlets BBC Burmese, The Irrawaddy and Radio Free Asia, while the United Nations has cited a death toll of at least 100.
A villager involved in rescue and recovery efforts told AFP his team had counted and identified 130 bodies as of Thursday afternoon.
US-based media outlet CNN reported more than 160 fatalities, citing a figure from an exiled former lawmaker.
The day after the air strike, UN chief Antonio Guterres issued a statement strongly condemning the attack while the United States said it was "deeply concerned".
Myanmar junta spokesman Zaw Min Tun on Tuesday said some of those who died in the air strike were anti-coup fighters in uniform, while acknowledging "there could be some people with civilian clothes".
"According to the ground information we got, people were killed not because of our attack only," he said. "There were some mines planted by PDF (People's Defence Force) around that area."
He added that the airstrike had also hit a storage area for gunpowder and mines.
The ASEAN chair reiterated the bloc's commitment to continue assisting Myanmar "in seeking a workable and durable solution to the ongoing crisis through promoting the full implementation of the Five-Point Consensus".
In 2021, ASEAN and junta chief General Min Aung Hlaing reached a five-point consensus on the violence in Myanmar during a summit in Jakarta.
The points include an immediate cessation of violence in Myanmar and all parties to exercise "utmost retraint", as well as constructive dialogue among all parties concerned to "seek a peaceful solution in the interests of the people".
The leaders also agreed that a special ASEAN envoy would facilitate mediation of the dialogue process, that ASEAN would provide humanitarian assistance and that the envoy and delegation would visit Myanmar to meet with all parties concerned.
Sagaing region - near Myanmar's second-largest city, Mandalay - has put up some of the fiercest resistance to the military's rule, with intense fighting raging there for months.
Before military aircraft attacked Pazi Gyi village, scores of locals had gathered to mark the opening of a local defence force office.
Myanmar's National Unity Government (NUG), a shadow body dominated by former lawmakers from ousted civilian leader Aung San Suu Kyi's party, condemned the strikes as a "heinous act".
"We ... share the great pain felt by the families affected by this tragedy," it said in a statement.
United Nations rights envoy Tom Andrews said on Wednesday that the international community needs to stop the flow of weapons into Myanmar and work together to impose coordinated sanctions against the country's junta.
Noting that Myanmar's military junta is being supplied by member states of the UN, and he urged countries to push them to stop sending materials to the junta.
UN rights chief Volker Turk said he was "horrified" by the deadly air strikes, whose victims he said included schoolchildren performing dances, with the global body calling for those responsible to be brought to justice.