ASIA'S FUTURE CITIES: Cambodian start-up introduces anti-pollution masks
The polluted air in Phnom Penh has driven a Cambodian-born French to save locals' lungs with anti-pollution masks that can trap tiny particles in the air.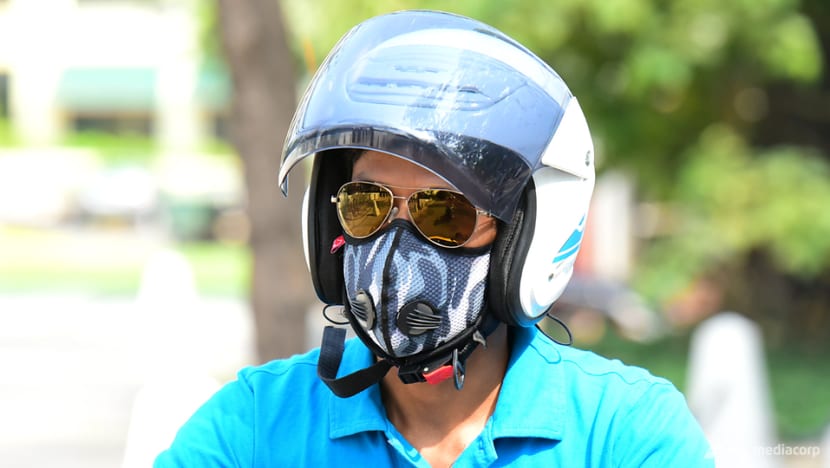 PHNOM PENH: Every day, millions of people in Phnom Penh fill their lungs with bad air.

Whenever they breathe - roughly about 30,000 times a day for an adult - their respiratory system becomes exposed to harmful pollutants hovering over the city.

Some of them can be felt or smelled, but many are so fine they can reach the deepest parts of the lungs undetected and have the potential to cause premature death.

"It's like you eat the same poison every single day; you don't feel it now but you will later," said Veasna Srey, a Cambodian-born French from Toulouse who repatriated to Phnom Penh last year.

During the first few months after his return, Veasna struggled to breathe and his partner suffered from bronchitis, an inflammation of the air passages. Their symptoms were a result of prolonged exposure to air pollutants in Phnom Penh, from toxic gases like carbon monoxide to small particles such as PM2.5 - one of the deadliest forms of air pollution.
PM2.5 particles are tiny. They have a diametre of less than 2.5 micrometres or about 3 per cent the diametre of a human hair. This means they can penetrate deep inside the lungs, where they either remain for long periods or pass into the blood stream unfiltered. Long-term exposure to these particles can result in cardiovascular and respiratory diseases, and cancers.

A lot of them fill Phnom Penh's air but only a handful of millions of its residents know they exist. So when Veasna searched for an anti-pollution mask that can filter these harmful particles in the city last year, he found none.
"I only found surgical masks but they're not the same. It's like using a cap instead of a helmet. So, I decided to import anti-pollution masks with proper filters from abroad."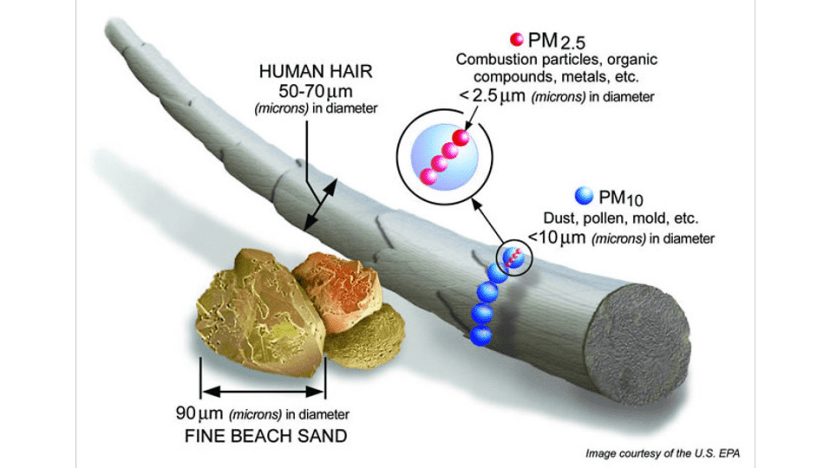 PM2.5 particles have a diametre of less than 2.5 micrometres or about 3 per cent the diametre of a human hair. (Photo: United States Environmental Protection Agency)
As it turned out, the bad air has created a window of opportunity for the couple. Their fruitless search for effective anti-pollution masks made them realise there was none in the polluted city, and subsequently drove them to provide some for local Cambodians.
Still, the high cost of imported masks - more than US$50 apiece - means that many people will never be able to afford the protection.
"So I researched about air pollution and started making the masks from scratch," Veasna told Channel NewsAsia.

His Cambodian start-up KamasK came up with two affordable designs which he now sells for US$8 and US$10. One of them can trap fine PM2.5 such as combustion particles, organic compounds and metals, while the other can capture PM0.1 - even finer particles.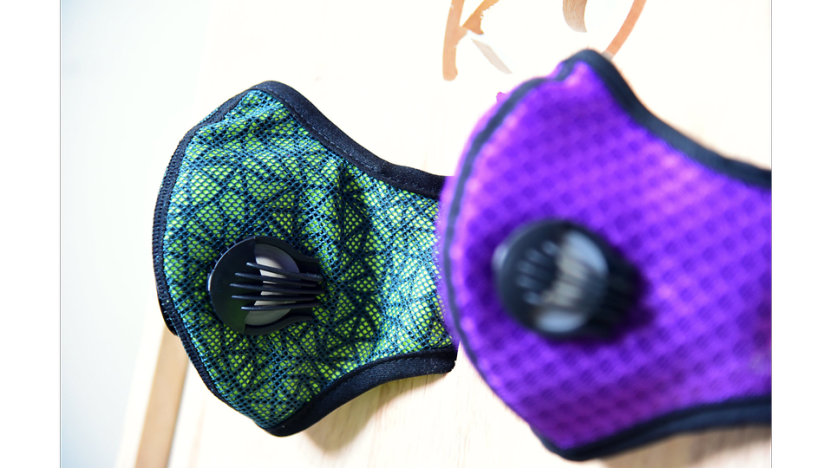 Anti-pollution masks produced by Veasna can trap ultrafine airborne particles. (Photo: Pichayada Promchertchoo)
They are the first of their kind to be made by a Cambodian company, according to Veasna. The filter contains carbon active charcoal and micro fibres that can be worn for 70 hours, and cost an additional US$6-7 for a pack of three.

"Our goal is to make them cheap for Cambodians. I might have grown up in France but I was born Cambodian. So I want to help Cambodians protect themselves," Veasna said.

"I plan to make them even cheaper when we can produce more."

AIR POLLUTION "STILL ACCEPTABLE"

According to the World Health Organization (WHO), the average annual concentrations of PM2.5 in a city should not exceed 10 microgrammes per cubic metre of air (μg/m3).

In the Cambodian capital, however, WHO's data shows they can go up to 25 μg/m3 annually. And of 180 countries worldwide, its air quality ranks 148th in the Environmental Performance Index, indicative of a gradual downward trend over the past decade.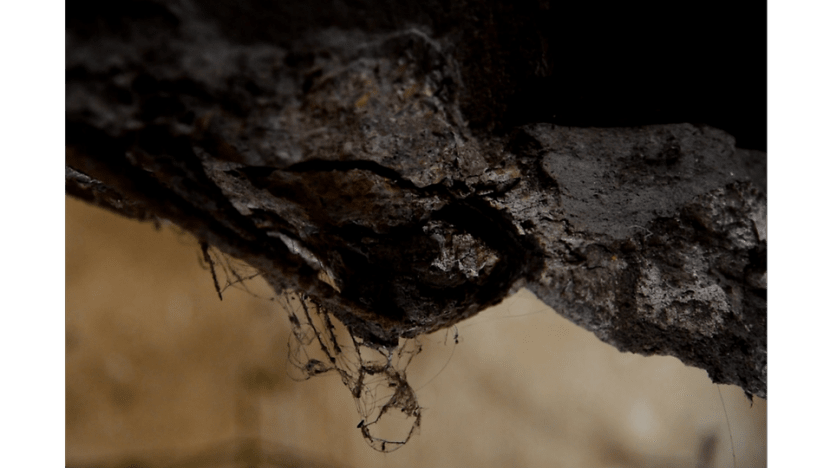 Grime built up on a building in Phnom Penh. (Photo: Pichayada Promchertchoo)
Cambodia's air pollution may seem worrisome but for its own government, it is not a major concern.

Based on the national air quality standard set by the government itself, levels of dust and air pollution in Phnom Penh are not considered unhealthy.

"Air pollution in Phnom Penh has increased but the level is still acceptable," said Thiv Sophearith, director of the Environment Ministry's Air Quality and Noise Management Department.

But for many of its residents, it is not good enough. On the streets, many riders wear masks to stop airborne pollutants from entering their lungs. However, most of them are surgical masks, which are not designed to filter fine particles such as PM2.5.

And as the city presses ahead with fast-paced development, with more construction and pollutants in the air, there are increasing risks of worsening air quality and subsequent impacts on public health.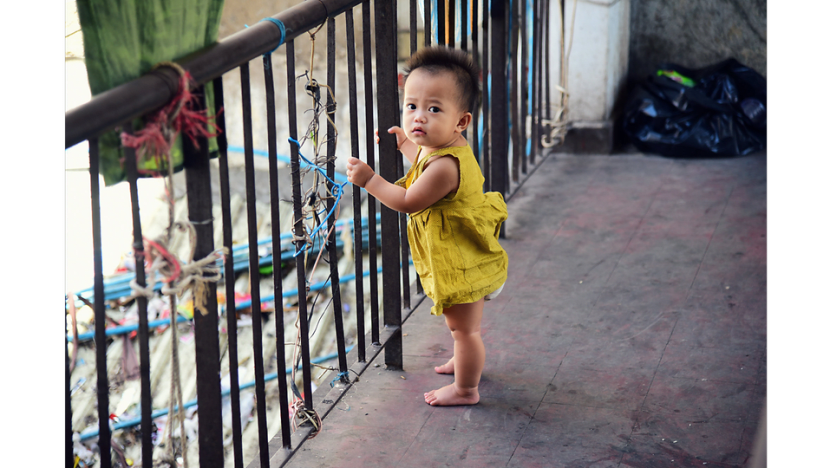 Prolonged exposure to PM2.5 air pollutants can result in respiratory diseases and premature death. (Photo: Pichayada Promchertchoo)
According to WHO, about 92 per cent of the global population is breathing polluted air and Southeast Asia is one of the regions with the highest air pollution levels in the world.

In 2012, air pollution contributed to 6.5 million deaths worldwide, including 7,000 in Cambodia. Some of the main causes included industrial activities, household fuel and waste burning, and inefficient modes of transport.

"What we're mostly concerned about is vehicles because they've increased very fast. It's the biggest challenge we're facing," Sophearith told Channel NewsAsia, adding that the environment ministry will work with the transport ministry in monitoring and minimising pollution caused by transportation.

But until actions are implemented, the residents of Phnom Penh may need to rely on whatever masks they can afford.

"Masks are not the solution to air pollution," Veasna said. "They're like life jackets to help people save themselves."

Follow Pichayada Promchertchoo on Twitter @PichayadaCNA