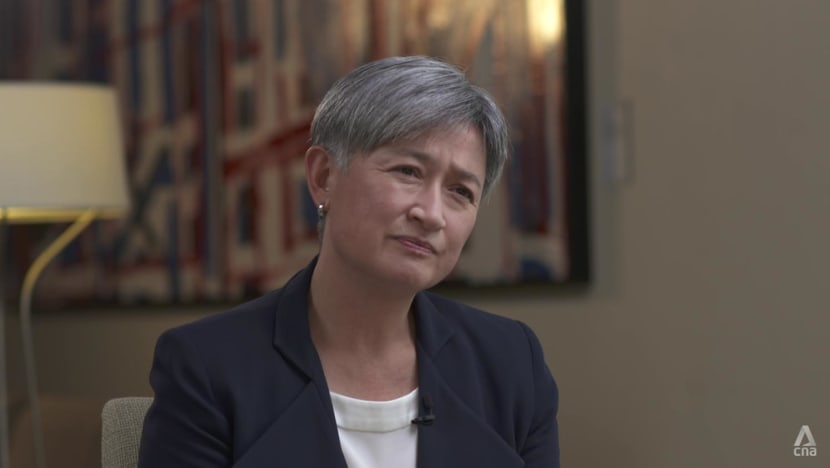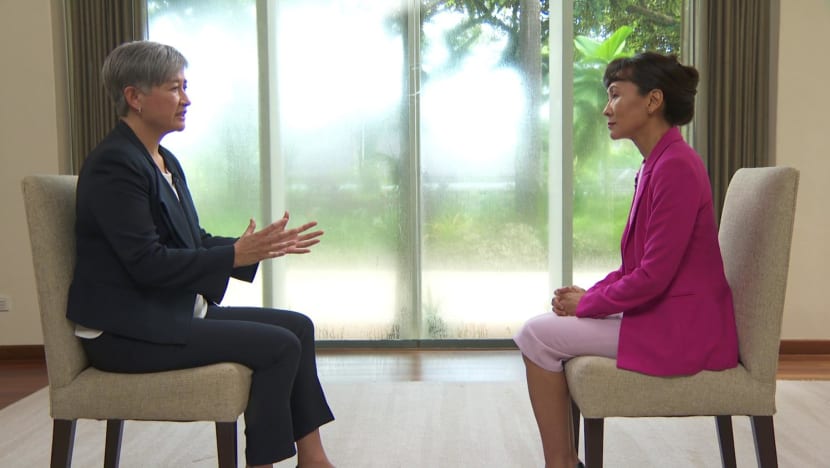 SINGAPORE: Australia's fraught relationship with China may have dominated headlines in recent years but Canberra's top diplomat on Wednesday (Jul 6) was keen to stress that ties with the wider Asia region were just as, if not, more crucial.
"We are open to engagement but the bilateral relationship with China is not the only thing which is important to us," Australian Foreign Minister Penny Wong said in an interview with CNA.
"What is most important to us is the region in which we live, and which is why I'm here again in Southeast Asia, and why we spend so much time since we were elected, engaging with partners here."
Ms Wong is in Singapore as part of an official tour of Southeast Asia – her first to the region as foreign minister. She recently visited Vietnam and Malaysia, where she made a pit-stop at her hometown of Kota Kinabalu.
The appointment of a Malaysia-born Australian of Hakka-Chinese descent as the country's top diplomat has been widely interpreted as a sign that Australia's new Labor Prime Minister, Anthony Albanese, is pivoting the country's foreign policy back to Asia.
China, which is Australia's largest trading partner, is expected to be a key focus in this pivot.
"I think it would be in our mutual interest for there to be greater stability in the relationship," stressed Ms Wong.
"I think if you focus on, are you with us or against us, you add to the risks associated with the more competitive environment in which we live and we understand that we live in a time of strategic competition but what we have to do together is to avert that escalating."
THAWING RELATIONS
Over the past three years, relations between Australia and China have hit an all-time low. Beijing authorities clashed with the then Scott Morrison-led government, over issues such as the origins of the COVID-19 pandemic, the blocking of Chinese investment on national security grounds and the ban on Huawei from Australia's 5G network.
China retaliated by imposing wide-ranging tariffs on Australian exports, from coal to lobster. Australia reciprocated with a diplomatic boycott of the 2022 Beijing Winter Olympics. The two countries also froze communications for more than two years.  
Today, the frosty relations between Beijing and Canberra are showing some signs of thawing. Just last month, their defence ministers met on the sidelines of the Shangri-La Dialogue in Singapore where they had a frank discussion on issues such as the South China Sea. The talks officially marked the reopening of communication lines between both sides.
DEEPENING ENGAGEMENT
Canberra is also on a campaign to deepen its engagement with Southeast Asian states. During her recent homecoming in Sabah, Wong not only played up her Southeast Asian roots, but also declared Australia as being "part of Asia".
This was reminiscent of rhetoric used by former Australian Prime Minister, Paul Keating, who pushed for Australia to join the Association of Southeast Asian Nations (ASEAN), a move that the current government has stopped short of pursuing.
"I think that we're a dialogue partner, we're a comprehensive strategic partner. We will continue to engage (with ASEAN) very closely," Ms Wong said.
"ASEAN is the centre of the region and if we are to preserve a region which is prosperous, peaceful, stable, in which sovereignty is respected, ASEAN is key to that."
Efforts have been made to placate ASEAN following Australia's membership into AUKUS, a trilateral defence pact between Australia, the United Kingdom and the United States that will help Australia acquire nuclear-powered submarines.
It took just five days for Australia to issue an official statement on its "committed" support for "ASEAN centrality". In the interim, Malaysia and Indonesia had both expressed concerns about AUKUS potentially escalating an arms race in the region.
Ms Wong defended her country's role in AUKUS, as well the Quad - a security dialogue between Australia, India, Japan, and US - as "contributing to the sort of strategic equilibrium that will benefit the region".
Expanding on her point, Wong explained: "There are many countries in the region that already have nuclear-powered submarines. Some of them have nuclear-armed submarines. We do not seek that capability.
"We simply are looking to replace an old capability with a new capability and we will do so in full transparency with our partners and we are respectful of non-proliferation obligations, in which we have a strong record historically."