KLUNGKUNG, Indonesia: Parts of the Unda River near Bali's active volcano Mount Agung are being dredged and deepened ahead of what could be an imminent volcanic eruption.

As more signs are pointing towards a probable eruption, authorities are preparing for the worst, including improving the drainage capacity of the river, which flows from Mount Agung to the sea south of the resort island.

The dredging process is taking place on the Unda River stretch in Klungkung, as authorities plan to build a dyke measuring 3 metres deep and 2 metres wide and running 350 metres in length.

"We're building a dyke in anticipation for a lava flow in case Mount Agung erupts," Made Kertiyasa from the River Board, Ministry of Public Work, told Channel NewsAsia on Tuesday (Oct 3).

"Based on Mount Agung's previous eruption in 1963, its lava flew down this river."

NO PUBLIC ACTIVITY WITHIN 12KM RADIUS 
Besides dredging the Unda River, the Indonesian government has also declared that no public activity should remain within a hazard-prone area - an official exclusion zone within a 12-kilometre radius of the volcano.

The decision was made based on the size of the area affected by the 1963 eruption. However, several evacuees keep returning to their homes.

Despite the government's warning of possible dangers from the probable eruption, many residents of Bali find it hard to remain in evacuation camps around the island, with no clear indication of when they can go home or continue making a living.

One of them is mother of two Nengan Karni, owner of a small restaurant in Karangasem district. The 30-year-old risks her life in a daily commute between the evacuation camp in the district's safety zone of Margatelu and Tukad Abu Village, located within the official exclusion area covering a 9-kilometre radius of Mount Agung.

"There is nothing to do at the camp," Karni told Channel NewsAsia in her nearly empty restaurant overlooking the active volcano. Occasionally, a customer would stop by for quick snacks or drinks before rushing off.

"As a parent, I have to make money to support my children's education. We need a lot of money for that."

Her business remains open from 7am to 6pm every day but has hardly made any profits since the evacuation began last month. From Rp 500,000 (US$37) per day previously, she can only make Rp 50,000 (US$4) these days, if lucky.

Karni is among some 140,000 evacuees believed to be scattered in hundreds of temporary shelters around the resort island, as it prepares for a possible eruption of the sacred mountain.

On 19 Feb, 1963 - 54 years ago - Mount Agung erupted and killed more than 1,000 people. The eruption lasted nearly one year and devastated numerous villages with pyroclastic flows and molten rocks from its summit.

In a bid to prevent a catastrophe, the government raised the alert status to the highest level and advised against any public activity within the hazard-prone area.

HARD TO STOP RESIDENTS REMAINING IN EXCLUSION ZONE
As the probability of Mount Agung's eruption increases - with increased frequency of volcanic earthquakes, rising magnitudes and spreading thermal spots - the government have expressed concern over residents who insist on remaining in the official exclusion zone.

"It's hard to stop them. We know the problem is not about staying in the safest place but the boredom from a lack of activities and concerns about their cattle as well as financial situation," said I Gede Waskita Sutha Dewa from the local government of Karangasem.

"Still, there must be no public activity in the exclusion zone."

For many evacuees, the advice seems like an exaggeration.

Karni's neighbour Luh Suriani told Channel NewsAsia she believes the eruption, if it ever happens, will not be as devastating as that more than in 1963.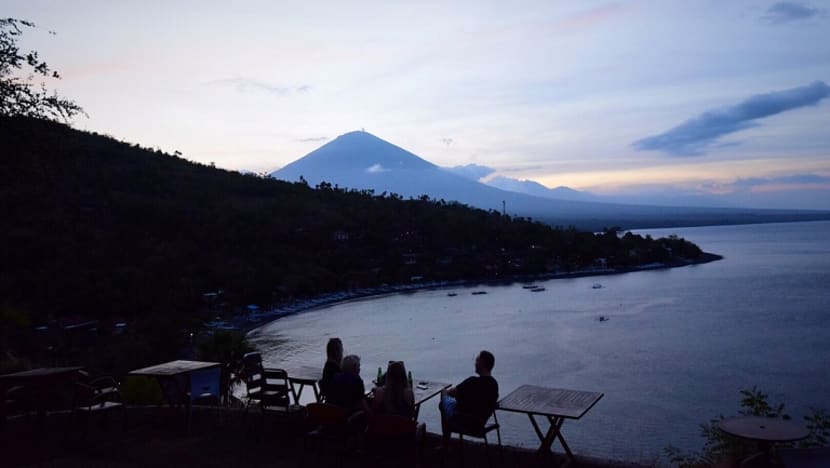 "I feel safer now because there hasn't been an earthquake since Monday morning. That's why I'm not afraid to come home. I can't make a living at the camp."

Like many evacuees, the mother of two makes a regular commute from her camp to her house because she feels attached to it.

Currently, it seems the government can only preempt the crisis by installing alarms and prepare the transport for residents in the exclusion zone in case an eruption takes place.

"We can just encourage evacuees to stay away from the Red Zone. We've also installed alarms so that people will be alerted as soon as officials at the observation centre hit the button," Mr Waskita said.

Even so, the eruption, if it happens and is powerful, can easily damage roads and escape other routes.

"What I fear the most is the eruption will destroy the bridge and I won't be able to run away to see my kids in the evacuation camp," Karni said.

Her husband Ketut Winatayana, however, sees the situation from a different point of view. Every day, he commutes to the village to check on his cattle, the main source of his family's income.

"If Mount Agung erupts, there would be nothing left. So there is no difference where we stay. If we're at the camp, we'd still lose everything," he said.

"I leave my life to fate. If God wants me and everything here to die, then that's what will happen."

Follow Pichayada Promchertchoo on Twitter @PichayadaCNA