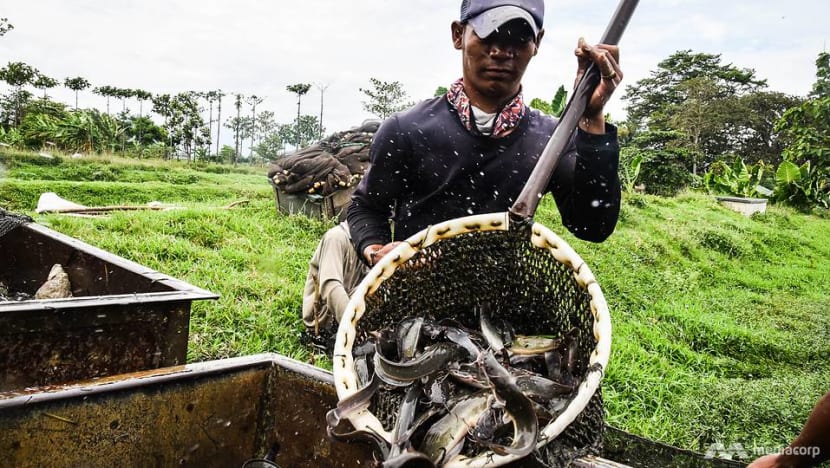 BANDUNG, Indonesia: A simple farm in the misty hills above the Indonesian city of Bandung is not the place one might expect to find a budding technology startup. 
This is farming land and it always has been. But the team at Mycotech is growing much more than vegetables. Their dream is to grow houses. 
Their small property is surrounded by sweeping green fields growing an array of produce for the city's local markets. Here they are focused on one specific crop though – one that the founders of the company believe could revolutionise the world's construction industry. 
Mushrooms.   
"We got our inspiration from tempeh actually. Tempeh is basically mushroom mycelium bound with soy beans," said co-founder Ronaldiaz Hartantyo, referring to the popular soy food found everywhere in Indonesia. 
"So we were thinking, how can we make tempeh but for materials? Then voila, here we are now."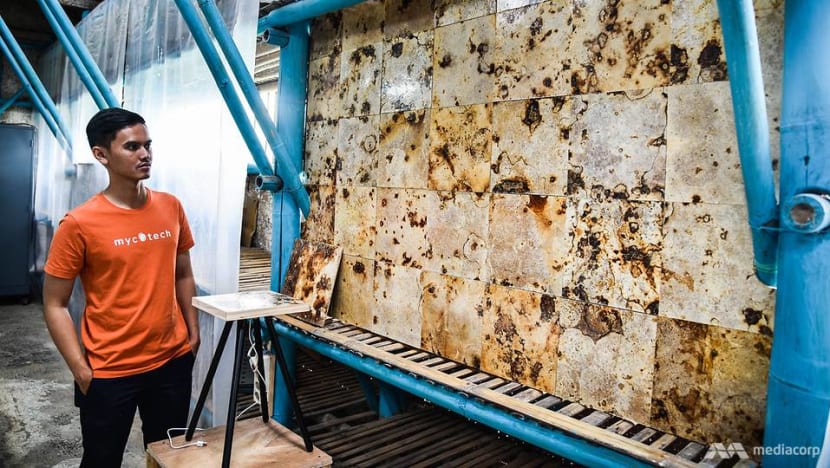 Scattered around the Mycotech workshop are the experimental creations that have been designed, grown and moulded into shape, prototypes to attract investors and whimsical gambles on this new technology. 
"That's a living brick, yeah," Hartantyo said, holding up what looks like a discoloured Styrofoam box. 
A solid feature wall façade made from smaller tiles nearby showcases the strength of the material and its artistic quality: Organic lines and swirling natural spirals formed by the mushroom's growth. Beneath it is a custom stool with an in-built wireless iPhone charging pad. 
"This material has a lot of potential. Basically we can shape anything you want," he said. "We use it as a brick or insulation, or as a wall, so we just shape it into a square. Our craziest product right now is a pavilion with a polymetric design." 
The goal behind this startup, which launched in 2015, goes beyond the aesthetically impressive and gimmicky, however. They have bold aspirations to start a new conversation about sustainable design in Indonesia and the wider region.
"Most of our founders are architects, and we are trying to make a more sustainable, durable, and affordable material. There is a lot of pollution in Indonesia; most of the materials that we use in construction and other things come from extraction and mining activities. 
"We are thinking how can we make it better? How can we make it more sustainable?" 
The process of turning mushrooms into these products depends entirely on the power of the roots, in an intensive process that takes about one month. 
First, sawdust is mixed with various other nutrients to create an optimal breeding ground for mushrooms. This is then placed into individual plastic bags together with mushroom spores. The bags are sealed tight and stored in a cool and dark room, to allow the spores to germinate. These spores will eventually grow into mushrooms, but Mycotech removes the bags before they can even sprout. 
"This is the condition for 30 days. Usually farmers need two months for growing mushrooms, but we need one month for our lab because we just need roots for the growing material," said fellow co-founder Robbi Zidna Ilman. 
After the bags containing the newly-formed mushroom roots are harvested, the contents are then crushed, before being placed in an oven and finally heat-pressed into the shape of a tile or brick. 
Mycotech has also trialled creating usable materials out of different types of agricultural waste, from palm oil plants to sugar cane and sea shells. The intention is to allow communities around Indonesia to build regardless of their staple crops.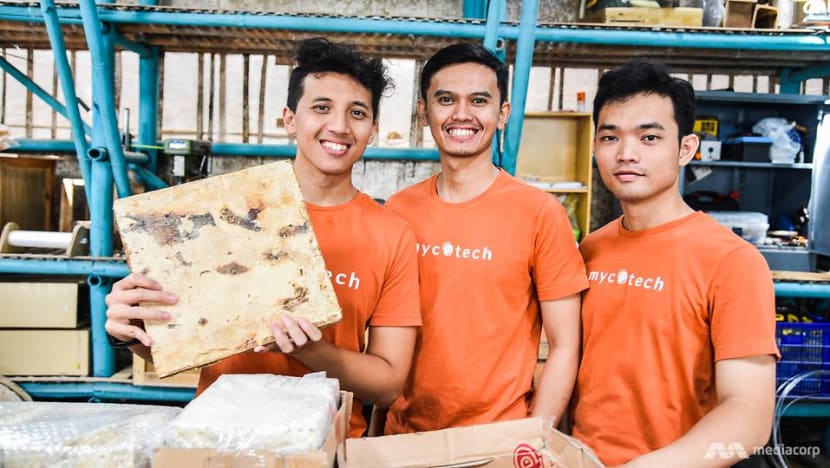 "We love this job because we find something new every day," Hartantyo said. "Because this material is a new material, there are new potentials to be discovered. 
"We believe that in the next 20 years, people won't say let's build house, instead they will say let's grow houses." 
DISRUPTION ERA 
Mycotech's venture is part of an ever-growing raft of startups based in Indonesia's fourth largest city. 
Bandung has become a strategically-located incubator for the country's newest concepts and solutions, capitalising on the attraction of an alternative lifestyle away from the gridlocked capital Jakarta and being home to major players in the telecommunications and aviation industries. 
Indonesia has been to keen to promote its tech-economy in recent years and aims to have five billion-dollar local startups by 2019. With a young, digitally connected population and growing economy, the country is becoming a regional innovation powerhouse, already boasting success stories like online marketplace Tokopedia and ride-hailing platform Go-Jek, which recently received funding from Google and Singapore's Temasek.    
"This year, maybe to 2020, is a disruption era so there is potential for everyone to make an idea, develop the idea and enter the industry through a startup," said Prof Suhono Harso, the head of Innovation Park at the Bandung Institute of Technology. 
"I think now it's with the digital era, or smart era, that connectivity between the idea and all of the partners with government or investment or user or market is easier compared to 20 years ago." 
While the typical startup in Indonesia is centred around digital technologies or fin-tech such as block chain, there are rising company starters, just like Mycotech, looking at innovation in traditional industries.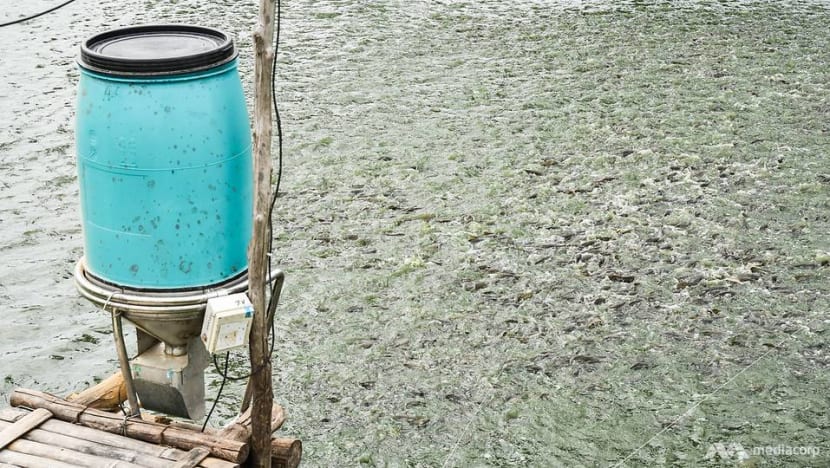 Agriculture startup e-Fishery was also born in Bandung and is bringing smartphone applications, wireless data monitoring and cloud technology to the world of fish farming. 
The company has created a smart feeder device that when installed on fishing ponds can automate the feeding process using an app. Feeding times and amounts can be entirely customised and programmed, meaning farmers no longer need to physically walk around their large properties to conduct this laborious task, which typically also results in a high amount of food wastage. 
Fish farming is common across the archipelago – Indonesia has the second largest aquaculture industry in the world – but particularly in West Java where the company has been focusing its efforts since being founded four years ago. 
"We have a huge opportunity in this sector, it's been part of the culture," said CEO Gibran Huzaifah Amsi El Farisy. "One of the challenges is that it's too traditional, the practices are not sustainable and people don't use any technology to harvest.
And as an expert in biology, Gibran says it was a "gamble" to take on the task of injecting tech-based innovation into age-old practices. "My idea was to build technology that was based on electronics and hardware, and also cloud technology and I don't understand a thing about that," he said. 
But after starting his own small fish farm operation, he saw an opportunity, despite the inherent challenges. "I think I personally have an advantage because I was a fish farmer so I speak their language. I understand what their problem is. 
"It was so hard to convince them just to try it out, just to see the product. They are very resistant. They never use this kind of technology. Some of them have never even used any kind of mobile technology, or smartphone. 
"I was driven by the technology and the impact that it can create it. For me myself, I don't want to be mainstream and start what other people start. I want to start something and really create a difference," he said. 
In Cirebon, about 200 kilometres from Bandung, long-time fish farmer Suganda has become a fast adopter of the e-Fishery technology and has installed dozens of feeding units throughout his property. 
His eFishery barrels are set to distribute food pellets at a rapid speed over all parts of each of his pond, prompting dramatic feeding sprees from the thousands of waiting cat fish.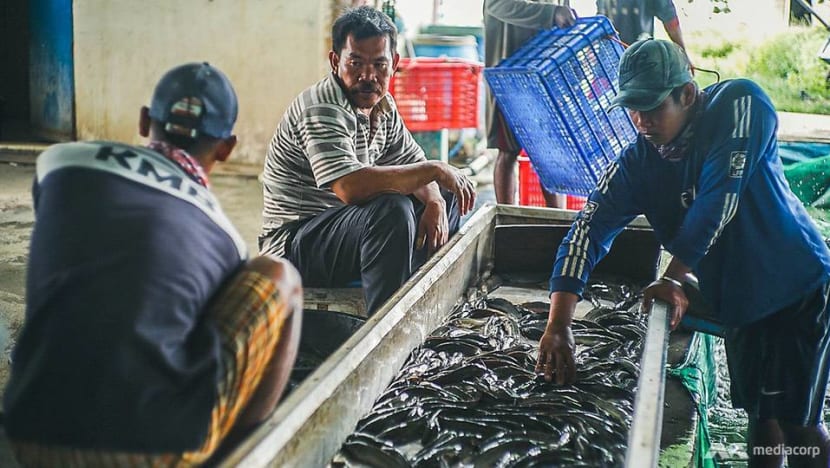 Despite being a complete novice when it comes to such technology, he admits he feared being left behind if he did not embrace it. 
"Initially we were afraid. We didn't understand it," he said. "But what made us persevere using it was the thought of being left out. Now with this technology, I feel that I'm greatly assisted. I have more time that I can spend with my family and I get more income now than before," he said. 
The young team behind e-Fishery has ambitious growth plans throughout Indonesia and Asia, forging ahead with the realisation that their focus is not as "cool" as what other startups might be working on. 
Gibran says he understood that long ago and the desire to make a difference to people in a typically low-paying sector like agriculture fuels his expansion desire. 
"We don't make an app that takes a selfie and makes your face prettier right? You make an app to make farmers connect to buyers, help increase their income and this kind of impact is something that I personally pursue," he said. 
"These are real problems in the society, but if people don't want to do this just because it is hard then who will solve these problems?"
For more on this and other projects around Southeast Asia, tune in to Tapestry: The Heart of ASEAN on Channel NewsAsia every Tuesday from Feb 27 to Mar 27 at 11pm.