BANGKOK: At 314m above the ground, the outdoor observation deck atop the King Power Mahanakhon Building in central Bangkok presents a commanding view of Thailand's capital.
But the panorama was shrouded in a thick haze on Wednesday (Feb 1) as Bangkok's air pollution reached an unhealthy level. 
Its Air Quality Index (AQI) reading at 6pm was recorded at 166 on IQAir – a technology partner of the United Nations Environmental Programme – with a high concentration of the harmful air pollutant PM2.5.
AQI readings of above 100 are considered unhealthy, while levels above 200 are regarded as very unhealthy. Readings in excess of 300 are usually considered hazardous. 
On Wednesday evening Bangkok came eighth in IQAir's city pollution rankings, which compares 101 global cities worldwide with measured PM2.5 data. 
PM2.5 is one of the deadliest forms of air pollution: Tiny particles with a diameter of less than 2.5 micrometres or about 3 per cent the diameter of a human hair. They can penetrate deep inside the lungs, where they either remain for long periods or pass into the bloodstream unfiltered. 
Long-term exposure to these particles can result in cardiovascular and respiratory diseases, and cancers.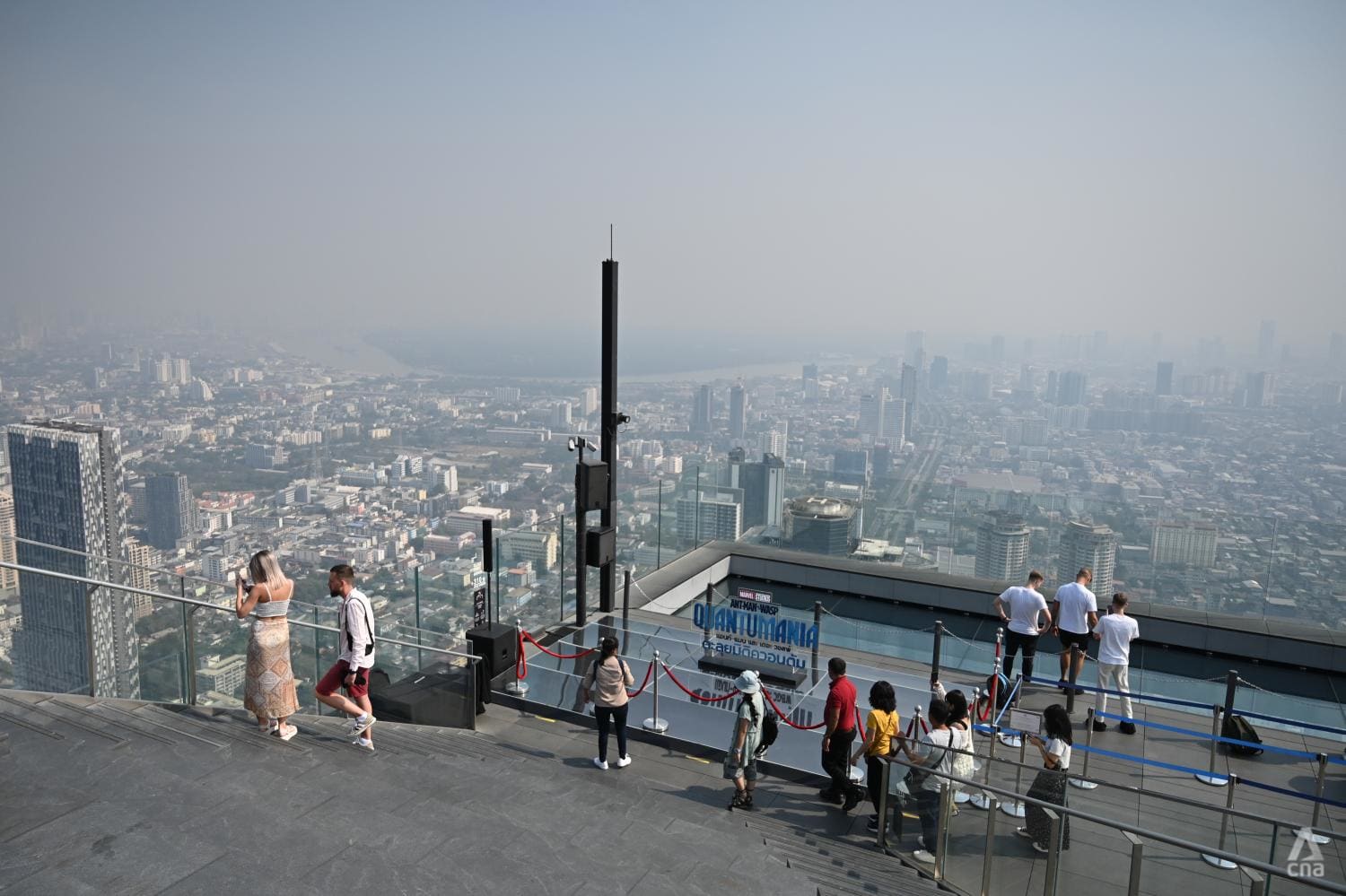 Yet the polluted Bangkok air failed to deter the many tourists seen posing on the transparent glass floor of the Mahanakhon Skywalk observation deck, up on the 78th storey.
For them, the hazy, bird's eye view of the skyline still provided ample thrills.
"It's a crazy experience in my life," said Jinho Kim from South Korea.
The 25-year-old tourist has never stood atop any skyscraper, and was excited by his visit to the Mahanakhon Skywalk despite the scorching heat and low visibility.
"In Korea, it's the same – a lot of air pollution," he told CNA, adding the bad air quality did not affect him. 
"I can see."
MORE BAD AIR TO COME
On Wednesday, Bangkok governor Chadchart Sittipunt warned the public of the unhealthy air, urging people to monitor their health and reduce outdoor activities if they experience difficulty breathing, eye irritation or coughing.
Vulnerable groups such as young children, pregnant women and the elderly were advised to avoid outdoor activities or wear face masks capable of filtering out PM2.5.
Mr Chadchart also encouraged the public to work from home and use public transport, according to the Public Relations Office of the Bangkok Metropolitan Administration (BMA).
Bangkok and its nearby provinces are expected to experience unhealthy air from Wednesday to Saturday due to stagnant weather conditions, BMA said on its Facebook page. 
"Particularly in areas where the air quality reaches levels that can or will impact health, it is advisable to cut down on or avoid outdoor activities," it added.
Some tourists out and about in Bangkok on Wednesday were feeling the impact of its polluted air.
Chen Hsuan-ting from Taiwan told CNA he has suffered from an allergy since arriving in the city two days ago.
"I can't breathe properly and have itchy eyes," said the 22-year-old tourist through a face mask. 
"Today, I think the pollution is too dirty and I have an allergy. I came to Bangkok this time and my nose has not been so good."
At the Mahanakhon observation deck, a steady stream of visitors lined up for photographs on its glass floor. Some were disappointed that the panoramic view of Bangkok was covered in a thick grey haze, and that the air was unclean.
"I thought we would come up and get fresh air but no, it's not what I expected," said Sumontha Pirom from Malaysia.
"It's like you can't see the skyscrapers and the buildings very much because of the air pollution," her sister Suphastra Pirom added. 
"It makes me feel tired easily and irritates my nose. It feels like I'm having a cold, with mucus. It's very hot."