TEMBURONG, Brunei: Running a successful business and conserving nature are not always two things that go hand in hand. In the middle of Brunei's lush and pristine jungle, eco-tourism is bringing economic opportunities for local people, long struggling to find a path to prosperity.  
Brunei remains the least visited country within the ASEAN region in terms of tourists. But the numbers have been increasing steadily in recent years as more government support has found its way to the sector and the country's natural gems have become more widely known.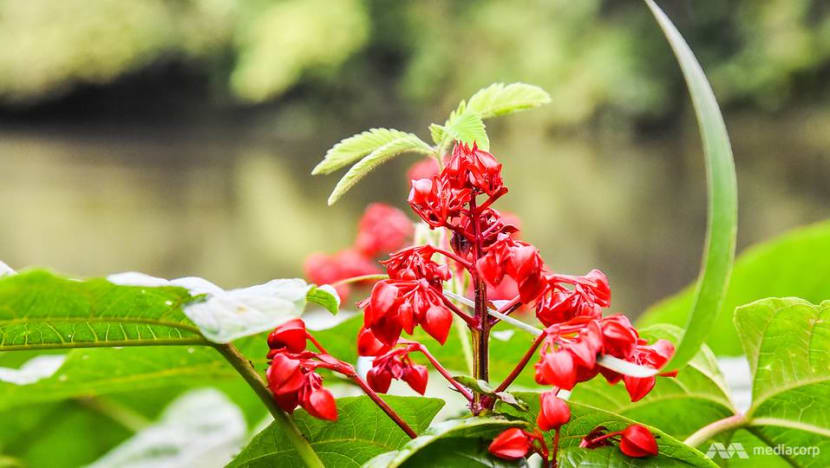 In 2008, Leslie Chiang was looking for opportunities to launch a tourism business of his own and found the space and inspiration in the district's wilderness around Ulu Temburong National Park. 
The spot where he would establish Sumbiling Eco Village (SEV) is amid one of the best preserved tracts of primary rainforest in all of Borneo. Originally from Malaysia, Chiang saw the rawness and potential of Brunei, and also felt a sense of nostalgia for a landscape that had been lost in many other parts of the region. 
"When I first came here, it was an abandoned paddy field," Chiang said. "First thing, I saw the beautiful river then that's it, I fell in love with it. That's the beauty. 
"Actually I grew up in an environment like this and as there was more development, the environment started to degrade and was lost. So when I came here, somehow I found it back again and that's very important because nowadays a lot of people focus on modern things. And then in a way, they don't realise they are destroying the place," he said.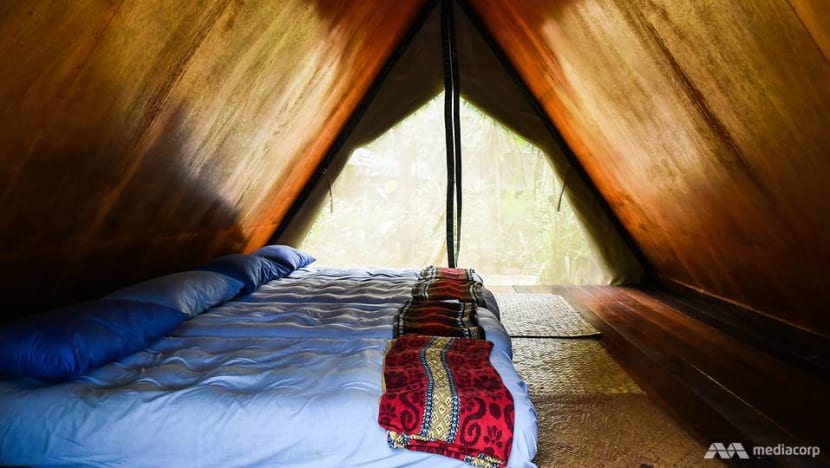 His concept has evolved to follow an increasingly popular tourism trend – glamping. By the picturesque riverside, he has set up several large equipped tents linked to electricity and sporting comfortable mattresses. 
But it still feels wild; there is no real barrier from the sounds of birds and whirring of insects, the gripping humidity or encroaching forest. Chiang offers no Wi-Fi, no plastic and little distraction from the surrounding wilderness. Visitors can hike, swim, take boat rides, learn to cook traditional dishes or just relax. 
"The younger generation, they live in the city, they are more on mobile phones, internet, all those thing. So they are a bit off," he said. "So my purpose here is to encourage them to come back, you know, to be in nature." 
But at the core of this enterprise is its role in providing opportunity to the indigenous owners of the land.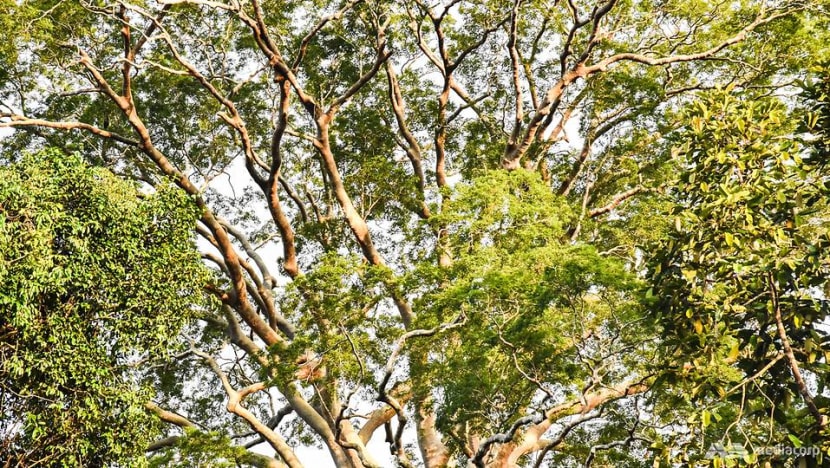 The Iban – also known as 'dayak'– migrated to Temburong from other parts of Borneo more than 100 years ago. They have traditionally relied heavily on the jungle and small-scale agriculture for survival and have struggled to find formal employment. 
Now, they are switching tools for tours, tasked with educating newcomers about the local environment and utilising their skills in the jungle to harvest fresh produce for SEV. 
"We provide jobs for them and also indirectly in a slow way tell them, continue your way of life, the sustainable way," Chiang said. "We have roughly 20 families involved: some directly, some indirectly. Before they did not have a permanent job so most of them go to the forest to look for food or fishing and sometimes odd jobs. 
"This place is a … showcase to the local people that you can still use the jungle but you still can maintain it in a pristine way."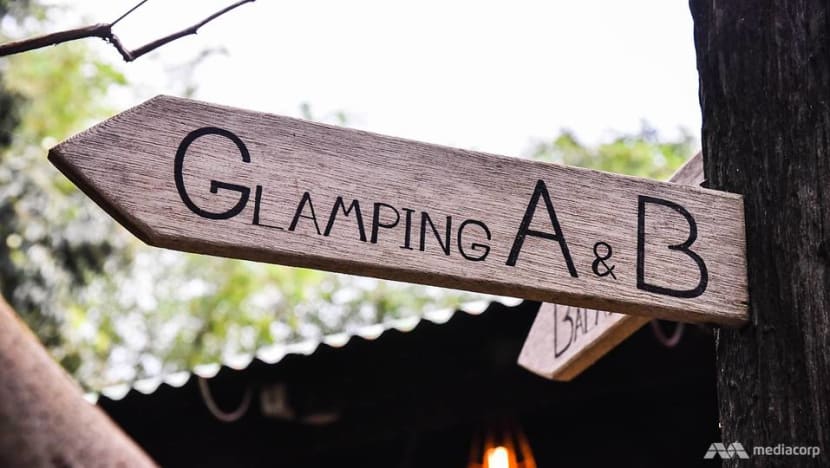 At first though, the concept of tourism on working land was a strange concept for the Iban. Local village chief Buau Anak Saban – known as Apai – recalls being frightened by the prospect. 
"At the start, the villagers were scared. They were scared of getting cheated and wanted everything to be proper," he said. "They were all scared at the thought of having strangers staying here." 
The local villagers still own their land and are paid for their work at SEV. "Now, I have a job but we still don't have enough money, but at least my life is better now," Apai said. 
Other villagers have taken their newfound skills and embarked on projects of their own. Haziyah Abd Rahman learned about business and management and developed confidence working with Chiang at SEV before starting a duck farm. 
The 36-year-old searched online to hone her knowledge of the industry and now has a small but successful operation, selling salted duck eggs throughout Brunei. 
"The main thing is he himself is an entrepreneur, so learning from that I got the idea of how we should run a business. So this gave me the inspiration," she said. 
Chiang says seeing the success of others makes him happy, and while he has eco-tourism expansion plans for the area, sustaining local culture remains central to his mantra.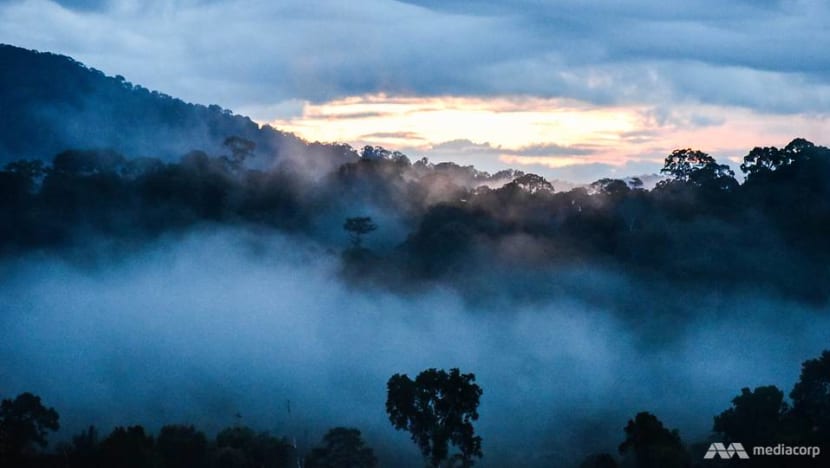 "We slowly earn their trust you know. So I respect their culture and I also tell them be proud of their culture," he said. 
"Of course, you don't expect to become rich or make a lot of money. But as long as I'm happy with the environment, the people are happy with the culture then that's my thinking. 
"It's not a gamble. Because I believe if we are doing good for the environment and also for the people, nature will take its own course."
For more on this and other projects around Southeast Asia, tune in to Tapestry: The Heart of ASEAN on Channel NewsAsia every Tuesday from Feb 27 to Mar 27 at 11pm.