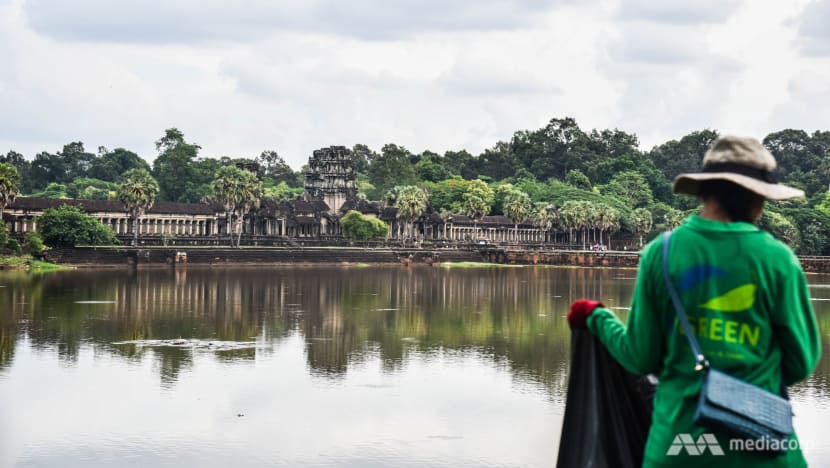 SIEM REAP, Cambodia: A future ban on plastic in Cambodia's world renowned Angkor Archaeological Park will be considered by authorities, in what could be symbolic step in the country's struggle to deal with a waste crisis.

About 30 tonnes of waste is collected from within the 400 square-kilometre complex on a daily basis, according to VGREEN, the company contracted to cleaning the popular tourist site.

Much of that garbage is discarded plastic, which is contributing to an ever-worsening situation in Cambodia, which lacks proper infrastructure and the social awareness to deal with the problem.

Cambodia, per capita, is one of the highest users of consumer plastic in the world. According to the European Union, ten million plastic bags are used in the capital city Phnom Penh every day. The average Cambodian uses 2,000 plastic bags every year, ten times that of Europeans.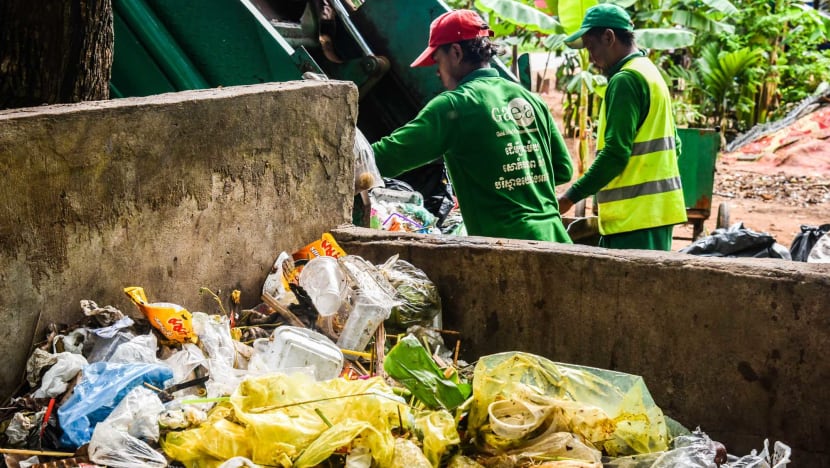 In Siem Reap, the gateway city to the ancient temples, more tourists means more garbage.

Angkor Wat was once again voted TripAdvisor's number one ranked world landmark this year and visitor numbers have accelerated despite a recent ticket price hike. In the first four months of 2018, visitor numbers were up 11 percent on the same period in 2017. Last year, more than two million foreign tourists visited the site.

That means there is a serious strain on Siem Reap. But it is locals that are contributing most to the mess.

"Currently, people have a lot more understanding but there is a small number that are still being careless," he said.
"When we are there, they cooperate with us and when we leave they just throw out things everywhere and our working group will up clean after. If we don't collect it, they will blame the company." The team of 500 cleaners is pressed to collect what is left behind in the canals and greenery of the complex.

Now, the idea of banning plastic is being supported in principle by the body that oversees the management of the Angkor complex, the Apsara Authority, as well as the regional environment department and local NGOs.

"It is a good initiative. It is a kind of idea that is not just for us but we need to work with the people and work with all the vendors," said Long Kosal, a spokesman for Apsara Authority.
"Stopping using plastic bags and packaging in a natural way is a principal that we support."
There are many independent organisations working on reducing plastic use and waste in Siem Reap. Sarah Rhodes from Plastic Free Cambodia says she hopes to collaborate soon with Apsara to encourage the process to advance.

"Wouldn't that be amazing?" she said of a potential ban. "We keep hoping."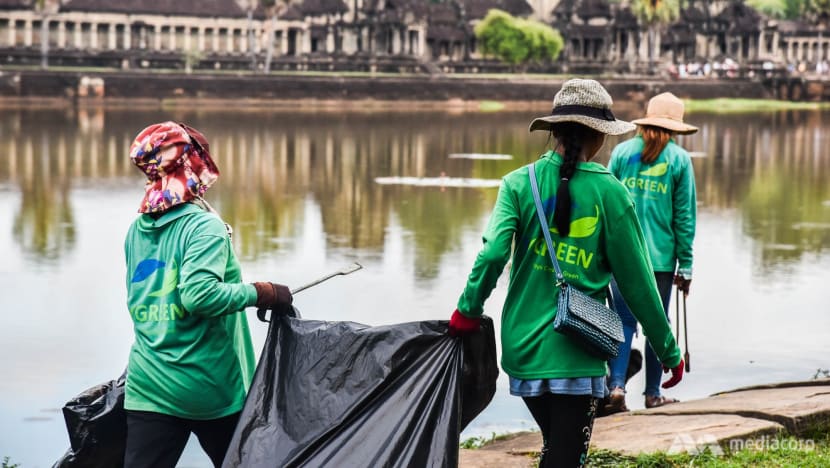 But enforcement is another issue. And the director of Siem Reap's environment department Noun Mony contends that without clear education, any penalties would be ineffective.

"Banning will not be a good thing or be successful unless they understand about the risks of using plastic bags," he said. "If we put a ban in straight away it will be a failure.

"I give the example of traffic. Unless they see police, they won't use a seat belt. They will only obey the traffic laws when they see police. When they don't see, they don't follow," a comment that echoed the reality faced by VGREEN teams.

Around the roads, rivers, parks of wider Siem Reap, the lack of accountability for littering is a major problem. The relatively sanitised temple complex is still an outlier in a country plagued by plastic.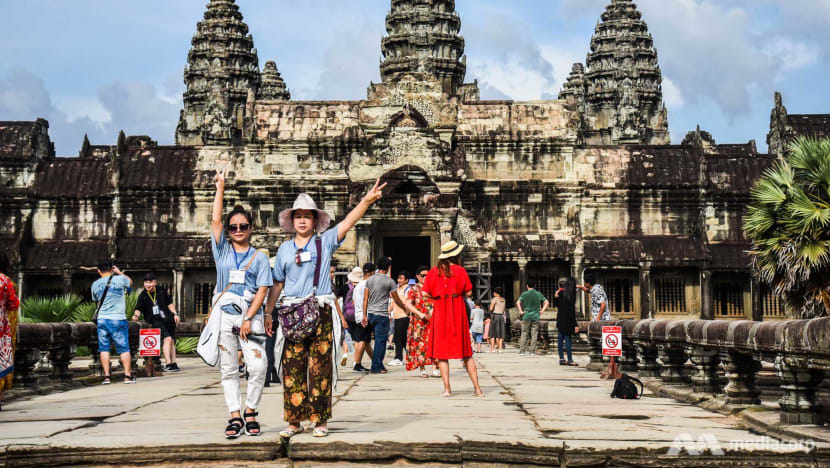 SIEM REAP'S WASTELAND

About 30 kilometres from Siem Reap's town centre is a heaving, stenching wasteland. Anlong Pi is the village where the province's trash is dumped - on a eight-hectare piece of former farming land.

It is at the centre of a dispute between the local government, the villagers and GAEA, the company running Siem Reap's waste collection and disposal.

The Anlong Pi dumpsite is private land. Locals who once made a living scavenging through the mountains of waste are now largely not allowed inside. A large metal fence demarcates what was once rice but is now rubbish.

The main grievance here though is about the degradation of the local environment. As the dump has expanded, the village has become increasingly unlivable.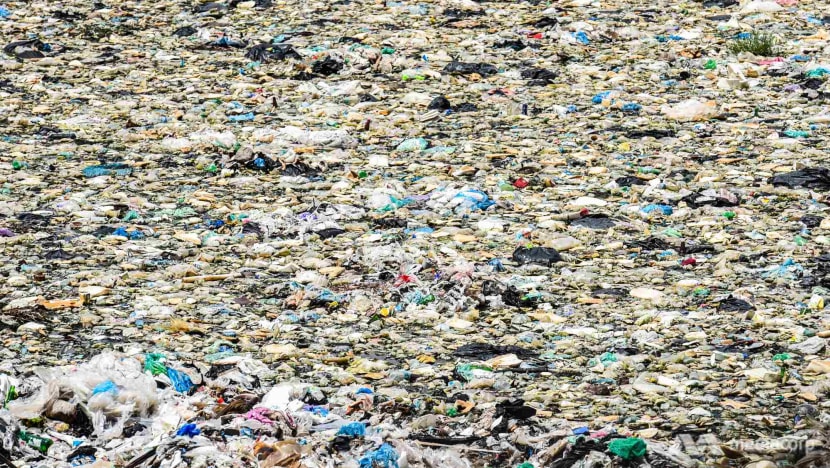 "In the dry season the smell is not so strong but in the rainy season, the smell is so strong because the waste water flows into the rice field and canals," said a local farmer Kit Heak, explaining that wells in the village have been compromised, forcing many to drink unsafe water.

"During weddings, we eat as well as waving our hands to remove the flies. We just bear with it because it is our homeland. We don't know where to go," said Huot San.

"We get itchy hands and legs while farming. The company doesn't consider us as humans," he added.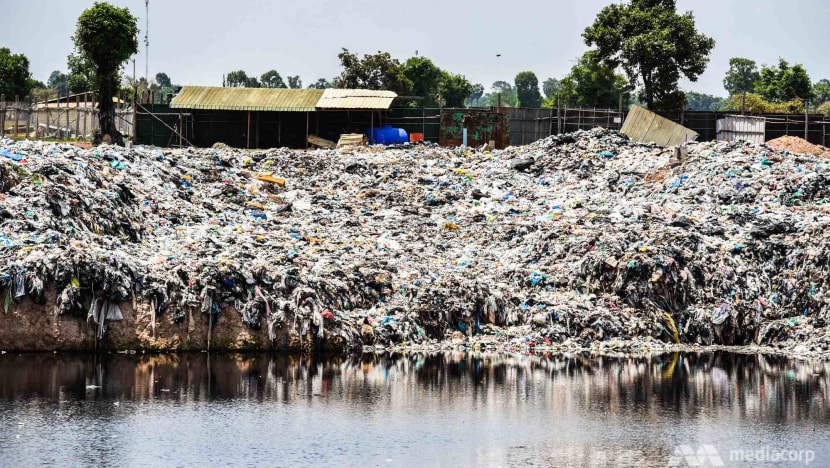 Promises have been made to relocate the dumpsite within two months. In a rare move by a government officer, Nuon Mony has staked his career on making that happen, telling Channel NewsAsia that he would resign if a new site was not successfully found.

For its part, GAEA - a French company - admits a solution needs to be found to the problem but says that it needs official assistance.

"We are trying to solve the problem professionally. But we cannot manage it properly because we need involvement from the government also to care for those people," said GAEA's Environment and Corporate Social Responsibility Ran Saroum.
In the meantime, the garbage keeps flowing as the company tries to extend its service around the province.
TO COLLECT OR NOT TO COLLECT

About 400 tonnes of garbage are generated every day in Siem Reap, but only 280 tonnes are collected, according to Saruom. No formal recycling system exists.

GAEA is responsible for street-side collection of waste, but the service is based on households and businesses individually subscribing and paying cash for the trucks that circulate city areas.

It is a problematic system, unlike in other countries where taxes are used to pay for such services, or even other parts of Cambodia where waste disposal is charged via utility bills.

"They don't think it is priority to pay for the garbage collection. Some businesses also don't want to pay and they will bring their garbage to throw a little bit outside the town," Saruom said.
"We see that there is a lot of illegal dumping and they don't use our service but they dump all those things by the riverside."
Conversely, there is blame directed back at the company by residents who say they do not get the service they pay for.

GAEA only has comprehensive daily collections in four of Siem Reap's 12 districts. Bad road conditions, mechanical issues, distant locations and a sparse workforce are some of the reasons why, it says.

"In the contract it says they will collect one time every three days. It became one time per week and then one time in half of a month and then one time a month and finally, they did not come anymore," complained local resident Khin Vanndy.
"It smells bad in the whole village and with a lack of understanding, people have no options and they need to burn the rubbish."
For Sarah Rhodes, trying to implement programs to reduce plastic use, the situation can feel "disheartening" at times.
"It's very easy to drown in the tide of plastic," she said.

Siem Reap's tourism dependency means keeping it clean- at least superficially - is essential to its ongoing allure. But beyond the restaurant and hotel-dominated streets, the raw problems are clear to see.

She says only education and significant changes in individual behaviour can result in better health for residents and the planet.

"People often say that we need to keep it clean for tourists, but what about for yourselves? Who is making the rubbish?"

"We're only just scratching the surface, that's for sure. I can sense a feeling of change in awareness. People seem a lot more conscious of what's going on, but the next big step is the behavioural change," she said.

Reinforcing that change in a small area critical to Cambodia's very identity - the temples of Angkor - could yet be a significant next step.