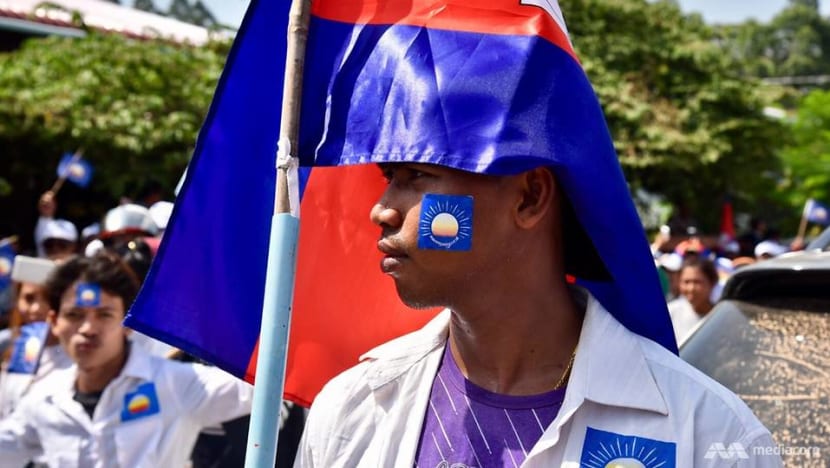 PHNOM PENH: Even on a crackling line from Africa to Asia, Mu Sochua sounds determined.
The leading female figure in Cambodia's opposition movement is on a world tour of sorts. But her mind is firmly fixated on her homeland, as it nears an election her party has been prevented from contesting in.
Pressured into a self-enforced exile from Cambodia amid threats to her safety and freedom, the 64-year-old is now leading a global campaign against the rule of the country's longtime prime minister Hun Sen.
From Korea to Canada, Sochua has been drumming up enthusiasm for targeted sanctions against a government she considers illegitimate and a man she calls a dictator.
"It is Mr Hun Sen who has a nightmare that he has to deal with. He knows that he cannot justify an election that is a total sham," she said.
"He can proclaim himself a winner of his own election but the people of Cambodia will not consider him as a legitimate leader and nor will the international community."
The opposition, just 18 months ago considered a genuine contender in a rare opportunity for a power tilt - at the imminent general election - has been frozen out of this vote and possibly into deep oblivion.
The Cambodia National Rescue Party (CNRP) - which Sochua remains the Deputy President of - was legally dismantled last year using new laws ushered in with the guidance of the government, which has a firm grip over the country's court system.
The CNRP's leader Kem Sokha was arrested for treason over a speech he made years before calling for a change in government and highlighting international assistance he had received to try and achieve it. He now sits in prison waiting for a trail without the medical care he says he needs.
Sochua escaped the country to avoid a similar fate in October last year. It was the second time in her life she had to flee, the first when the country was overcome by the Khmer Rouge, a genocidal regime. As painful as her latest choice was, she has no regrets.
"Of course, it is the right decision. I do not intend to be in asylum. I do not intend to be captured because my voice, my activities, are important outside of the country," she said.
"My heart and my head will never change towards my country. We cannot just sit around and watch what is happening."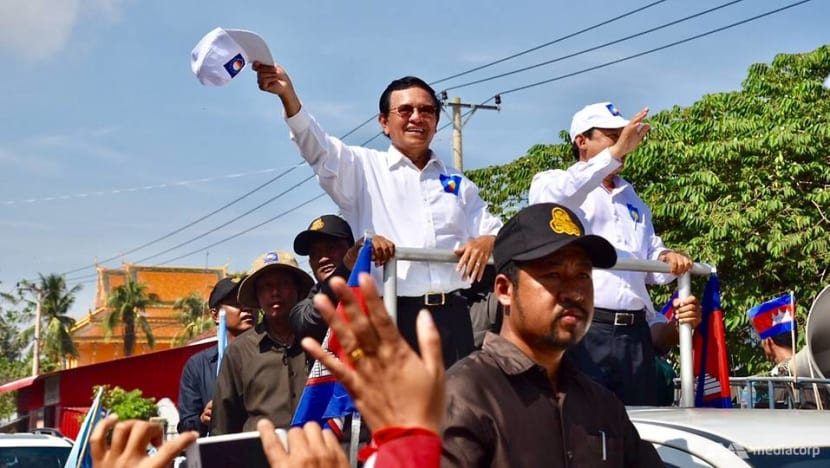 'HUNGRY FOR CHANGE'
The pressure and sanctions she is pushing for against the Cambodian government have only been implemented in a limited fashion so far, including on individuals close to the prime minister.
But the potential enforcement of limiting Cambodia's tariff-free access to US and European markets would land a bigger blow to an economy heavily reliant on its garment sector. That could worry China, a principal bank-roller in the kingdom and owner of many of the exporting factories.
Sochua says she has been troubled by the country's slide into the embrace of Beijing. "We have to be worried," she said.
She also says the government is acutely aware that China cannot "provide 700,000 jobs and cannot feed more than two million people in Cambodia every day", should trade collapse with western partners.
Pulling these international levers is about the only visible action the CNRP is conducting in the lead-up to the election. But behind the scenes, clandestine networks of opposition members and supporters still inside the country are waiting in the shadows, gaining information and planning the next thrust for democratic upheaval, albeit in a climate of unease and while being closely watched by authorities.
"No protests doesn't mean everything is at a standstill. No protest inside the country does not mean that people are paralysed by the fear. Not at all," Sochua said.
"I communicate with people inside. We know that they are very frustrated and very angry and that they are hungry for change. I think that the appetite for democracy, for change, that is what Hun Sen is most afraid of.
It is one of the party's mistakes, she admits: failing to better develop grassroots movements, influential youth activists and empowered civil society groups that could continue efforts to support democracy or fight against crackdowns upon it. Even at its most prominent moments, the CNRP coalition was still only cobbled together.
The avenues for public dissent in Cambodia have been throttled in recent years following violent protests after the 2013 vote. For this edition, even the act of calling for people to abstain - what has become known as the clean-finger campaign due to the indelible ink used to vote - is enough to prompt an arrest.
Thus, there seems little appetite for public displays of protest - even online. Do not mistake that for surrender, Sochua insists. In other countries with an active Cambodian diaspora, like Thailand, South Korea and Australia, massive demonstrations are being planned on Election Day on July 29.
"I repeat it. Mr Hun Sen, his family, his cronies and his tycoons are feeling the heat. Look at what's happening in Malaysia with Najib, Venezuela, Armenia."
For now, all CNRP councillors have five-year political bans hanging over them, meaning mobilising even for the next election, scheduled for 2023, would be problematic. When asked if she believed restrictions on opposition activity could be loosened after the vote this year, Sochua says they will not wait on the whim of Hun Sen.
"We cannot depend on a dictator and his mood. We are building a nation. We are building a democracy for Cambodia," she said, before voicing an impassioned cry to supporters in the absence of any CNRP rallies, banners or campaigning in the country.
"We cannot live with and be paralysed by fear. Democracy is a collective effort. Stand up! Wipe your tears and move forward."