Cambodia opposition can be dissolved if it protects Kem Sokha: Hun Sen
Cambodia's Prime Minister Hun Sen threatens to dissolve the opposition party if it continues to protect its jailed leader Kem Sokha, who was charged with treason earlier this month.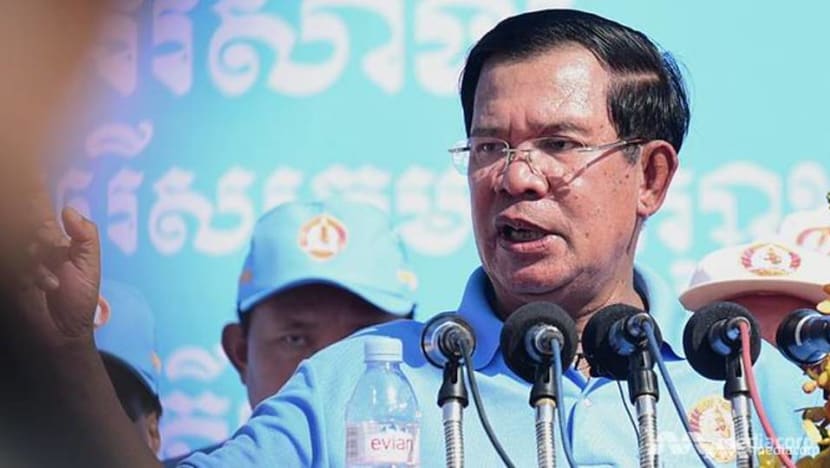 PHNOM PENH: The opposition Cambodia National Rescue Party (CNRP) risks a party dissolution if it continues to protect its jailed leader Kem Sokha, Prime Minister Hun Sen said on Monday (Sep 11).
Kem Sokha was charged with treason on Sep 3 for allegedly conspiring with a foreign power to destroy national security.
Hun Sen mentioned the CNRP's possible future during the graduation ceremony of University of Health Sciences medical students in the capital.
Besides urging the new graduates to uphold medical ethics, the prime minister was also quoted by local media as saying Cambodia is lucky to have discovered Sokha's "betrayal" and that the CNRP will be dissolved if it "continues to protect Sokha".
The opposition party's dissolution, he added, will not affect Cambodia's election process as there are still many other political parties which will stand for election.
Earlier this month, Sokha was detained after more than 100 police officers conducted a midnight raid at his Phnom Penh residence. He was handcuffed and taken away in a police car to the Correctional Centre No 3 in the border province of Tbong Khmum, almost 200 kilometres from the capital.
Two days later, the CNRP leader was charged with treason for allegedly conspiring with a "foreign power that incites chaos and harms the Kingdom of Cambodia".

"Kem Sokha had conspired with foreigners, especially those from the US, to destroy the upcoming election, which means a destruction to Cambodia's democracy," government spokesman Phay Siphan told Channel NewsAsia, calling him "a puppet" of foreign powers with harmful intentions to undermine national security.

However, Hun Sen argued during his speech on Monday that Sokha, a lawmaker, "automatically" lost his parliamentary immunity as soon as he committed his offence. As a result, Hun Sen added, there was no need for the National Assembly to revoke it during the meeting.

According to the prime minister, the National Assembly met on Monday to decide whether Sokha's treason case should proceed. To suspend the legal proceedings requires 75 per cent of the vote, he added. However, the opposition boycotted the session.

Wrapping his speech, Hun Sen asked whether the United States wanted to be Cambodia's "partner or parents".
He also referred to the carpet bombing by the US in Cambodia during the 1960s-1970s, and asked America not to bother Cambodia but to remember instead those bombs that still lie in Cambodian soil.

Hun Sen is due to depart for the China-ASEAN Expo in China's Guangxi.

Meanwhile, a plan by some CNRP members to hold a protest against Sokha's arrest in front of the Correctional Centre No 3 on Monday has prompted tightened security around the compound.