Cambodia tells US to back off after charging opposition leader
The prosecution of Cambodian opposition leader Kem Sokha is a message from Prime Minister Hun Sen's government for the United States, one that says "stop interfering with Cambodia's internal affairs".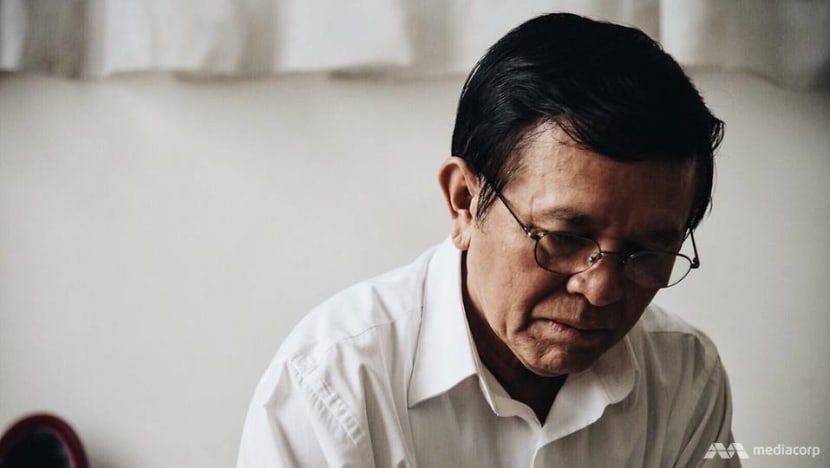 PHNOM PENH: The US should stop interfering in Cambodia's internal affairs, a government spokesperson has told Channel NewsAsia, shortly after opposition leader Kem Sokha was charged with treason.

"We're not a slave but, like them, an independent country. We want to stand on our own feet. We don't need someone to tell us to do this or do that," said Cambodian government spokesperson Phay Siphan. 
The Phnom Penh Municipal Court on Tuesday (5 Sep) charged opposition leader Kem Sokha with treason. His crime, according to the court's announcement, is his involvement in an alleged "conspiracy with (a) foreign power that incites chaos and harms the Kingdom of Cambodia".

If convicted, he could face up to 30 years in prison.
Mr Sokha and his Cambodia National Rescue Party (CNRP) are arch rivals to Prime Minister Hun Sen's ruling Cambodian People's Party (CPP). With a general election slated for next year, many critics have claimed the sudden prosecution is a ploy to crush the opposition.
Despite having parliamentary immunity because of his status as a lawmaker, Mr Sokha was detained at his Phnom Penh residence on Sunday in a midnight raid by more than 100 police officers. Photographs show he was handcuffed and taken away in a police car before being locked up at the Correctional Centre No 3 in the border province of Tbong Khmum, almost 200 kilometres from the capital.
"Kem Sokha had conspired with foreigners, especially those from the US, to destroy the upcoming election, which means a destruction to Cambodia's democracy," Siphan told Channel NewsAsia, calling him "a puppet" of foreign powers with harmful intention to undermine national security.
After Sokha's arrest, the government posted a video on its YouTube channel. Titled "Why HE Kem Sokha was arrested?", the clip shows his speech published by Australia-based Cambodian Broadcasting Network in 2013.

In the clip, Sokha told his supporters in Melbourne he had been receiving advice from US-hired experts and academics in the US and Canada on how to change Cambodia's leadership.
"They said if we want to change the leadership, we can't fight the top. Before changing the top level, we need to uproot the lower one. We need to change the lower level first," he said in the video.
Mr Sokha was referring to the Cambodian Centre for Human Rights, a non-governmental organisation he founded in 2002 after taking a break from politics. Its aim is to promote and protect democracy as well as respect for human rights in Cambodia.

For the ruling party, whose leader Hun Sen has been in power for 32 years, the NGO is a political tool to overthrow its leadership – a conspiracy between Sokha and the US to jeopardise Cambodia's stability and influence votes.

"So we have to shut their mouth," Siphan said.

"We charged Kem Sokha with treason to maintain peace, stability and the democratic process by Cambodians for Cambodians. We don't need any foreign power to interfere."

'DEMOCRACY IS DEAD'

News of Sokha's arrest has spread fear within the CNRP. Questions have been raised about whether it can continue to function as a political party or whether it would make it to the 2018 polls.

"Democracy is already dead. The party is in crisis. The CNRP leadership is being locked up. Everyone is in full fear of their security, not knowing what to come next," CNRP deputy director-general of public affairs Kem Monovithya told Channel NewsAsia. She is Sokha's eldest daughter and is staying with her sister at an undisclosed location because of security concerns.

At this point, the opposition has no plan to replace its leader or stage any protest. All it needs, according to Monovithya, is for the political situation to be reversed.

"Everybody knows if they assume the party's leadership, what their fate would be. The regime will go after them. They'll be in prison or forced to be a puppet, a meaningless opposition to legitimise the upcoming election."

But their plan could easily lead to the party being dissolved if Sokha is convicted of his charge. Early this year, the National Assembly approved Hun Sen's proposed legal amendment to allow the dissolution of parties whose members have committed criminal offences.

The proposal forced CNRP's former leader and Hun Sen's long-time rival Sam Rainsy to resign in February, as he has been convicted of defamation.

"This law aimed to institutionalise a one-party system is being tailor-made for me – in my capacity as CNRP president – since the CNRP is the only opposition party represented at the National Assembly and the only party that can defeat the CPP," Rainsy wrote on his Facebook page.

Calling it the "anti-Sam Rainsy law", he then said it would have little impact on Cambodian politics. But as of today – with his successor charged with treason – it is the law that could soon wipe the opposition off Cambodia's political chessboard.

For Monovithya, her father's prosecution is "a political circus", a sign that the man in power cannot accept or allow a free and fair election in 2018.

"What the ruler is doing right now is locking up his challenger ahead of the election. This is what this crackdown is about."

AMID CRITICISMS, CHINA SHOWS SUPPORT

On Sunday, Cambodians woke up to the news of Sokha's midnight arrest. It was quickly followed by condemnation from human rights activists on the move they say is politically motivated.

"The government and the ruling Cambodian People's Party have manufactured these treason charges against Kem Sokha for political purposes, aiming to try and knock the political opposition out of the ring before the 2018 electoral contest even begins," Phil Robertson from Human Rights Watch told Channel NewsAsia.

The incident has also worried the international community, particularly the US, whose Department of State noted the arrest "with grave concern". In a statement, it also questioned the Cambodian government's ability to hold "credible national elections in 2018".

The same concern was echoed by the European Union, which called for Sokha's immediate release. Its spokesperson said the arrest is in breach of his parliamentary immunity, "marks a dangerous political escalation", and "suggests a further effort to restrict the democratic space in Cambodia".

However, the government is not without support. This time, it comes from a close ally. Chinese foreign ministry spokesman Geng Shuang said Beijing backs Phnom Penh's efforts "to protect national security and stability".

And while calls are being made for international donors to pressure the Cambodian government, its spokesperson said any assistance that would destroy Cambodia will not be welcomed.

"We're still good friends with China and other countries. Our democracy will move forward as we try our best to exercise it by chasing those foreign agents out of the country."

'MAY CAMBODIANS NOT LOSE THEIR FREEDOM'

Since her father was arrested, Monovithya has not had an opportunity to speak to him. Although her mother managed to meet Sokha, the visit was brief. The family is also concerned about his health, saying he is not allowed food or medicine they brought him.

But although his freedom is limited to a cell in Tbong Khmum, his message has made it through the bars.

"He said that he may lose his freedom but he hopes that Cambodian people will not lose theirs," Monovithya said.

So far, there is no information on his trial. According to the law, Sokha could face 15-30 years in prison if the court rules he has violated Article 443 of Cambodia's Criminal Code by conspiring with foreign power.

Asked how he feels about Sokha, Siphan gave a short reply.

"I belong to CPP. But if I was an ordinary citizen, I'd feel sorry for him."

Follow Pichayada Promchertchoo on Twitter @PichayadaCNA